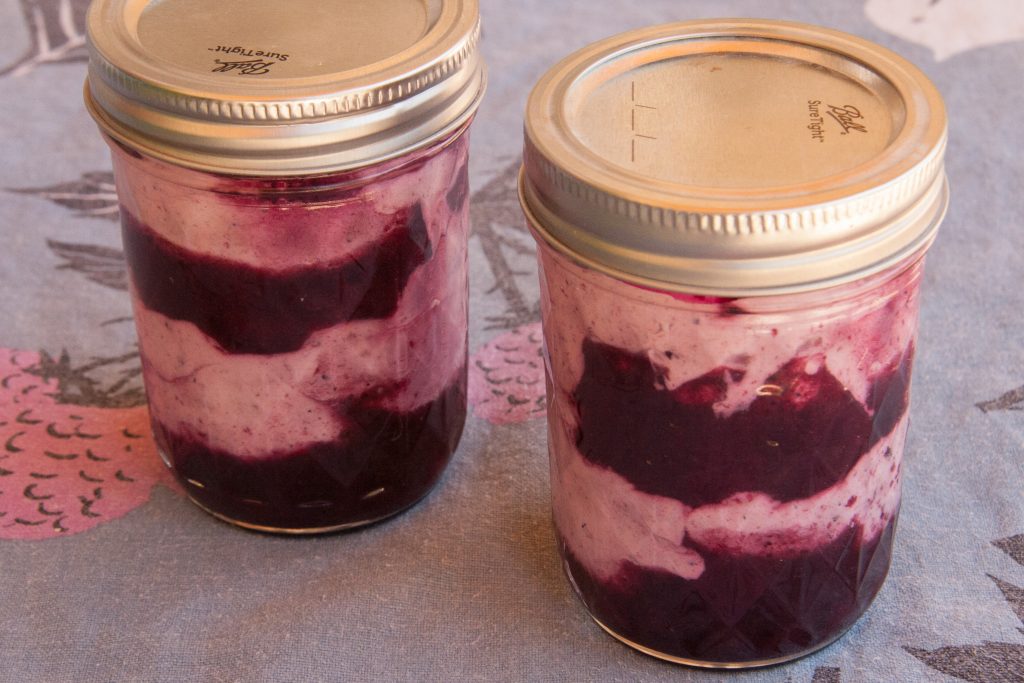 When you get a last minute dinner invitation and you ask what you can bring, and your host suggests dessert, and you say sure, then wonder what the heck you can throw together quickly that will impress your friends, well, I suggest a wild blueberry fool.
Fools are a traditional British dessert, made from a combination of cream and fruit purée. I like to add a few extra ingredients to make this dessert tangy as well as sweet. You can use almost any fruit purée you have on hand, although depending on the sweetness of the fruit, you may want to adjust the amount of sweetener you use. This recipe is made with wild blueberries we picked in PA; if you use cultivated fruit, you may need less sugar.
What You'll Need to Make Wild Blueberry Fool
2 cups fresh, frozen, or canned (without sugar) wild blueberries
1/2 cup sugar
1 cup whipping cream
1 cup Greek yogurt
1/8 cup lemon juice
2 Tablespoons white wine
What You'll Do to Make Wild Blueberry Fool
Reserve a few Tablespoons of whole fruit. In a saucepan, warm the rest of the blueberries over medium-low heat. If you're using fresh berries, you may need to add a tiny bit of water so they don't scorch. When the fruit begins to simmer, transfer it to the bowl of a food processor with the sugar, and pulverize to create a sugary pulp. Set this aside.
Whip the cream to stiff peaks, then gently stir in the Greek yogurt, lemon juice, and white wine. The lemon juice and white wine are technically optional, but I encourage you to use them. They add a layer of tanginess that makes this fool more interesting than a "merely sweet" dessert.
Add half the blueberry pulp to the cream, folding to combine.
Into each of six, half pint canning jars pour about 1/2 inch of pulp. Then, spoon a thick layer (several inches) of the cream/purée mix on top of the pulp. Pour a little more pulp onto the cream, then repeat the cream layer. Finally, top the cream layer with the reserved whole blueberries. Cover the canning jars and refrigerate until ready to serve.
The layers of this dessert will flow into each other, and as you eat, you'll dip from one into the next, combining cream and fruit as you go. And because you've made this wild blueberry fool in canning jars, it's easy to carry, next time someone asks you to bring dessert!