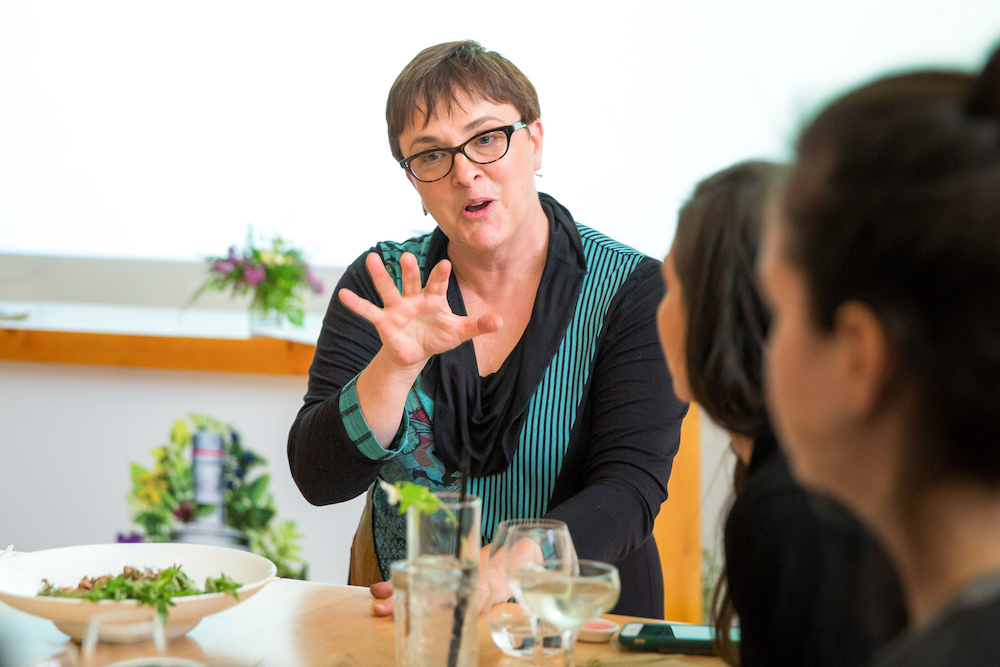 Blogger, Author, Speaker
Hi!
Thanks for stopping by, I'm glad to meet you.
My name is Ellen Zachos and I help adventurous foodies cook with wild plants and mushrooms, so they can enjoy exciting, un-buyable flavors.
This is where I'm supposed to tell you something about myself…just enough to let you know you can trust me and make you want to come back for more.
But first, can we talk about you?
---
Don't be Scared
I know the idea of wild edibles makes some people nervous, but I hope you won't let that stop you from exploring the wonderful world of foraging. No one wants to make the headlines by feeding their family poison hemlock, so let me teach you how to forage safely.
I'll show you which plants are safe to eat and which aren't. I'll explain when to harvest, and how to process and preserve your foraged plants and mushrooms so you can enjoy them all year long. And I'll give you so many delicious, unusual recipes for these un-buyable flavors that you'll eat like royalty. I'm confident I can make you confident.
HERE'S WHY YOU CAN TRUST ME
I'm a Harvard graduate and the author of eight books including Backyard Foraging: 65 Familiar Plants You Didn't Know You Could Eat, The Wildcrafted Cocktail, and The Forager's Pantry. I teach foraging workshops across the US, and I lecture at botanic gardens, flower shows, and for garden clubs around the world.
I have a background in show business, which taught me how to engage an audience, and I combine that with years of practical experience and plenty of book learning. This gives me a unique and entertaining approach to teaching. A long-time instructor at the New York Botanical Garden, I now live in Santa Fe, NM and split my time between the desert southwest and the lush northeast. It's quite a contrast botanically speaking, and one that keeps me learning new plants as well as new ways to eat them.
GARDENER & FORAGER
I moved to NYC sometime in the last century to be an actor. I know, I know, it's an age old story, small town girl moves to NYC, lands a role on Broadway, decides she'd rather be a horticulturist, and starts her own garden design, installation, and maintenance business. You've heard it many times before.
But seriously, after leaving the cast of Les Miz on Broadway, I went back to school at the New York Botanical Garden and earned certificates in both ornamental horticulture and ethnobotany. For many years I taught at the NYBG on a wide range of subjects (basic gardening techniques, perennials, annuals, orchids, container gardening, house plants) and ran my roof top gardening business: Acme Plant Stuff.
PLANTS CAN FEED BODY AND SOUL
As I learned more about plants I noticed that many traditional ornamental plants had edible and medicinal histories. I wondered why we didn't eat hostas any more, and why people planted hopniss for its flowers rather than its delicious, potato-like tubers. Gradually, my emphasis shifted from plants that were merely ornamental to plants that fed both body and soul, the eyes and the stomach.
I started out foraging in the garden, because I knew the plants there were safe from potentially dangerous insecticides and herbicides. Soon I ventured out into the wilds of Central Park, the woods of Pennsylvania, the deserts of New Mexico, the islands of Scotland, and the gorges of Greece. In other words, I'm always looking for delicious, free food!
COOK & RECIPE MAKER
I'm a gardener by profession, a forager by nature, and a cook by necessity. Why necessity? Because I love to eat. By the time I've finished breakfast, I've figured out what I'll be making for lunch. It's THAT important to me.
If wild foods weren't delicious, I wouldn't be interested in them. These are un-buyable flavors. Of course there's the thrill of the hunt, and the satisfaction of feeding yourself for free. But for me, the single most important aspect of wild edibles is that they taste terrific. It's great to know which wild foods you could feed yourself with if you had to, but wild edibles are more than just survival food. Prepared correctly, with imagination and skill, wild edibles rival ANY food, ANYwhere.
WHY IS FORAGED FOOD SO DELICIOUS?
Wild edibles aren't picked early to make shipping easy. They're not bred for long shelf life or appearance. Wild edibles are harvested at their peak, when they are most delicious and perfectly ripe. They have un-buyable flavors you won't find on the shelf of any grocery store. Seasonal, local foods are all the rage these days and nothing could be more seasonal and local than wild edibles. And have I mentioned organic? You KNOW no one is out there spraying chemical fertilizers on the milkweed!
Making the most of your foraged harvest requires not only correctly identifying and safely harvesting your wild edibles (avoiding pesticides and pollutants), but also knowing how to prepare these unusual ingredients so they really shine. I'm here to help with that.