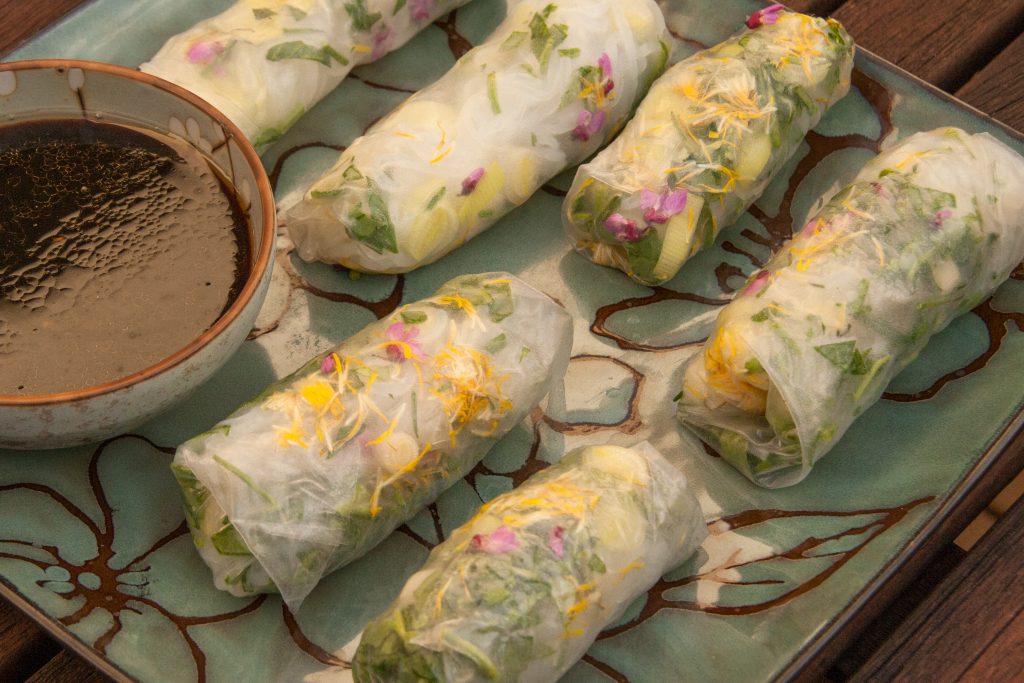 I love it when food looks fancy and difficult but is really super easy to make. Who doesn't like to impress friends and family with delicious, gorgeous food that actually comes together in a flash? These foraged spring rolls can be made with whatever you find in your 'hood, plus a few grocery store items. And while they're called spring rolls, you could easily make a different version for each season. Let's start with spring.
Spring rolls are filled with cellophane noodles (aka glass noodles aka bean threads). The outer wrapper is made from rice paper. Those are the two store-bought ingredients you'll need to get started, and the rest of the filling will depend on what's available to you locally. Your dipping sauce can be something as simple as soy, flavored with sesame oil and a little (wild) ginger, or you can go for something thicker and more substantial, like peanut sauce. Either way, these foraged spring rolls are lovely to look at, fun to eat, and easy to put together.
What You'll Need to Make Foraged Spring Rolls
What You'll Do to Make Foraged Spring Rolls
Set aside the wrappers, and prepare your stuffing ingredients. Cellophane noodles should be cool when you're assembling the spring rolls, so cook them first, then shock them in cold water, drain, and let them cool to room temperature. If you're using a pre-cooked substitute, like these zero-carb konjac noodles, you can skip the cooking step, but rinse the noodles well before using.
Pull the dandelion petals out of the surrounding green calyx, and chop your greens and cattail shoots. Place each ingredient in its own prep bowl, to make assembly easier.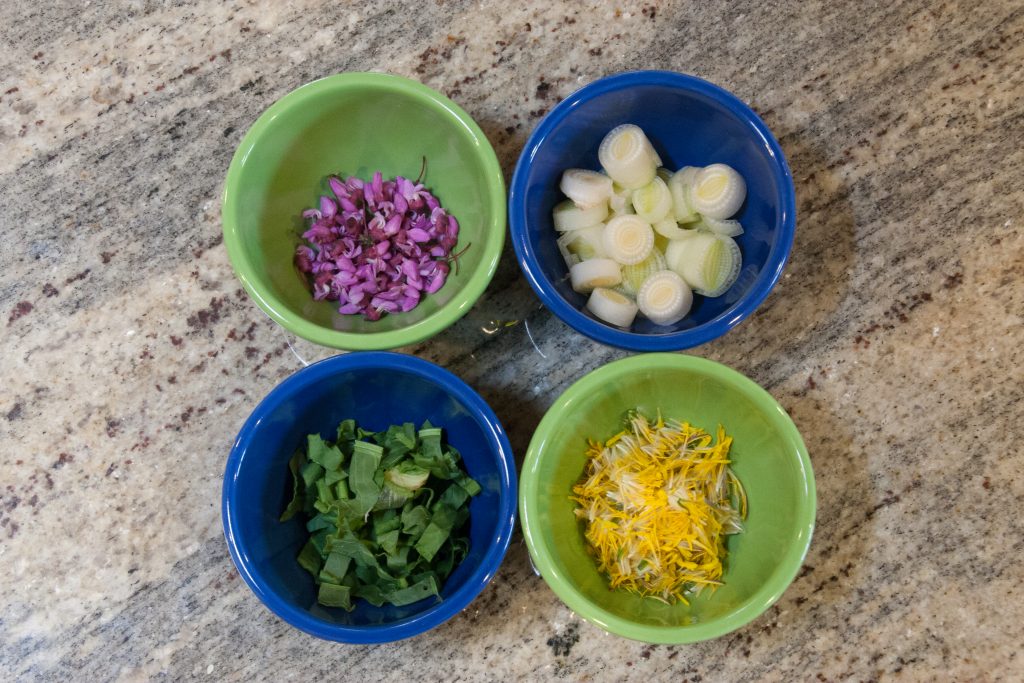 Fill the bottom of a large pan or dish with about 1/2 inch of boiling water, then open your rice paper wrappers. They are fragile when dry, so handle them carefully. Place one wrapper in the hot water and swirl it around as it softens, approximately 30 seconds. Remove it from the water and place it flat on your cutting board or counter.
First, sprinkle 1/8 of your flowers and petals on the top third of the wrapper, leaving one inch clear on either side. Next, add 1/8 of the cattail shoots and greens, and finally, spread approximately two Tablespoons of noodles across the center of the wrapper. The wrappers are delicate, and overstuffing will cause them to tear, so resist the temptation to overfill.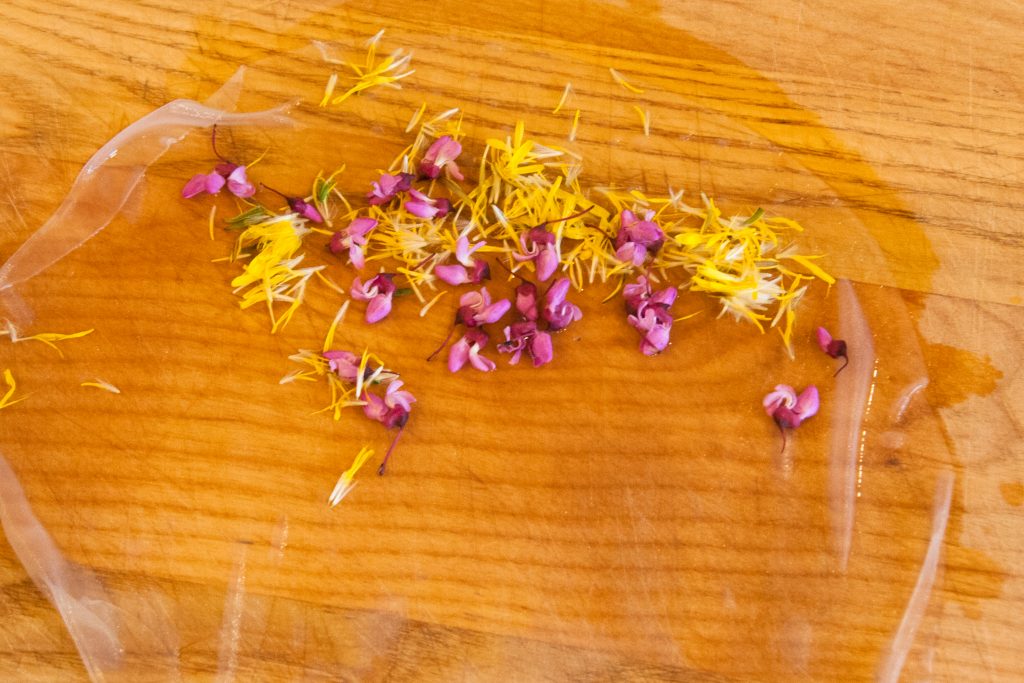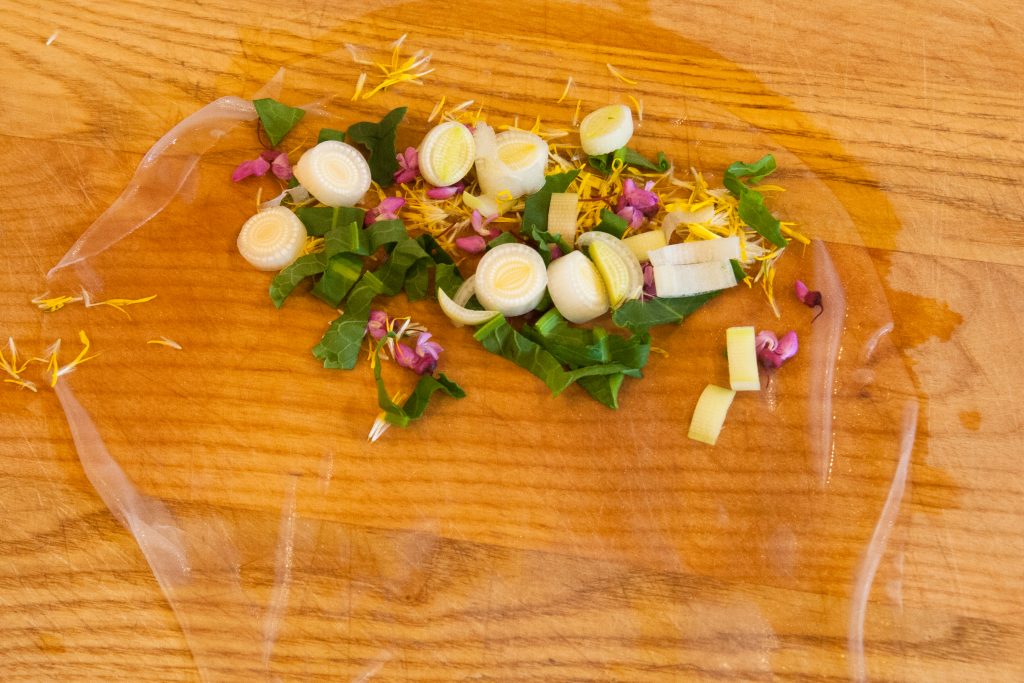 Fold in each side of the wrapper, approximately one inch, then fold the bottom of the wrapper up over the stuffing, and roll the remainder of the wrapper to close and seal. By laying down the flowers and greens first, at the top of the wrapper, you'll get a prettier, more colorful foraged spring roll.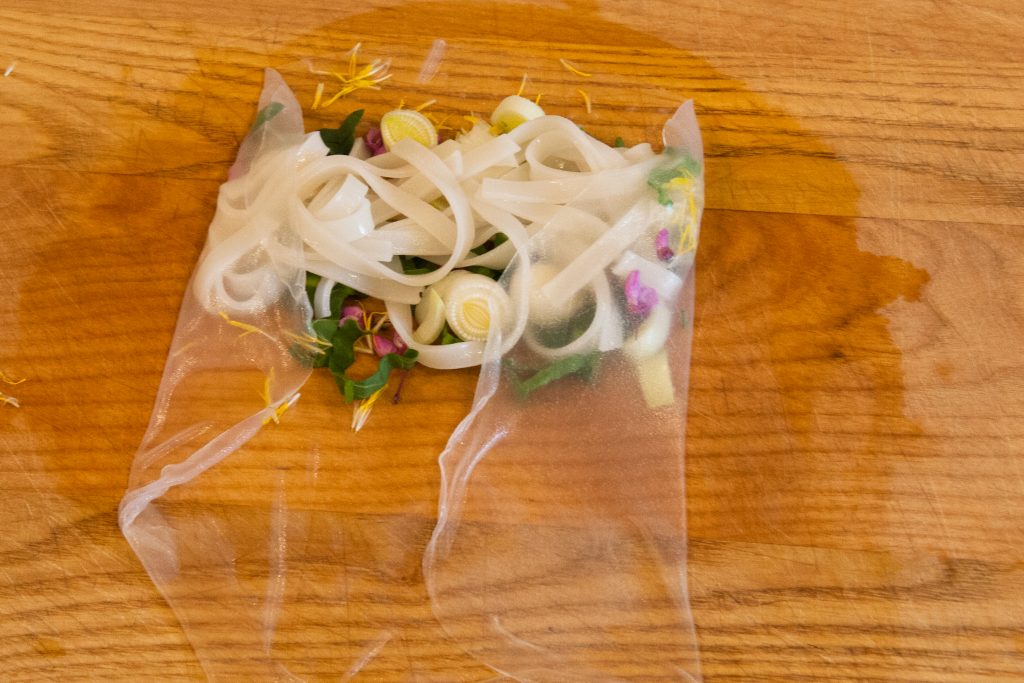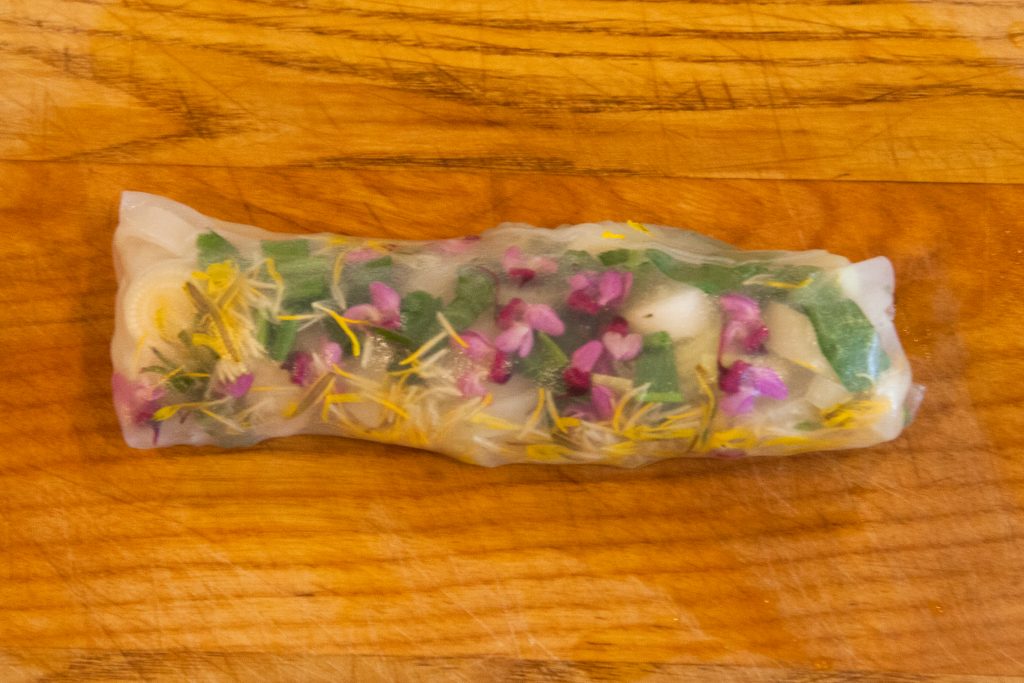 If, as you work,  the water gets too cool to soften the wrappers, simply reheat the water and continue. Repeat the process until you've used all your ingredients, then serve at room temperature with the dipping sauce of your choice. The rolls can sit for an hour or two, but are best eaten fresh. After 24 hours, the rice paper wrappers turn gummy and chewy.