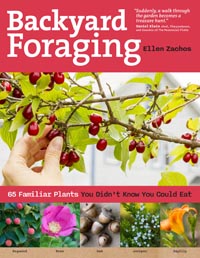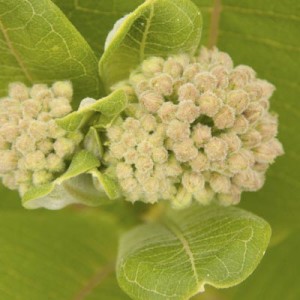 SHOP ELLEN'S PUBLICATIONS:
You can buy my books and CD two ways: here through me (where you'll get a signed copy) or through the Amazon buttons on this page (where they'll cost you less). I'm grateful either way!
If you are buying more than one product, need international shipping, or delivery from an alternate carrier, contact me via email (click here ez@backyardforager.com) to work out the details.
---
The Forager's Pantry
A comprehensive and easy guide to bringing wild food indoors and new life to your cooking.
If you'd like to experiment with wild foods and explore new flavors, but don't know where to start—The Forager's Pantry was written for you. This comprehensive and accessible book by Ellen Zachos takes readers through spices and herbs, flowers, fruit, greens, nuts and seeds, tubers and roots, and mushrooms, showing how some of the best ingredients come from nature itself.
The Forager's Pantry is for any home cook, chef, or foodie who wants to incorporate foraged flavors into their everyday cooking. This guide will start with individual ingredients before going into techniques, preservation, and master recipes, making foraged food both accessible and delicious.
This book is for the adventurous home cook just waiting to get started—combine new foods with familiar staples, explore wild ingredients, and bring new life and excitement to your cooking.
---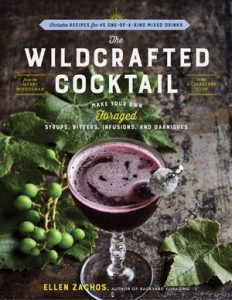 Hardcover
$18.98
The Wildcrafted Cocktail
Learn how to combine foraged, local, seasonal flavors with your favorite spirits. You can create wildcrafted cocktails like a dirty daylily martini, sumac infused gin, or rose hip liqueur. It's easier than you think, and very tasty.
Meet the natural lovechild of the popular local-foods movement and craft cocktail scene. It's here to show you just how easy it is to make delicious, one-of-a-kind mixed drinks with common flowers, berries, roots, and leaves that you can find along roadsides or in your backyard.
Foraging expert Ellen Zachos gets the party started with recipes for more than 50 garnishes, syrups, infusions, juices, and bitters, including Quick Pickled Daylily Buds, Rose Hip Syrup, and Chanterelle-infused Rum.
---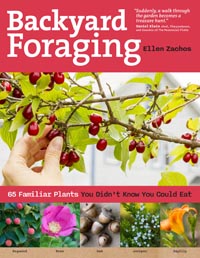 Paperback
$16.95
Backyard Foraging
Backyard Foraging offers a friendly introduction to the world of wild edible plants. What better place to start foraging than in your own back yard?
There's food growing everywhere! You'll be amazed by how many of the plants you see each day are actually nutritious edibles. Ideal for first-time foragers, this book features 70 edible weeds, flowers, mushrooms, and ornamental plants typically found in urban and suburban neighborhoods.
Full-color photographs make identification easy, while tips on common plant locations, pesticides, pollution, and dangerous flora make foraging as safe and simple as stepping into your own backyard.
---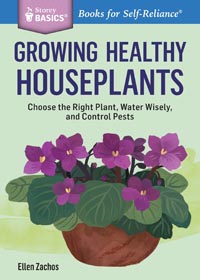 Paperback
$8.95
Growing Healthy Houseplants
Growing Healthy Houseplants is a thorough and well-organized introduction to growing plants indoors. You'll learn why tropicals make ideal houseplants, which plants are recommended for which growing conditions, and how to keep your houseplants healthy year after year.
This concise Storey BASICS® guide teaches novice gardeners how to successfully keep indoor plants beautiful and healthy. Learn how to choose the best plants for your home and what each species needs in terms of location, water, sunlight, and fertilizer.
Covering the basics of repotting, pruning, and dealing with pests, Ellen Zachos shows you how to keep your houseplants looking vibrant for years to come. Soon, you'll be watching over a collection of thriving plants that add a lively dose of color to your home.
---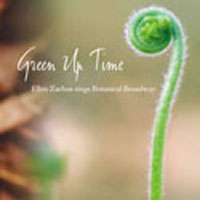 CD
$15.00
Green Up Time
Green Up Time is a botanical look at Broadway, a collection of well-known and under-appreciated show tunes, all with a horticultural theme.
---
Paperback
$19.95
Down & Dirty
Down & Dirty: 43 Fun & Funky First-Time Projects & Activities to Get You Gardening teaches basic gardening skills one project at a time. You'll learn everything you need to know to get started as a gardener, from planting a container herb garden to transplanting a tree. With accessible, step-by-step instructions and lots of color photos.
It may seem like gardeners belong to a super-secret, esoteric club, made up of members who know all about Latin plant names and mysterious methods familiar only to the serious few. Not true, says Ellen Zachos. She is here to reassure the uninitiated that anyone can have fun in the dirt.
---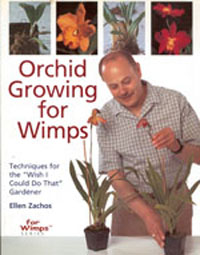 Paperback
$17.95
ORCHID GROWING FOR WIMPS
Orchid Growing for Wimps is a perfect introduction to orchid growing. If you've received an orchid as a gift or are thinking about getting into orchid growing as a hobby, this book is a great place to start.
"A superb primer on orchid culture. It uses a fully illustrated step-by-step approach and doesn't skimp on relating complete details. There's a chapter showing easy-to-grow orchids in all their glory, and there's also a chapter warning about 'difficult' orchids to avoid. This tome takes you on a visit [to] 16 terrific varieties you can easily handle….It's a fun and rewarding winter exercise."—Denver Post.
---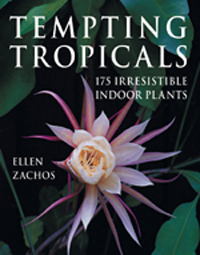 Hardcover
$24.95
Tempting Tropicals
Tempting Tropicals: 175 Irresistible Indoor Plants introduces the reader to exquisite, unusual houseplants and explains how to care for them in the home.
Original and unique, this guide to luscious, choice indoor plants will convert anyone to a passion for gardening indoors.
The possibilities presented are dazzling. Over 200 gorgeous color photographs round out the detailed descriptions of 175 choice plants native to both tropical and temperate regions.
In her entertaining style, plant fanatic Ellen Zachos invites everyone, from the horticulturally clueless to the avidly addicted, to share her passion for exotic and unusual indoor plants.
---
Better Homes & Gardens Orchid Gardening
A complete guide for planning, planting, and caring for orchids
Better Homes & Gardens Orchid Gardening is a comprehensive guide to growing orchids in the home. With hundreds of color illustrations, you'll learn which species are easiest to grow indoors, how to choose the best species for your growing conditions, and how to keep them happy and flourishing.
With colorful diagrams, helpful checklists that make shopping and planning a breeze, and easy-to-follow directions for all kinds of projects, it's the perfect guide to planning and maintaining your dream orchid collection.
Perfect for orchid lovers of any skill level, Orchid Gardening is the comprehensive, easy-to-use guide to selecting and caring for orchids.
---