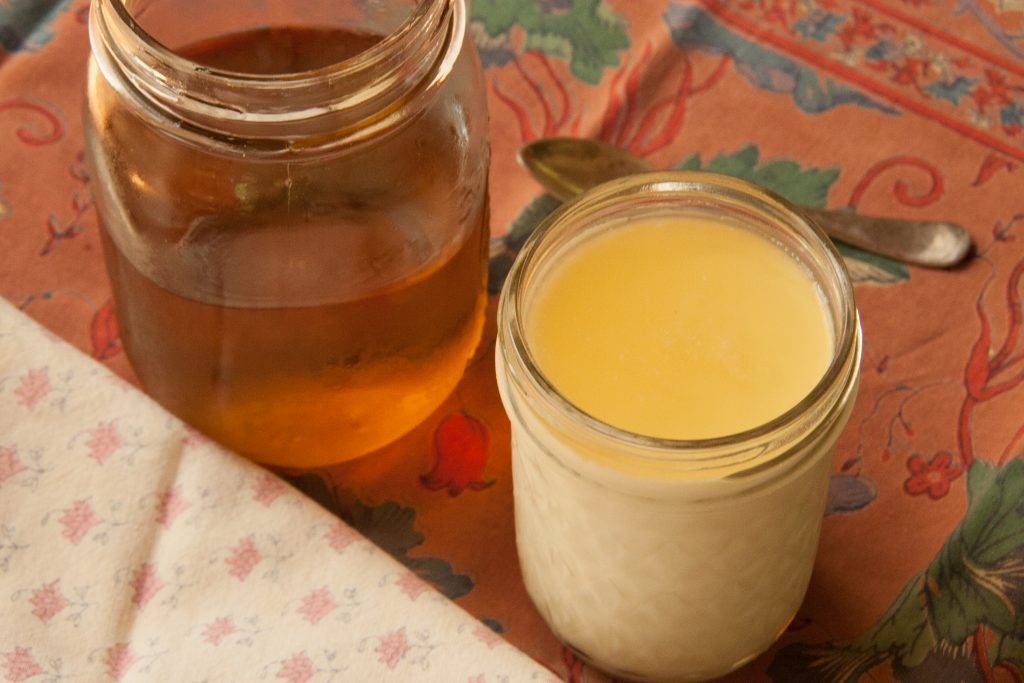 I do not say this lightly: this time I have outdone myself. Rose Petal Panna Cotta is just plain wonderful. The light, creamy panna cotta is the perfect vehicle for the richly spiced flavor of multiflora rose petals. I wish I could feed it to everyone I know, then bask in the glory of their admiration. It's that good.
Panna cotta is a delicate dessert and surprisingly easy to make, once you understand the steps and discover your own special balance of milk and cream. Because it's delicate, I thought it would work perfectly with multiflora rose used two ways: a drizzle of rose petal syrup on top, and the panna cotta itself made with cream infused with rose petals.
I'd never tried infusing cream before and I wasn't sure it would work. But I figured at the very least I'd still have panna cotta and rose petal syrup, so how bad could that be? Fortunately for me (and my dinner guest this evening) the rose petals added a subtle, indescribably wonderful flavor to the cream and I couldn't be happier.
Here's What You Need to Make Rose Petal Panna Cotta
2 cups rose petals, separated from their calyces
2.5 cups heavy cream
1.5 cups whole milk
1 Tbs. unflavored gelatin powder
5 Tbs. sugar
2 Tbs. water
Here's What You Do to Make Rose Petal Panna Cotta
Stir together the rose petals and cream, then cover and refrigerate, and let the cream infuse for 3 days. (Yes. This dessert requires advance planning and it's totally worth it.)
When infusion is complete and you're ready to cook, sprinkle the gelatin on top of the water to let the gelatin bloom. It will be ready by the time you need it. Strain the cream, pressing the rose petals to remove as much liquid as possible. I strained mine twice, to make sure no tiny pieces of rose made it through. I like a smooth panna cotta.
Combine the strained cream, milk, and sugar in a saucepan and bring it just to a simmer, then remove from the heat. Whisk in the bloomed gelatin until it's completely dissolved, and rub a little of the liquid between your fingers to make sure it's silky, not grainy. (If it's grainy, keep whisking.)
Place the saucepan in an ice bath (a shallow pot or pan with a combination of ice cubes and water) and whisk until the liquid is lukewarm. This is an essential step, without which the texture of your panna cotta will not be right.
Pour the lukewarm liquid into mini-canning jars or ramekins, and refrigerate until jiggly (4 hours or overnight). I use 4 oz. canning jars because I have a lot of them, they're cute, and I appreciate that each can be covered individually without using that infernal plastic wrap.
Just before serving, pour a tablespoon of rose petal syrup on top of the panna cotta. Then sit back and get ready to enjoy both your dessert, and the admiration of everyone at your table.