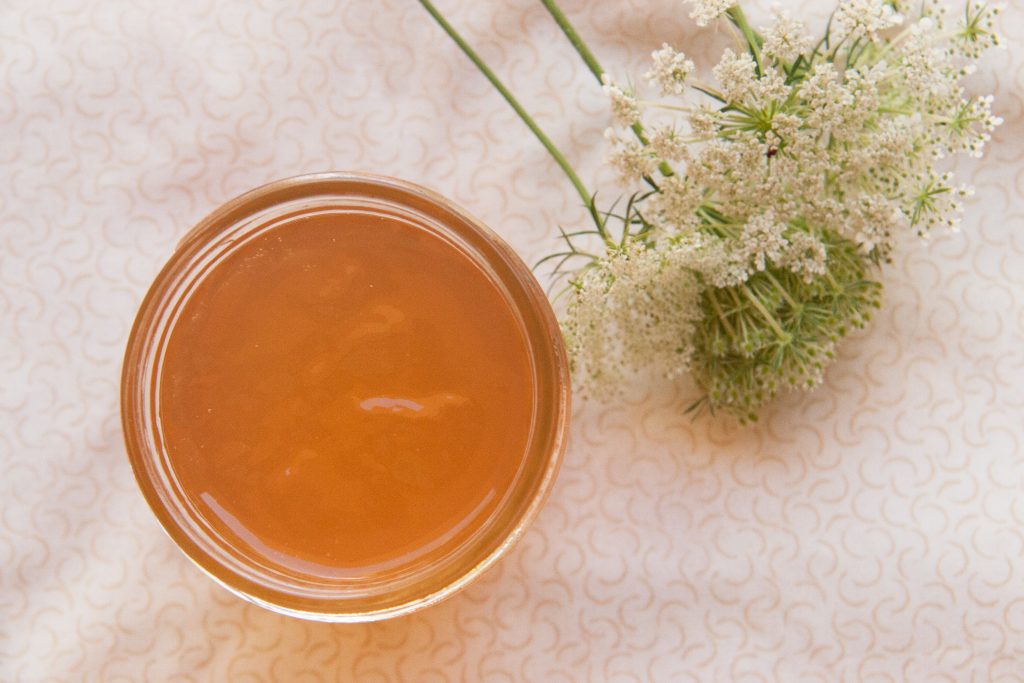 For years I disdained making Queen Anne's Lace jelly, believing it to be merely sweet, without distinctive flavor. I'd heard lackluster reviews from fellow foragers, but this year I decided to see for myself and boy am I glad I did. Because Queen Anne's Lace jelly has a lovely flavor: fruity, not too sweet…it kind of reminds me of juicy fruit gum, but less sweet, with longer lasting flavor, and no chemical aftertaste.
Most of the photos I've seen on line show Queen Anne's Lace Jelly to be a pretty pink color. Mine, though very tasty, was more of a whisky gold color, and I'd be lying if I said I wasn't disappointed. So I made it again. I'd included stems in my first batch, because my pal Butter, who is one of the best cooks I know, said their flavor was as good as that of the flowers. I chewed on a stem and agreed, so I added them to the jelly.
I used only flowers in the second batch, thinking that might have affected the color. I also made sure to include only flowers with the telltale purple spot at the center of the umbel. The second batch was no pinker, although the flavor was slightly sweeter and more floral. Can't say it was better. Can't say it was worse. Can't say it was pink.
I have no idea what makes the color different. I've asked everyone I know and some people I've never met. The best we came up with was that soil acidity might affect the color of the infusion, and subsequently the color of the jelly. But really, we were just flailing about. Still, since these were east coast QAL, grown in acidic soil, I suppose I'll have to make another batch when I get back to the alkaline soils of the southwest.
What You'll Need to Make Queen Anne's Lace Jelly:
20 umbels of Queen Anne's Lace
3 cups water
2 1/4 teaspoons lemon juice
3 Tablespoons + 1 teaspoon Ball Classic pectin
2 1/4 cups sugar
The above amounts make four half pint jars with a smidge left over for sampling.
Note to novice jelly makers: You may adjust the amount of jelly you make, but keep the proportions as noted above. Do not make more than eight cups of jelly at a time. The reason for this is that the amount of time required to boil a larger amount of jelly can break the pectin bond, and you may not get a good jell.
If you are an experienced enough jelly maker to have your favorite brand of pectin, feel free to tinker with the above recipe to fit your pectin. I prefer a reduced sugar recipe, but I've found that many of the reduced sugar pectins produce a cloudy jelly. So I use classic pectin with the lowest allowable amount of sugar. (Don't worry, instructions are on the package.)
What You'll Do to Make Queen Anne's Lace Jelly:
Bring the three cups of water to a boil, then pour them over the QAL flowers and cover. Let them infuse overnight, then strain the following morning. Throw away the flowers and transfer the liquid to a jelly pan.
Add the lemon juice and pectin to the QAL flower tea, and bring the liquid to a boil that can't be stirred down. Add the sugar and whisk to combine.
When the liquid comes to a boil, continue stirring and boil for a full minute. Then, remove from the heat, skim the foam off the top, and pour into jars. Process the jelly in a boiling water bath for ten minutes.
Have you made Queen Anne's Lace Jelly?
I'd love to know if yours turned pink or if you have any thoughts on what might make the difference with color. Let me hear from you!