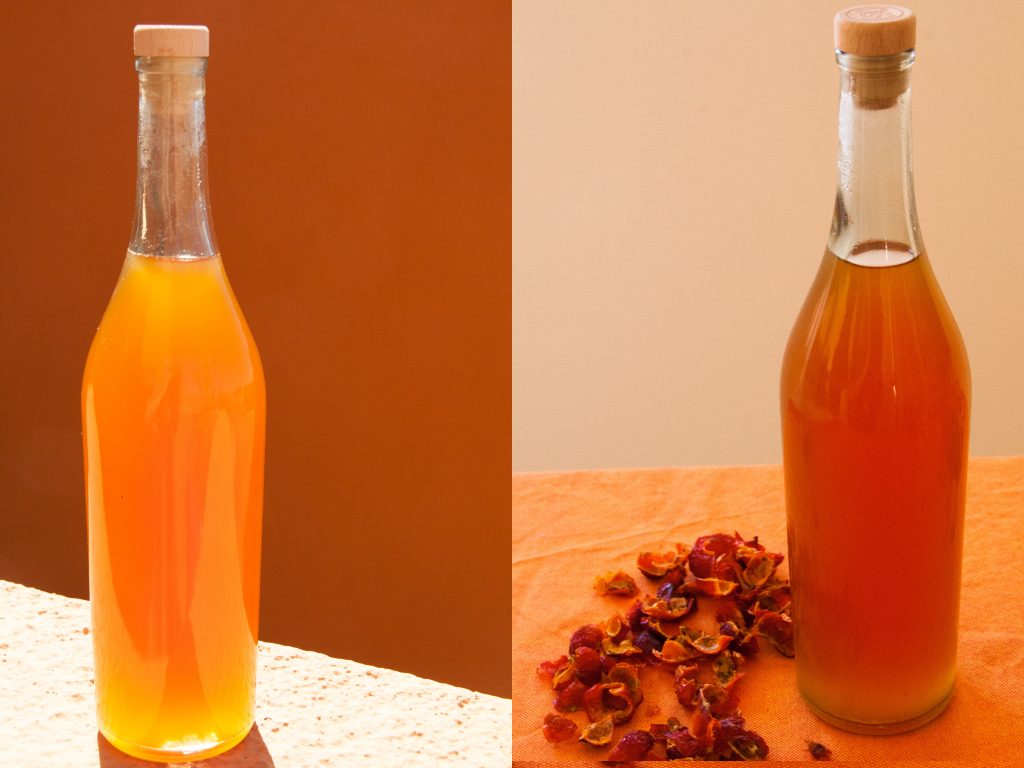 Rose hip syrup is made from rose hips, which are the fruits of roses. (I know, I know, most people don't think of roses as having fruits, but they do!) The syrup is lovely to look at, and full of vitamin C. Rose hips are a firm fruit, so it takes a little coaxing to get the juices out. The process is similar to that for soft fruits, but since the fruit isn't super-juicy, there are a few extra steps.
Breaking up the rose hips in advance helps release the juices. Wash the fruit, then remove the large calyx (the thing that looks like a star attached to one end of the fruit) from the top of each hip. Put the hips in a blender, and add enough water to cover them halfway. Pulse your blender to roughly chop the rose hips. You're not trying to make a purée; you just want to break up the fruit.
Transfer the chopped rose hips to a saucepan, and add enough water to barely cover them. Bring the water to a boil, then reduce the heat and simmer for 5 minutes. By this time, the hips should be soft enough to mash with a potato masher. Turn off the heat and let the fruit sit for 15 minutes.
Pour the rose hips into a jelly bag set over a bowl, and let the juice drain. Don't squeeze the jelly bag as the juice is draining, or your syrup may be cloudy.
Return the hip pulp to the pan and, again, add just enough water to cover the fruit. Repeat the simmering/draining process as described above.
Combine the two batches of juice into one, measure it, and pour it into a clean saucepan. For every cup of juice, add one cup of sugar to the liquid. Whisk the sugar and juice together, over medium heat, until the sugar is completely dissolved. If the liquid starts to boil, reduce the heat to a simmer. Cook for five minutes, then remove from the heat and allow it to cool. Pour the cooled syrup into bottles or canning jars.
Rose hip syrup can be used as a base for ice cream or sorbet, as a cocktail mixer, or to make rose hip liqueur. It will keep for several months in the refrigerator. For long-term storage, process jars of syrup in a boiling water bath for 10 minutes.