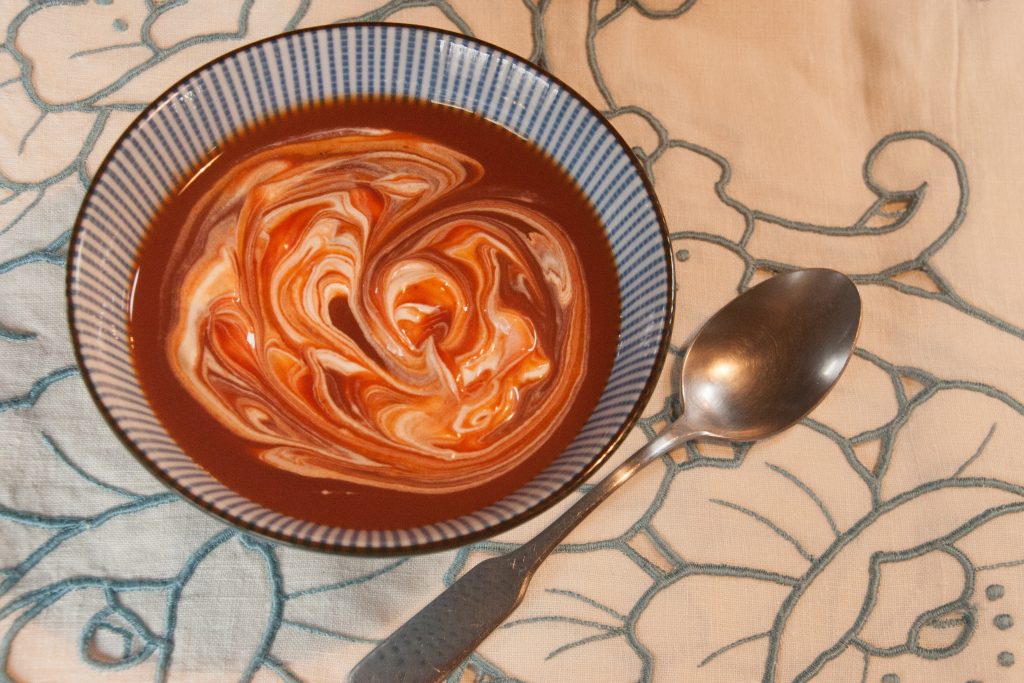 Americans don't eat a lot of dessert soups, but a smooth fruit soup makes an elegant ending to a special meal. In Sweden, nyponsoppa is a traditional dessert. Here, we call it rose hip soup. Many rose hip soup recipes call for spices like star anise, cinnamon, and nutmeg, but my recipe highlights the sweet/tart flavor of rose hips and calls for no additional spices or flavors. It's a great way to get acquainted with the pure taste of rose hips, which is difficult to describe: mostly fruity with a touch of the vegetal.
If you're curious about the flavor of rose hips, don't just pop one in your mouth! The fruits are filled with seeds and tiny, scratchy hairs which are far from delicious. To get a feel for the taste before you put on your apron, go down to your neighborhood IKEA. They sell bottles of rose hip juice in their food section!
What You'll Need to Make Rose Hip Soup:
2 cups rose hip purée
2 cups water
1/8 – 1/4 cup sugar
1 Tbs. cornstarch
1 Tbs. cold water
cream, yogurt, or vanilla ice cream
What You'll Do to Make Rose Hip Soup:
To make the purée, cut the rose hips in half, then scoop out the seeds and hairs, and discard them. (This is why using the largest rose hips you can find is a good idea. Small rose hips are tedious to work with.) Put the cleaned pulp in a pan and barely cover the pulp with water. Cook over low – medium heat until the water is absorbed and the pulp has softened. Run the pulp through a food mill to create the purée.
To make the soup, combine the purée, water, and sugar over low heat and stir to dissolve the sugar. (Start with 1/8 cup of sugar and increase according to your taste.)
Separately, combine the cornstarch and water to make a paste. Whisk the paste into the rose hip mixture and stir over medium heat until the soup begins to thicken. It's ok to let it simmer, but keep stirring to avoid scorching.
When the soup has reached the desired thickness, remove it from the heat.
Rose hip soup may be served hot or cold, depending on the season. Since you can make this soup from fresh or dried rose hips, you can make it year 'round.
If you'd like to serve it hot, swirl in a little cream or float a few crunchy cookies, like mini ginger snaps or lemon biscotti, in the richly colored broth. To serve it cold, refrigerate the soup for a few hours, then pour into bowls. Swirl in yogurt or cream, or add a small scoop of vanilla ice cream to your bowl.