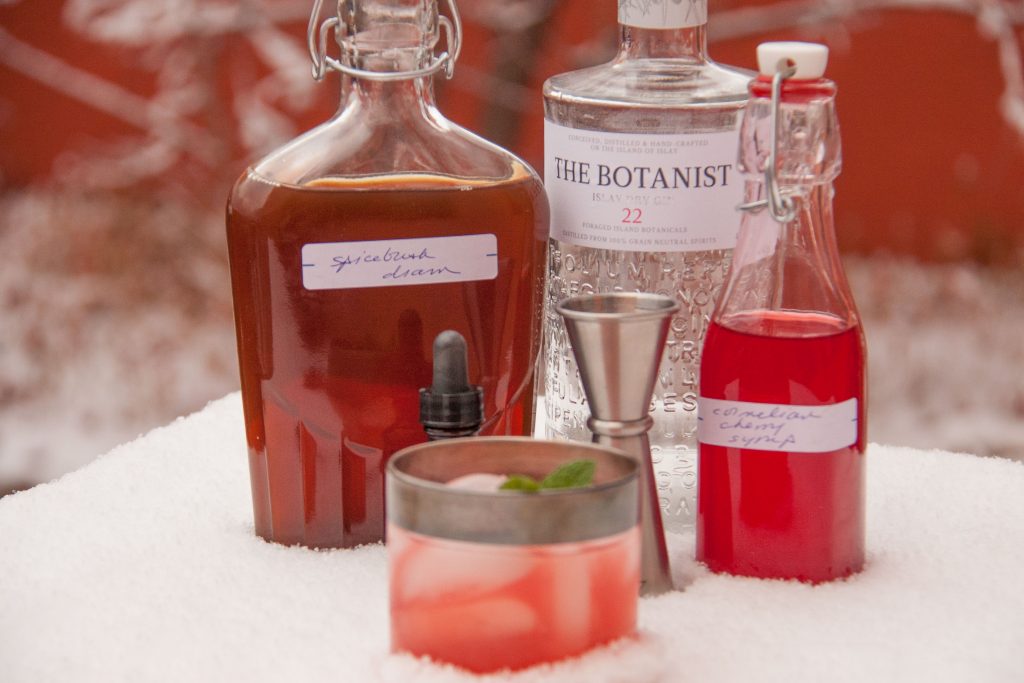 Frank Cisneros of The Gin Palace in NYC created The Poinsettia Punch as a holiday beverage that gets its festive color from grenadine. With a few adjustments, I've come up with a foraged version I like even better. The Naughty & Nice is a wildcrafted winter holiday punch that is very nice indeed…and do I really have to explain the naughty bit?
If you don't have cornelian cherry syrup sitting in your pantry (what? how can that be?) feel free to substitute sour cherry syrup or cranberry syrup. You want that bright red color and a tart flavor. As for the spicebush dram, St. Elizabeth's Allspice Dram is an excellent substitute. (I promise I'll post my recipes for spicebush dram very soon.)
I used to work for The Botanist gin and it truly is one of my favorites. If you can find it near you, give it a try; it's made from 22 foraged botanicals and works perfectly in this cocktail. If you can't find it near you, choose an interesting botanical gin for this recipe.
This punch is the perfect centerpiece for a holiday cocktail party, or as a welcome cocktail while your guests mingle before dinner. Serve it with savory cheese biscuits or spiced nuts; the sweet taste of the punch shines when juxtaposed with salty snacks.
What You'll Need to Make one Naughty & Nice
What You'll DO to Make one Naughty & Nice
Combine gin, verjuice, cornelian cherry syrup, spicebush dram, and bitters in a cocktail shaker full of ice. Shake for 30 seconds. Strain into a rocks glass over ice and garnish with a few mint leaves. (The garnish is optional, but the green and red look so pretty together, I can't resist.)
For those of you who prefer an alcohol free beverage, leave out the gin and use 1.5 ounces cornelian cherry syrup and 1.5 ounces lime-flavored seltzer. The mocktail doesn't have the complexity of the cocktail, but it's sweet and tart and very pretty, especially with the mint garnish.
To make a bowl full of Naughty & Nice punch, increase each ingredient proportionally but don't add ice to the punch bowl or the punch will become diluted as the evening progresses. Add ice to each punch glass as you serve.
This punch not only puts on a visual show with its classic Christmas colors, but if any of your holiday guests are lactose intolerant, think how much they'll appreciate this alternative to the ubiquitous eggnog!