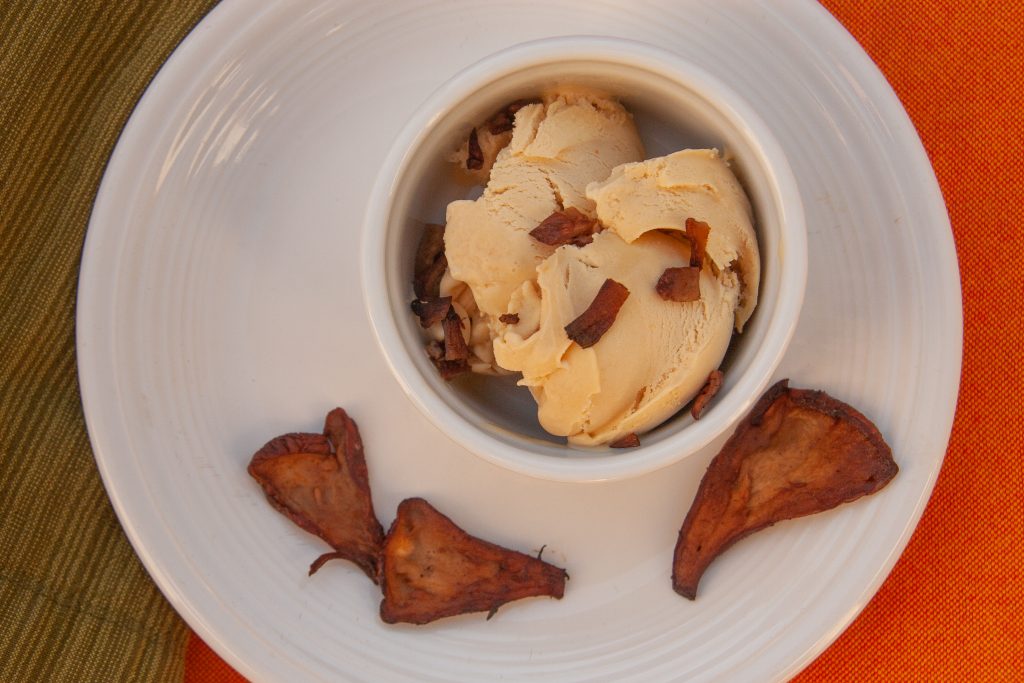 Last weekend I attended the New Mexico Mycological Society's annual foray in Taos, NM. We've had a generous monsoon season in northern NM this year, something we can't always count on. When you combine moisture with mycelium and more than 80 mycophiles, what do you get? A lot of mushrooms, some new friends, and a very good time.
I added a few new species to my "yes I can identify that with confidence" list, and because chanterelles were SO abundant this year (2022 should truly be dubbed the year of the chanterelle), I decided to try what some might consider to be a wacky recipe: chanterelle ice cream.
But first, a word about one of the new-to-me mushrooms: Claviadelphus truncatus (aka club fungus). It's s cousin of the chanterelle, with a similar color, but the shape is quite different. It's unique-looking and therefore easy to identify. Several people at the foray told me it has a sweet flavor when fried in butter, so I definitely wanted to give that a try! You can make this recipe without the club fungus, but I fried some up and sprinkled a few pieces on top of the ice cream for a little textural contrast.
When I was searching the interwebs for a base recipe I found lots that called for additional flavors, like juniper berries (omg no, that would totally overpower the chanterelle!), and apricots (I'm sorry but I never get that apricot scent with chanterelles and neither do a lot of other people). I toyed with the idea of adding some of the "almond" extract I make from apricot kernels but decided to keep it simple. I really wanted to taste the chanterelle, and I think that was the right call.
What You'll need to make chanterelle ice cream
2 ounces fresh chanterelles
1 1/2 cups half and half
1/4 cup sugar
3 egg yolks
a teeny-tiny pinch of salt
This makes enough for four moderate servings. Feel free to double or triple the recipe, depending on how many chanterelles you've got and how big your ice cream maker is.
What You'll do to make chanterelle ice cream
In a saucepan, combine the half and half with the chanterelles and heat over medium-low heat until you see bubbles start to form around the edge of the liquid. Stir constantly to keep the half and half from burning. After 10 minutes, remove the pot from the heat.
Transfer the mixture to a blender and pulverize until the batter is smooth and creamy.
In a bowl, combine the sugar, egg yolks, and salt and beat until the ingredients are well blended and pale yellow. Gradually add the warm mushroom/cream mixture to the eggs, about 1/4 cup at a time, whisking as you go. This is called tempering the eggs, and it's an essential step in making a custard ice cream base. By adding the warm cream in small increments, you'll prevent the eggs from cooking and turning into a lumpy mess.
When all the ingredients have been combined, return the mixture to the stove and heat (over medium heat) until the custard becomes thick enough to coat the back of a spoon,and leave a trail when you pull your finger through the custard. Do not boil the custard!
Refrigerate the custard for several hours, then transfer the batter to your ice cream maker and make some ice cream magic.
Chanterelle ice cream somehow manages to be both rich and light at the same time. I don't understand how that's possible, but you'll get no complaints from me. The flavor is subtle, delicious, and dare I say, a little addictive. Does it taste like apricots? No it does not! And why would you want it to? It tastes like chanterelles.