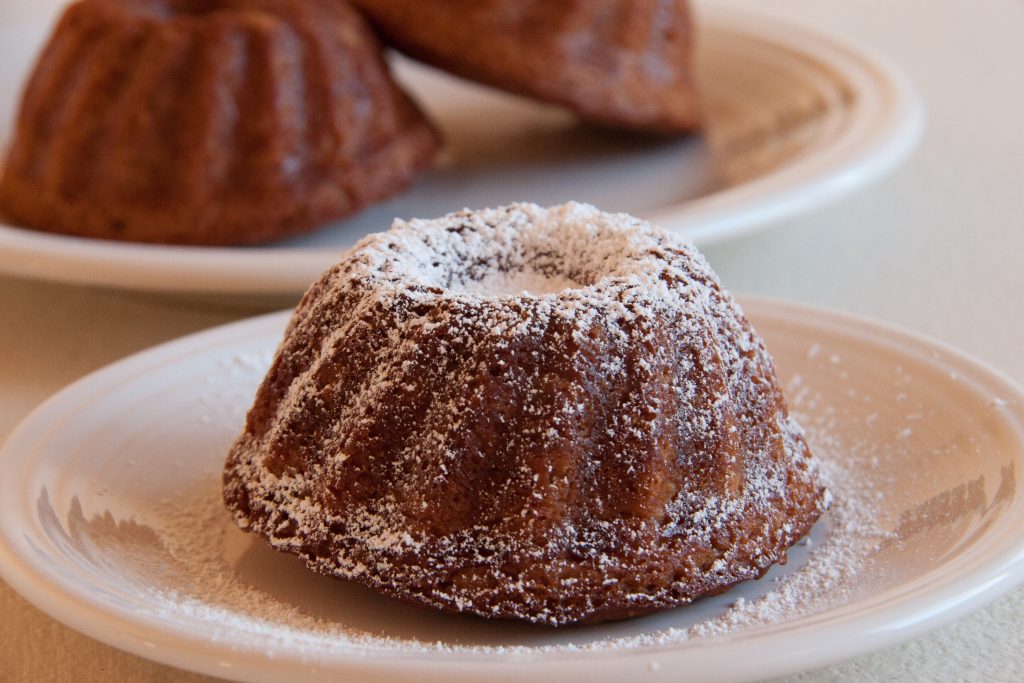 Crabapple sauce isn't just an excellent side dish for pork or a healthy foraged dessert. It's also the base for this moist, dense, fruity, drunken dessert: crabapple whisky cake. You can make it in a 9″ tube or bundt pan, or in several, smaller pans. This recipe freezes well, so I often make several smaller cakes, and stash a few in the freezer for when I'm sad and lonely. Or just hungry.
If you'd like to make it sans booze, the batter will be slightly thicker and you should start checking for doneness at 35 minutes rather than 40. ("But really," she whispered, "you should make it with booze.")
What You'll Need to Make Crabapple Whisky Cake
3 cups all purpose flour
2 teaspoons baking soda
1 teaspoon salt
1 1/4 teaspoons ground, dried spicebush berries (You may substitute cinnamon.)
2 sticks unsalted butter, softened
2 cups packed, light brown sugar
1/4 cup honey
2 large eggs
2/3 cup whisky, divided in half
2 cups crabapple sauce
nonstick cooking spray
confectioner's sugar (optional)
What You'll Do to Make Crabapple Whisky Cake
Preheat oven to 350F.
In a large bowl, combine the flour, baking soda, salt, and spicebush berries. Set this aside.
With an electric mixer, beat the softened butter, brown sugar, and honey, until everything is light and fluffy. Add the eggs, while continuing to beat, then add 1/3 cup whisky. With the mixer on low, pour in the dry ingredients that you set aside earlier, and beat until just combined. Then, add the applesauce, and continue to beat.
Use nonstick spray to coat a 9-inch tube pan, then spoon the batter into the pan and smooth the top. Bake for 50 – 60 minutes, or until a toothpick inserted into the middle of the pan comes out clean.
Cool the cake in the pan for 10 minutes, then turn it out onto a cutting board or baking sheet. Next, invert the cake onto a wire rack, top side facing up, and let the cake cool completely. While the cake is cooling, pour the remaining 1/3 cup of whisky around the top of the cake, so it will be evenly absorbed. Dust with confectioner's sugar or serve with whipped cream or ice cream.
You're welcome.