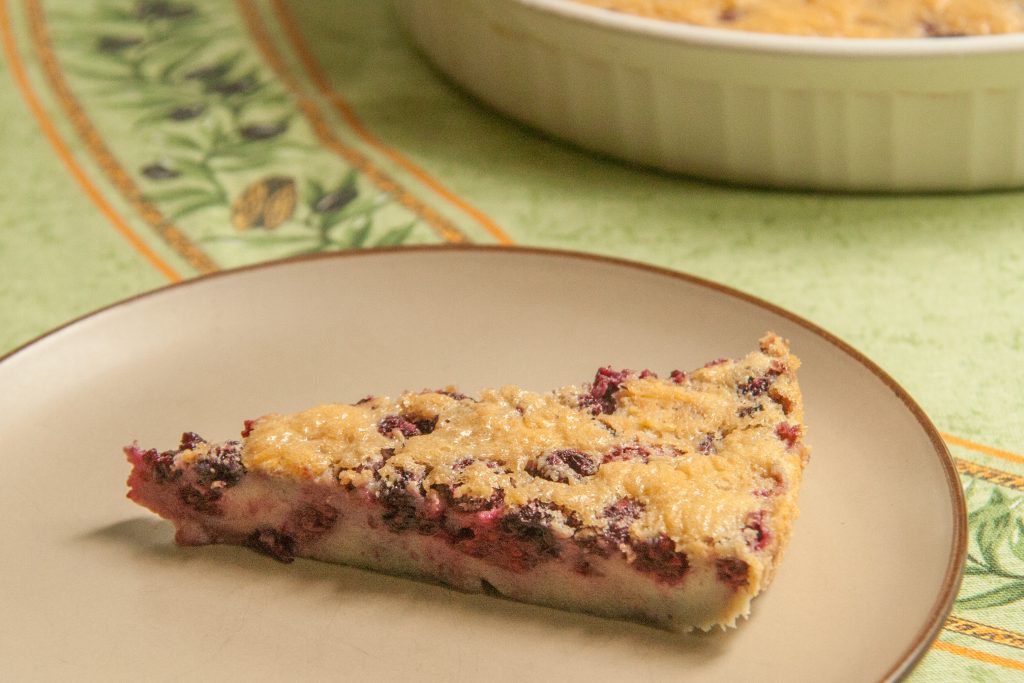 I first ate clafouti on vacation in France, in the middle of cherry season. Everywhere we went, cherry clafouti was on the menu. I'd never heard of clafouti (and I had to be told how to pronounce it: klah-foo-tee, with the accent just barely on the last syllable), but I've never been afraid to try a new dessert. I fell in love with clafouti, truly, madly, deeply, and I ordered it whenever I had the chance.
The consistency of clafouti is unusual, somewhere between pudding and cake. It's fruity, creamy, and dangerously delicious. I assumed that something so unique in texture must be difficult to make, so I toyed with the idea of buying a clafouti mix. Coming to my senses, I looked to the Grand Dame of French Cookery and read Julia Child's recipe. So simple, and I especially love that you can mix it up in a blender. I had to try a foraged version.
You can make a clafouti with this basic batter recipe and any seasonal fruit. Try serviceberries in June and black raspberries in July, then move on to blueberries, blackberries, and if you're lucky, wild plums!
Serve clafouti warm or at room temperature, topped with powdered sugar, whipped cream, ice cream, or sorbet. And you wouldn't be the first person to eat it plain for breakfast, should the impulse strike.
What You'll Need to Make Black Raspberry Clafouti:
1 1/4 cups milk (nut milk works well)
1/3 + 1/3 cups sugar (If your fruit is super sweet, reduce this to 1/4 + 1/4 cups sugar.)
3 eggs
1 Tbs. vanilla
1/8 tsp. salt
1/2 cup flour
2 cups black raspberries (or other seasonal fruit)
What You'll Do to Make Black Raspberry Clafouti:
Preheat your oven to 350F.
Combine the milk, 1/3 cup sugar, eggs, vanilla, salt, and flour in a blender and blend for a minute on the highest setting.
Lightly butter an eight or nine inch baking dish and pour in enough batter to cover the pan by about 1/4 inch. Bake for five minutes, or until it has just set, but isn't baked solid. It should jiggle but not run when you shake the pan.
Remove the dish from the oven and spread the fruit over the batter, then sprinkle the second 1/3 cup of sugar over the fruit. If you're using large fruit, like plums, cut them into bite sized pieces.
Pour the rest of the batter over the fruit, and return the baking dish to the oven.
Bake for 45-55 minutes, or until a tooth pick inserted in the center comes out clean and the clafouti is golden brown.
Clafouti is a dessert for people who say they don't like desserts. (You're all liars anyway and everyone knows it.) A simple, baked custard surrounds fresh fruit, yet doesn't overwhelm it with sweetness. Clafouti is light, springy, and moist. And very easy to pack a few leftover slices for a picnic lunch.