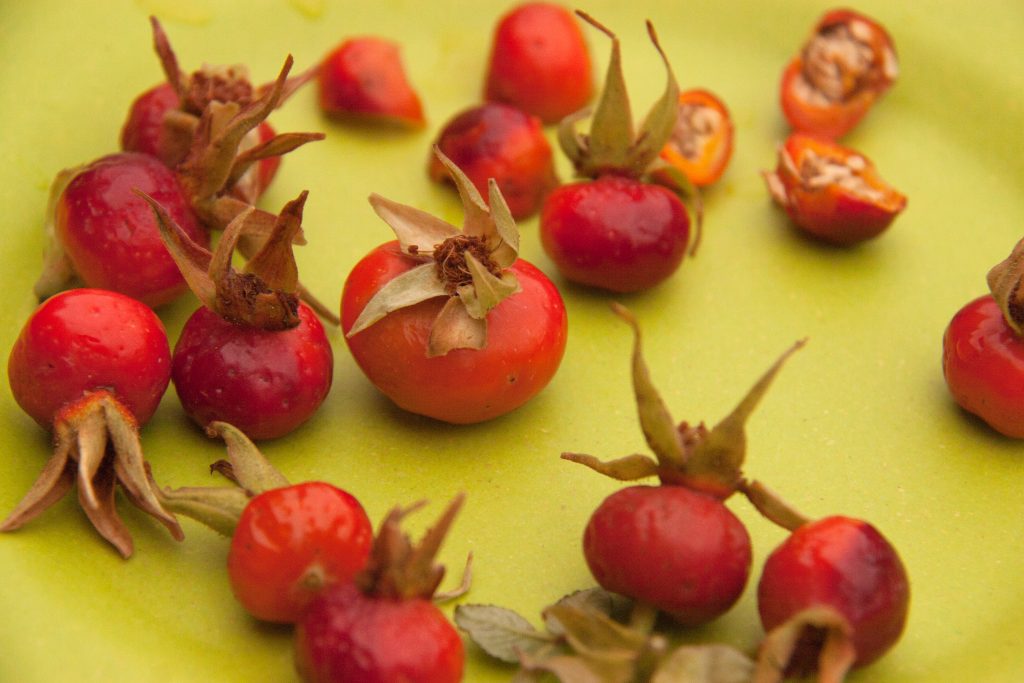 If you're someone who likes a perfectly groomed garden, I'm going to save you some time: stop reading. But if you're someone who likes to enjoy both the beauty and the flavors your garden has to offer, then you've come to the right place. Rose hips are not only attractive, but also tasty and nutritious.
Depending on where you live, rose hips ripen at the end of summer or the beginning of fall. They're persistent fruits, which means they linger on the plant until someone (or something) takes them off. It's not unusual to see last year's shrivelled fruits still on the rose plant when new flowers bloom, although birds or mammals (including human foragers) often clean up the fruit before that happens.
Some people like to harvest rose hips as soon as they ripen (to beat non-human foragers to the prize?) and others leave them on the plant to sweeten. The choice is up to you, and of course, it will at least partly depend on how you want to use them. We'll get to that in a minute, but here's why you should harvest rose hips in the first place.
What are Rose Hips? (and why are they called hips?)
Let's get that second question out of the way first. The answer is: I don't know. Apparently the word "hiope" meant "seed vessel of the wild rose" in Olde Englishe. I don't find that especially helpful. But you asked.
If you grow roses, and if you conscientiously deadhead them to encourage more bloom, you won't get any hips. But, if you'd like to cultivate a crop of hips, let the flowers linger and become pollinated. Hips will start to form within a week of pollination. If you absolutely can't stand to let the faded petals stay on the plant, you may gently remove them once you see the base of the flower start to swell. (That swelling will become the hip.) But seriously, that is a whole new level of OCD.
Rose hips are the red/pink/orange fruits of roses and they're packed with vitamin C. During WWII, the Brits gave women and children rose hip syrup as a vitamin supplement. (I know this because I watch Call the Midwife.) Rose hips taste terrific, but don't just pop a raw hip into your mouth! Inside each red fruit are many small seeds, surrounded by many small hairs. Those hairs were used to make the original itching powder (Remember when that was advertised in the back of comic books?) and are highly irritating.
When to Harvest Rose Hips & How to Process Them
For the sweetest possible fruit, wait to pick until after a frost. You'll want to do this if you're making jam, jelly, syrup, or liqueur. It's less important for soup or savory sauces. Any rose that hasn't been sprayed with toxic chemicals produces edible hips, but depending on what you want to do with your fruit, you might want to focus on larger hips. I use smaller rose hips for jelly and syrup, since it can be tedious to cut and scoop the small fruits.
It's less important what the rose hips look like and more important how they taste and smell. The most delicious hips I've ever harvested were on a wild rose in Denver in spring, after the hips had been on the plant over a long, hard winter. They looked shriveled and dry…not exactly appetizing. But the flavor was sweet and reminiscent of strawberries.
If you want to make pulp, you'll need to clean the seeds and hairs out of each hip, so look for large fruits like those produced by rugosa roses (Rose rugosa) or dog roses (Rosa canina). Cut the fruit in half, then scoop out the seeds and hairs, and discard them. Put the cleaned pulp in a pan and barely cover with water. Cook over low – medium heat until the water is absorbed and the pulp has softened. Run the pulp through a food mill, then use it to make fruit leather, jam, liqueurs, sauces, and that Scandinavian classic: rose hip soup.
If you want to make jelly or syrup you can use whole rose hips, no de-seeding required. You may juice rose hips in a saucepan or in a steam juicer. If you use a steam juicer, just pop the fruit into the top section of your juicer. If you're using a saucepan, break them up a little before juicing. Just give them a few pulses in a blender or food processor with a little water, then transfer the hips to the saucepan. And, If you use a saucepan, you'll need to add a little more water to cook the fruit, then strain the pulp through a jelly bag at the end to get your juice. Also, with the saucepan method, I sometimes cook the pulp a second time, then combine the two batches for maximum juice. Once you've got your juice, you can turn that into rose hip syrup, or a rose hip cocktail.
Rose hips store well in the freezer, or if you've got a dehydrator, you can dry the fruit and rehydrate it when you have time to play with your harvest. Save the water you use to rehydrate the hips…it may come in handy in your recipe. When you do have time to cook with your rose hips, stay away from copper or aluminum cookware. Copper can destroy the vitamin C and aluminum dulls the bright red color of the fruit.