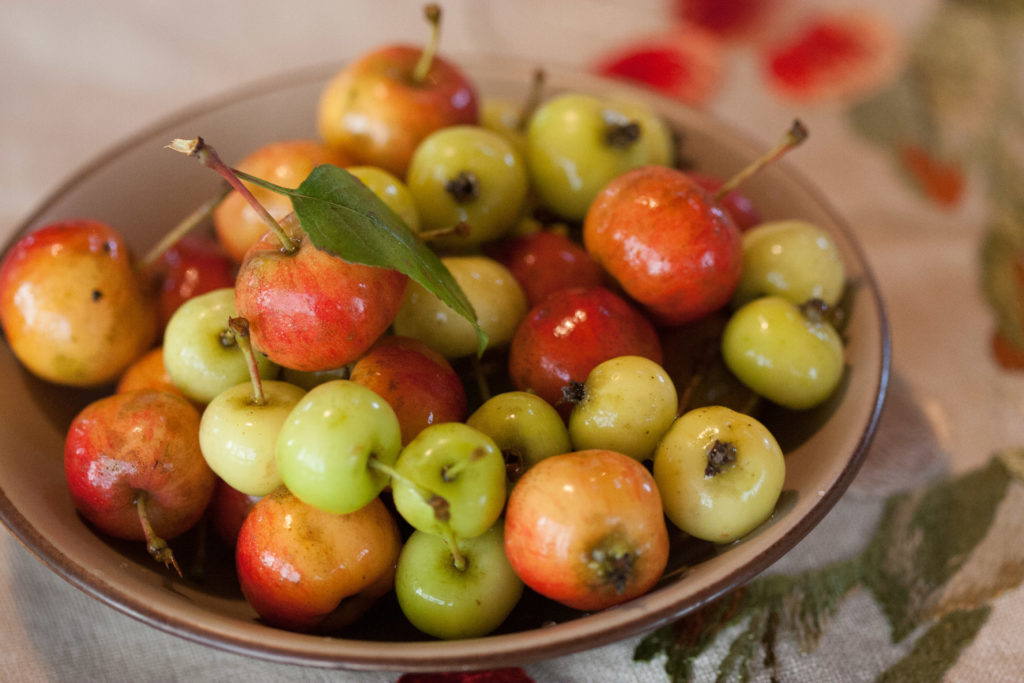 I grew up thinking crabapples were poisonous. (I also grew up thinking life was fair and goodness would be rewarded, so go figure.) After all, I never saw anybody eat them, and why would people let all that pretty fruit go to waste if it was worth eating? Crabapples are extremely popular garden plants, but almost everyone grows them for their delicate spring flowers, not for their fruit. Today it is my pleasure to tell you, nay to encourage you, to eat your crabapples!
Crabapples are bred for looks, not taste, and the flavor varies widely from tree to tree. Most are extremely sour and many have a grainy texture. So why do I recommend eating them? Because some are as crisp and delicious as a full sized apple, and even those that don't have wonderful texture yield a tart juice you can use in jellies, cocktails, and frozen desserts.
Technically, any apple with a diameter smaller than two inches is a crabapple. Botanically, they're in the Malus genus, just like regular apples.
Crabapples have lots of natural pectin, which explains why they're so sour. (Pectin is very sour.) The pectin level declines with time so if you want to make a no-pectin added jelly, harvest barely ripe or under ripe fruit. Otherwise, let the crabapples stay on the tree to sweeten up a bit, but pick them before they start to shrivel. Crabapples are persistent fruit, which means they'll hang on the tree all winter long until birds and squirrels (and foragers) have eaten every last one.
Larger crabapples (with a diameter greater than one inch) tend to have better texture than smaller fruit, and can be eaten raw or pickled. Spiced crabapples (made with spicebush and wild ginger) are an excellent side dish with chicken or pork. And they make a lovely cocktail garnish.
Smaller, mealy fruit may not be great for eating out of hand, but still has plenty of culinary value. You can make homemade pectin to use with low pectin fruit, or syrup to use as a base for sorbet and ice cream, or crabapple wine that is surprisingly reminiscent of port. Infuse a bottle of bourbon with crabapples to make a classic fall cocktail. The combination of tart fruit and sweet whiskey is terrific.
Cooking obliterates any textural issues you might have with small crabapples, so use them in pies, cakes, applesauce, and fruit leather. You'll probably need to adjust the sugar if you're using a traditional apple recipe, since crabs are almost always more sour than larger apples.
Next time you pass a crabapple tree with ripe fruit, taste one. (As long as you have permission and you know the fruit hasn't been sprayed with anything toxic, of course.) Yes, it will be sour. But imagine that tartness tempered with a little sugar and a few spices. Then you'll understand why my kitchen is full of crabapple juice, crabapple sauce, and crabapple syrup. And did I mention crabapple bourbon? Cheers!