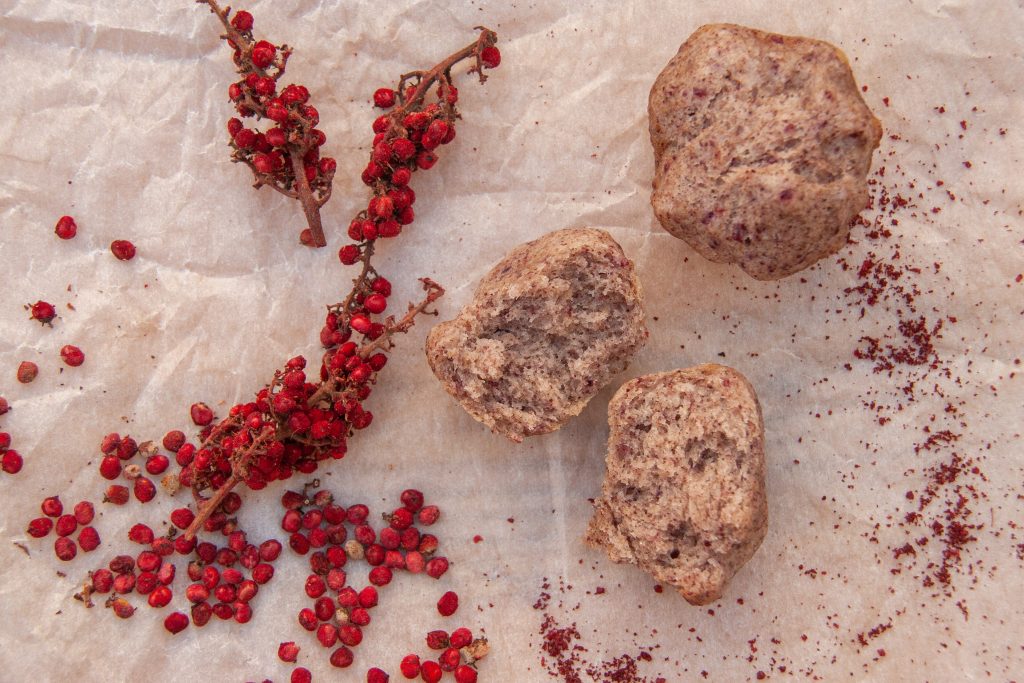 I first tasted steamed buns in Japan, although they were flavored with mugwort (also delicious!) rather than sumac. It's a simple, versatile recipe, and once you've tried it with sumac, I'm sure you'll want to play around with lots of other foraged spices.
The size of your muffin tin will determine the size of the pan that holds the tin on top of your stove. I use a sauté pan, but any vessel (with a cover) that's large enough to hold the muffin tin will work well. This recipe makes six steamed buns or 12 mini-buns. Serve them for breakfast or with afternoon tea.
What You'll Need to Make Sumac Steamed Buns
3/4 cup Bisquick (or similar pancake mix)
2 Tbs. dried, ground sumac
1 egg (beaten)
1 Tbs. vegetable oil
3 Tbs. milk
3 Tbs. sugar
What You'll Do to Make Sumac Steamed Buns
Combine the egg, vegetable oil, milk, and sugar in a bowl. Add the Bisquick and sumac, and stir to combine.
Grease the muffin tin, and distribute the batter evenly among the cups. Place the tin in a large pan, and add enough water to come within a half inch of the top of the tin. Cover, and turn the burner on medium-high.
Steam the buns for 12 – 15 minutes (from the time you turn on the burner) until they are round and puffy. The buns are ready when you can feel them bounce back from (but not stick to) the gentle push of your fingertip.
Sumac steamed buns are best served warm, perhaps with a skim of butter. Leftovers can be reheated in a steamer or microwave.
NOTE: I've been asked for a gluten-free version of this dish, but I haven't had great luck with the two versions I've tried. Both turned out gluey and heavy, and this was with the same gluten free flours that I use for baking with great success. (I'm wondering if steaming and gluten-free flour maybe don't play well together?) If anyone out there wants to try this recipe with a gluten-free pancake mix, please let me know how it works out for you!