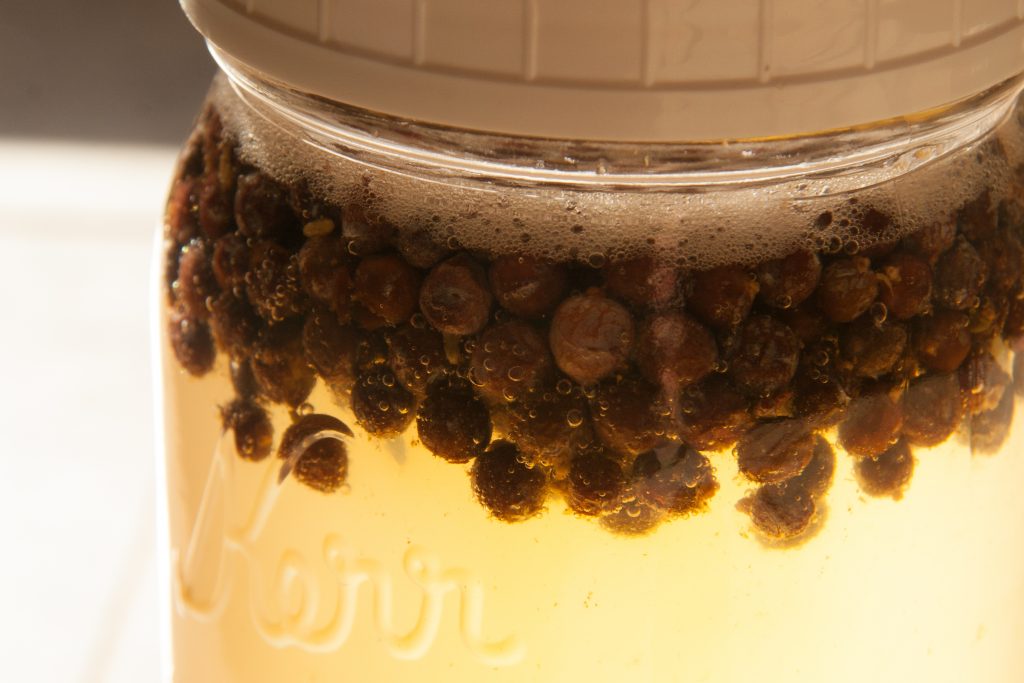 Lest you think there's nothing to forage for in the depths of winter, think again. Juniper berries are all around you…whether you live in the high deserts of New Mexico or the mean streets of New York City. And ripe juniper berries are useful for much more than flavoring gin. Try making smreka, a fermented beverage from the Balkans, that requires only water and berries. What could be easier?
Junipers are scale evergreens; their leaves look like tightly overlapping scales rather than needles or large, flat leaves. And junipers are dioecious, meaning male and female flowers are borne on separate plants. So whenever you see a berry-laden juniper…it's a female.
Depending on the species, juniper fruit may take one to two years to ripen, so it's not unusual to find both green (unripe) and blue (ripe) fruit on the tree at the same time. And while ripe fruit makes an excellent trail nibble, unripe fruit is intensely bitter. Unless you're harvesting to make bitters, stick to the ripe fruit.
I'm often asked if juniper berries are safe to eat, and there's some controversy about this subject. The bark of J. sabina can be toxic to cattle when eaten in large quantities, but we're foraging for the fruit, not the bark. No studies have been done on potential toxicity to humans. Additionally, J. sabina isn't native to this country, so you're unlikely to come across it while foraging in the wild.
Sure, you can find dried juniper berries in good spice stores, but with so much juniper all around us, why not forage for your own? The fruit of J. communis is generally considered to be the tastiest (it's the species most often used to flavor gin), but it's worth sampling the fruit of all our native species. Juniper fruit has both bitter and sweet elements. It's a complex flavor, sometimes described as citrusy and evergreen, reminiscent of rosemary. And in addition to being the most familiar flavor in gin, juniper fruit is also a traditional sauerkraut spice, and it makes a delicious ingredient in dry rubs. And of course, it's the base for smreka, sometimes called Balkan lemonade.
Juniper berries are covered with a white bloom that some people think is yeast. In fact, the bloom is actually a waxy covering secreted by the juniper fruit's skin that indicates the presence of yeast. That yeast is what makes naturally fermented smreka possible. While you may find recipes online that call for adding lemon to the brew, I think it's plenty sour without it. Try making your first batch with just juniper fruit and water; you can always add lemon later.
WHAT YOU'LL NEED TO MAKE SMREKA
1/2 cup juniper fruit
2 cups non-chlorinated water
(yes, really, that's it)
what you'll do to make Smreka
Combine the juniper fruit and water in a jar with a tight-fitting lid. Cover the jar, shake it, and put it somewhere out of direct sun, where you can keep an eye on it. Shake it once a day. As the smreka ferments, the water turns yellow, and most of the fruit sinks to the bottom of the jar.
After 30 days, strain off the fruit and pour the liquid through a coffee filter to remove any small particles. Because there is very little sugar in juniper fruit, and because yeast feeds on sugar, this will be a lightly fermented beverage. And while technically speaking there must be some alcohol in there (because… fermentation) it is pretty much indiscernable.
Refrigerate your smreka and taste it cold. You'll probably want to add a little honey, but that's up to you. Enjoy it plain, over ice, or substitute it for lime juice in a margarita!