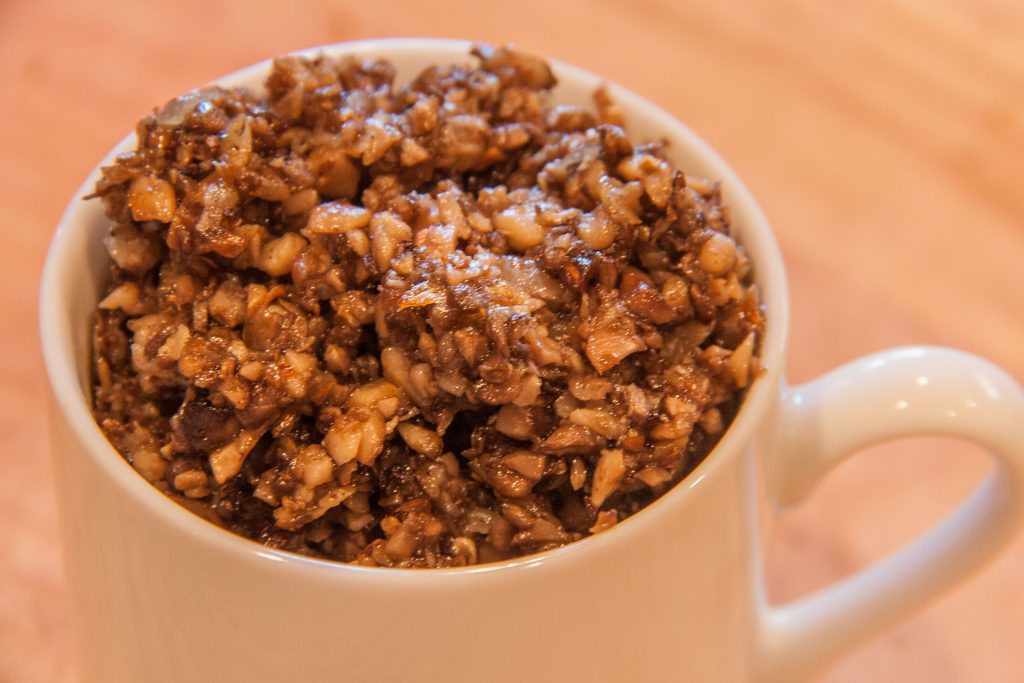 When you've invested hours foraging for wild mushrooms it's hard to give up even an ounce of your harvest. But not every mushroom you bring home is tender enough to eat as is. Let's say you hit the oyster mushroom mother lode and you've already cooked with or preserved all the tender caps. The solid stems feel too dense and woody to use in large pieces, but they're fresh and smell great. What to do? Duxelles to the rescue!
What You'll Need to Make Duxelles
mushrooms
your allium of choice
olive oil or butter
salt and pepper
white wine
What You'll Do to Make Duxelles
This recipe is scalable, which is why I haven't used specific amounts in the ingredient list above. For every pound of mushrooms you'll need at least a Tablespoon of diced alliums and 1/4 cup of white wine. If you have more or less than a pound of mushrooms, please do the math and adjust accordingly.
If you know how you'll use your duxelles, you might choose to add an herb or two (like bee balm or melilot), but if you just want to keep a basic, good-with-anything duxelles on hand, here's your basic recipe.
Finely dice the mushroom pieces. These may be stems or the slightly woody edges of large bracket fungi.
Finely dice your allium. Onions and shallots are both good. Garlic also works, but the flavor may dominate that of the mushroom.
Heat a heavy sauté pan, add a few tablespoon of olive oil or butter, then add the mushrooms and alliums and stir to coat. Add salt and pepper to taste (start with ½ tsp. salt and ¼ tsp pepper).
Cook over medium heat until all the liquid has evaporated and the mushrooms and alliums start to brown. Add ¼ cup white wine, and continue to cook until the liquid has all been absorbed. Remove the mushrooms from the heat and allow them to cool, then freeze in ½ cup portions.
Duxelles can be added to soups or stews for instant flavor, combined with cream for a fast sauce, or mixed with cheese for a pasta filling.