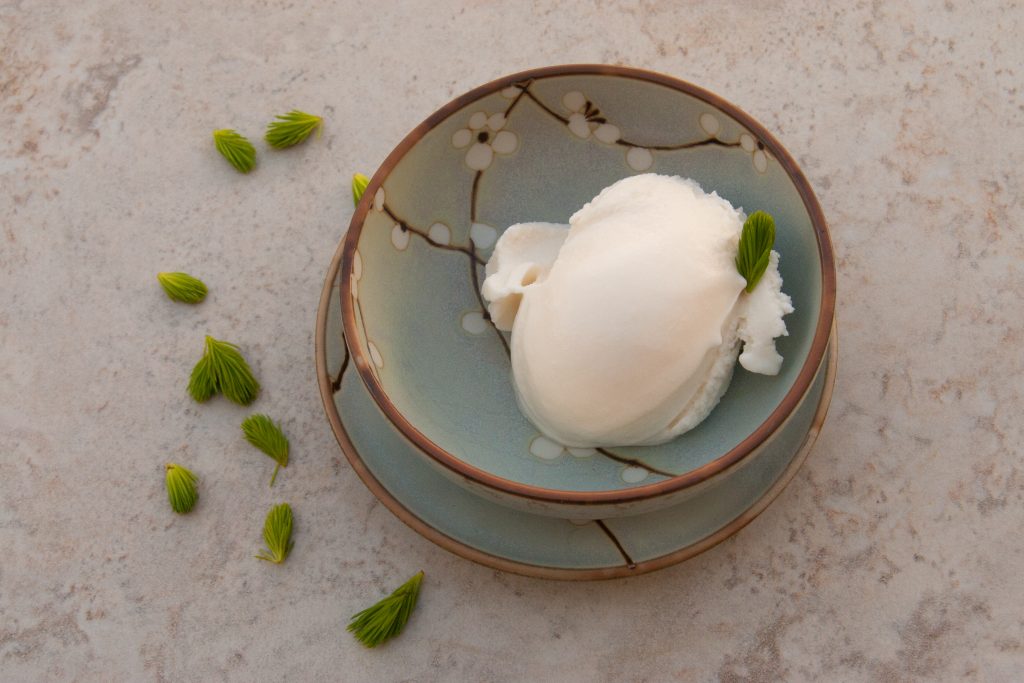 For many years I only used the soft, young tips of spruce branches for cooking, but recently I tried some mature, first year branches, harvested on a snowy December walk. I kept the branches in the freezer, waiting for a special occasion, and pulled them out last week to use in spruce tip ice cream. Their flavor is different from that of the tips. It contains more of the quintessential "spruce" fragrance. It's slightly resinous, sweet, and woodsy, and I love what it brings to this dessert. I recommend using a combination of young tips and first year needles for the best possible flavor.
First year branches will give you flavorful, mature needles. Unlike spruce tips, they'll be spiky and hard, so they aren't great for eating. But their flavor is outstanding, and can be infused in water, cream, or alcohol. When combined with the brighter, citrus flavor of young spruce tips, the result is balanced, complex, and may even taste a little like Christmas.
So how do you know which part of the branch is one year old? Start at the tip of the branch and work backwards until you reach the first junction, where the branch branched. Everything between the tip of the branch and the junction is the current year's growth. You can freeze the branches whole until you're ready to use them, then strip the needles from their branches before infusing.
What You'll Need to Make Spruce Tip Ice Cream
1 cup water
1 cup sugar
1/2  cup spruce tips
1/2 cup mature spruce needles
2/3 cup heavy cream
What You'll Do to Make Spruce Tip Ice Cream
Combine the water and sugar in a saucepan, and heat over medium heat, whisking to dissolve the sugar. Add the spruce tips and needles, and stir to submerge them in the syrup. Remove the saucepan from the heat, cover, and let sit overnight.
Strain off the solids and measure the syrup. You should have about 1 1/3 cups. Add the cream to the syrup and refrigerate the mixture for at least four hours.
Transfer the liquid to your ice cream maker and follow the manufacturer's instructions.
If you'd rather make a non-dairy spruce tip dessert, substitute water for the heavy cream (or half water, half ginger beer!) and make yourself a sorbet. I don't recommend coconut cream as a substitute for cream in this recipe, because the flavor distracts from the spruce.