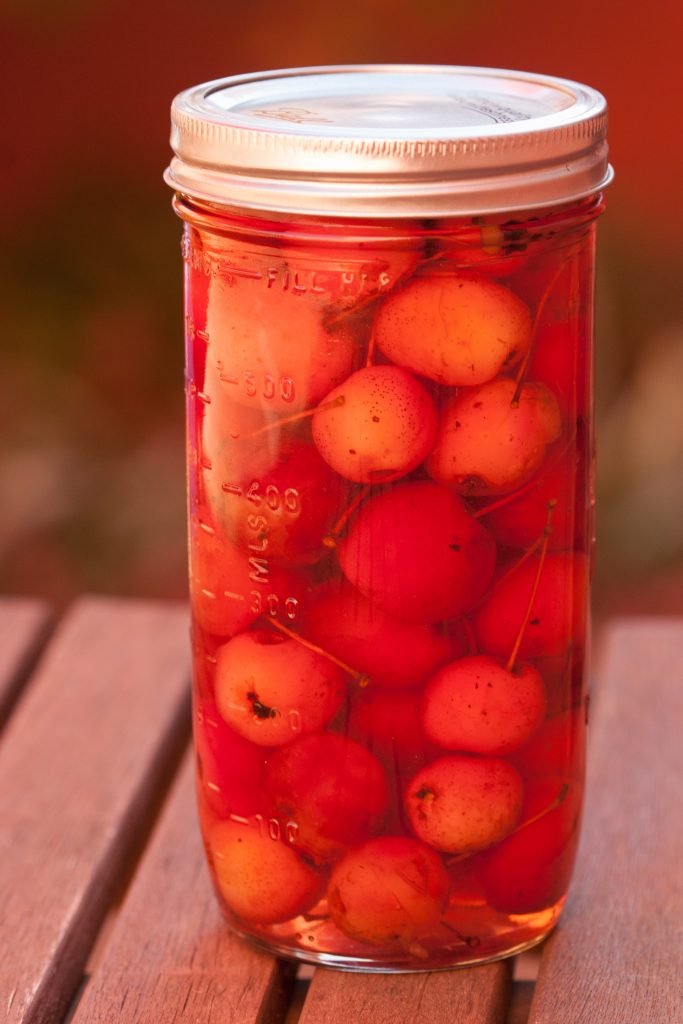 If you've read any of my numerous crabapple posts (I can't help it, I'm a fan.), you've heard me say that smaller crabapples often have a mealy texture. This recipe calls for larger crabapples (more than an inch in diameter). Sample one before harvesting a lot; you want crisp, snappy crabapples for this pickled fruit. Spiced crabapples make an unusual, tasty side dish for pork, turkey, or chicken, and boy do they look pretty on the plate. And if you're a cocktail aficionado, spiced crabapples are the perfect garnish for a Kentucky Belle (bourbon and crabapple) cocktail.
What You'll Need to Make Spiced Crabapples
4 cups crabapples
2 1/4 cups vinegar
1 3/4 cups water
3 1/4 cups sugar
2 teaspoons dried, ground spicebush berries (you may substitute allspice)
2 teaspoons dried, ginger stolons (or 1 tablespoon fresh ginger, minced)
You'll also need four half-pint canning jars with lids.
What You'll Do to Make Spiced Crabapples
Wash the crabapples and leave the stems in place. (You'll use the stems later, to lift individual crabapples from the jar.) Use a toothpick to prick each crabapple in two or three places.
Place the spicebush berries and ginger stolons (or their substitutes) in a spice bag or tea ball. In a saucepan, combine the vinegar, water, and sugar, and bring the mixture to a boil, whisking to dissolve the sugar. Reduce the heat and add the spices, simmering the mixture for five minutes. Remove from the heat and let the liquid cool.
Add the pricked crabapples to the cooled liquid and heat them gradually. You don't want the apple skins to burst, which is why you pricked the skins before heating. Keep the liquid just below a boil, and if you notice any crabapple skins cracking, reduce the heat. The whole skin-cracking thing is for aesthetics only. Pickled fruit with cracked skin is perfectly safe to eat, it just isn't as pretty.
Heat the crabapples for five minutes, then pour them into a bowl, along with the brine and the spice bag, and loosely cover the bowl. Let it sit overnight.
Remove the spice bag and divide the crabapples and brine between four, half-pint jars, leaving 1/2 inch headpsace. These pickles will keep for several weeks in the refrigerator or can be processed in a boiling water bath for 25 minutes for longer storage.