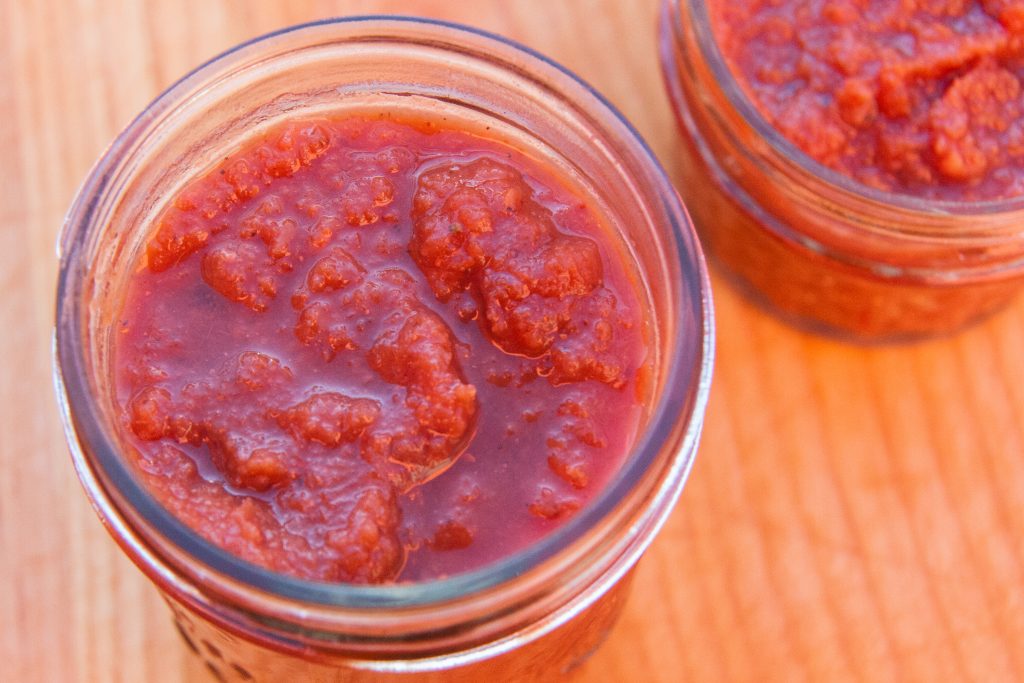 If you've ever bitten into a raw crabapple, you may have found the texture mealy and a little off-putting. Smaller fruit (less than an inch in diameter) often has a grainy texture, but because cooking gets rid of the textural issue, you can use any size fruit in this crabapple sauce recipe.
Be sure to taste a fruit before you harvest a boatload from a single tree. Flavor varies from almost sweet to crazy sour, and underripe crabapples can be unpleasantly astringent. If you're lucky enough to find bright red fruit, the color will carry over into the sauce, making it especially nice.
What You'll Need to Make Crabapple Sauce
8 cups of crabapples
water
1 cup (or more) sugar
What to Do to Make Crabapple Sauce
I've seen recipes that say to quarter each crabapple and remove both ends of the fruit. I can't imagine why anyone would do all this extra work. Simply wash the fruit and cut out any obviously bad spots.
Note: I make crabapple sauce in a crockpot because it's so easy! I love starting a batch in the morning before work, then coming home to a crabapple-scented kitchen. You can also make this recipe in a pot on the stove, but it requires a little more attention. You may also need more water with the stovetop method.
In a crockpot, combine eight cups of crabapples with one cup of water,and turn it on low. Check back in 4-8 hours.
To make this on the stove, combine the water and crabapples in a large pot and bring to a boil. Cover, and reduce the heat to maintain a low simmer. Let it simmer for 30 to 60 minutes, checking regularly and adding more water if necessary. Cook until the crabapples are very soft.
Once the fruit has thoroughly softened, remove it from the heat (either crockpot or stove) and let it cool slightly. Run the crabapples through a food mill to remove the seeds and stems. If the resulting sauce is chunkier than you like, run it through your food mill one more time. If you don't have a food mill, use a potato masher to mash the fruit, then pass the pulp through a strainer to catch the seeds and stems. (Then go buy yourself a food mill because it's a great labor-saving device which you will use often!)
Transfer the sauce to a skillet and taste. It will be MUCH more sour than regular applesauce. Add a cup of sugar and stir it into the applesauce over low heat, then taste again. How you plan to use your applesauce will determine how sweet you'll make it. To serve with sausage, porkchops, or sauerbraten, you may want to stop here. If you're going to serve it as dessert, or to kids as an after school snack, increase the sugar in quarter cup increments until you reach the desired sweetness level.
Once you have your basic crabapple sauce, you can experiment with spicing. Try a batch with chile pequins, or ground spicebush berries and wild ginger.
Crabapple sauce will keep for a week in the refrigerator, or, process jars in a boiling water bath for long term storage. Use it as a base for ice cream or cake or enjoy it all on its own.