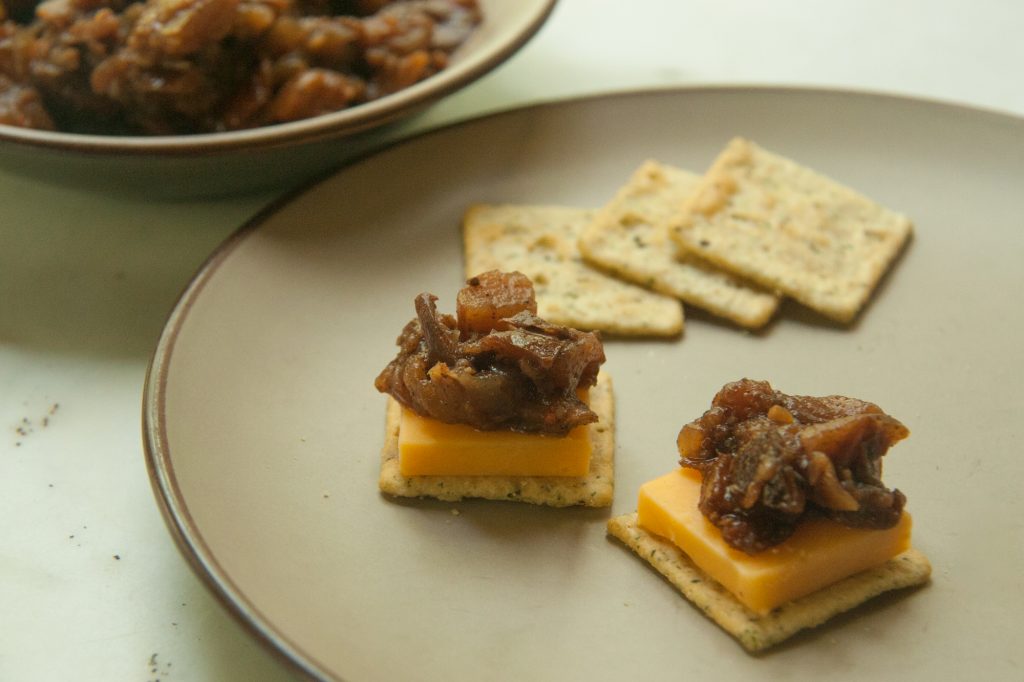 I'm a big chutney fan. I love the juxtaposition of sweet fruit and savory vinegar. I especially love chutneys in summer, because they're the perfect accompaniment to cold meats and cheeses. Add a little chutney to yesterday's roasted chicken or the last few slices of sharp cheddar, and you have yourself a picnic. This savory feral pear chutney isn't a thick, syrupy condiment. The firm, barely sweet flesh of the feral pears is bathed in vinegar, foraged spices, and just a little brown sugar. It's sharp and spicy and goes with just about everything.
This is a flexible recipe. Of course you can make it with cultivated pears. You might also substitute raisins for mulberries, tropical ginger for wild ginger stolons, and allspice for spicebush berries. I've used green chiles instead of red, which gave me a completely different, and also very good, chutney. What I'm saying is, stick with the suggested proportions of pears, onion, vinegar, and sugar, then feel free to play around with the rest of the ingredients. You know which spices you like, and if you don't, you can start with mine.
What You'll Need to Make Feral Pear Chutney
4 cups feral pears, chopped to about a 1/2 – 1 inch dice
1 medium onion, chopped
1 cup apple cider vinegar
1/4 cup brown sugar
1/2 cup dried mulberries (or raisins)
1 1/2 teaspoons dried, ground wild ginger stolons
1/2 teaspoon dried spicebush berries
1/2 teaspoon dried, crumbled melilot
1 Tablespoon hot red pepper (I suggest a Hatch red, but almost any hot pepper will do. Although I wouldn't use a super smoky one…heavy smoke would overwhelm the other flavors.)
What You'll Do to Make Feral Pear Chutney
Combine all the ingredients in a large pot with a heavy bottom. Bring to a boil gradually, then reduce the heat and simmer for at least a half hour, stirring occasionally. The pears should soften, but not fall apart.
Begin testing for doneness after 30 minutes, then at 15 minute intervals. The length of time you simmer will be determined by how tender you like your chutney and how big you cut your pear pieces.
Your chutney will keep in the refrigerator for 3 – 4 weeks. For long term storage, pour the chutney into canning jars, leaving 1/2 inch head space. Process pint jars in a boiling water bath for 10 minutes.