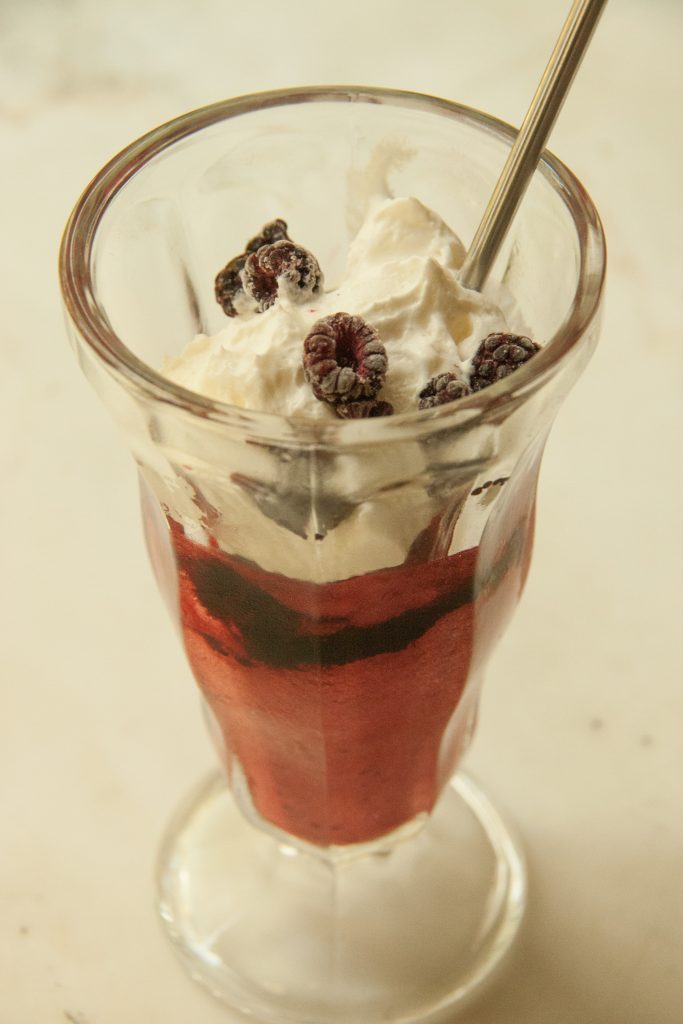 Ok, this recipe is a little unusual for me. First, because it's based on a store-bought product, second because it's low carb. But here's the thing, my husband has just been diagnosed with diabetes, so I'm experimenting with dessert recipes he can enjoy with me. (It doesn't seem fair to ask him to watch me eat dessert, does it?) So what if it's based on store-bought jello…the addition of fresh fruit makes this black raspberry parfait special. Easy, low carb, and delicious. What more could you ask of a cool, summer dessert?
If you have fresh fruit, rinse and freeze two cups of berries. The temperature and consistency of the frozen berries is key. Also, this recipe works well with other bramble berries like wineberries, blackberries, and red raspberries. And for those of you who recoil at the idea of buying a box of jello off the supermarket shelf, feel free to make your own base. I've tried it with pear juice from foraged pears. Was it tasty? Yes indeed. Was it better than the version using sugar free raspberry jello? Nope!
What You'll Need to Make a Low Carb Black Raspberry Parfait
1 package sugar free raspberry jello
3/4 cup boiling water
2 cups frozen black raspberries
1 cup whipped cream (Feel free to substitute here according to your dietary desires…coconut cream and cool whip both work well.)
What You'll Do to Make a Low Carb Black Raspberry Parfait
Heavy whipping cream has only 6 carbs per cup, which is swell, since this recipe makes 4 servings. Whip it up in advance and set it aside.
Combine the powdered jello and boiling water and whisk them together until the powder is completely dissolved.
Stir in the black raspberries and keep stirring until the jello starts to thicken. It won't become super thick, but you'll notice the texture change.
Combine 1/2 cup of the berry/jello mixture with the cool whip and stir to combine, then transfer that to four parfait glasses. Pour the remaining berry/jello mixture on top.
Now, here's what threw me off the first time: I expected the berry/jello mixture to sit on top of the cream layer, but no! It's heavier, so it sinks down into the cream, making both a pretty swirl and a hidden streak of fruity richness for you to dig into with your spoon.
Refrigerate the parfaits until they set, which will take 2 – 4 hours. When you're ready to serve, add a little more whipped cream and a few fresh (or frozen berries) and voilà! You have a deeply fruity, mostly fresh, very healthy summer dessert. This black raspberry parfait is so low carb and low cal, you can even eat two.