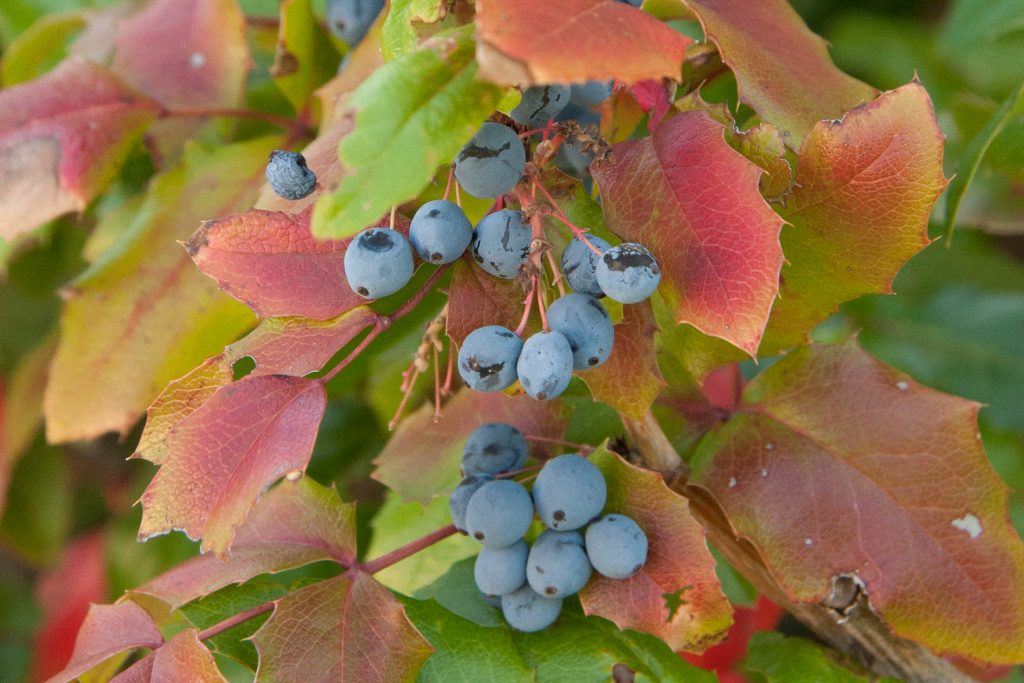 Oregon grape is a popular ornamental shrub, and with good reason; it's pretty to look at in all four seasons. Shiny evergreen leaves take on red variegation when the weather gets cold. In early spring the shrub produces showy sprays of bright yellow flowers, making the bees very happy. And in mid summer to early fall it produces clusters of super-sour, purple fruit.
Yeah, yeah, it's all about the fruit for me. Big surprise. Like grapes, oregon grapes are covered with a whitish bloom, but the resemblance ends there. Oregon grapes are smaller, and MUCH more sour than grapes. M. aquifolium is the species most often used in the landscape, but M. repens is popular as a groundcover. Both produce edible fruit and are quite drought tolerant once established.
How to Harvest Oregon Grape
Carefully!
The foliage of Oregon grapes is very sharp and pointy, and you may want to wear gloves when harvesting. If you unexpectedly stumble upon an irresistible harvest, pick with care or you'll come home with hands covered in both scratches and juice.
Oregon grapes have more pectin before a frost, but are sweeter after a frost, so how you plan to use the fruit will determine the best time to pick it. For jelly and jam, pick the fruit early, to take advantage of the natural pectin. For syrups, pies, ice cream, and curd, let the fruit sweeten on the plant a little. But if you notice them starting to shrivel, get out there and harvest!
How to Eat Oregon Grape
Ripe berries are high in vitamin C. They're edible raw, but they're so sour, you'll probably only try them this way once. Go ahead and taste one straight off the shrub, then tell me what you think. The sourness persists even when combined with sugar in syrups and preserves, which makes it especially interesting.
The rich color of Oregon grapes turns everything you make with it a pretty purple, and their sweet and sour flavor is equally good in marinades and desserts. I've also been known to macerate them in spirits for a deep purple, tart liqueur.