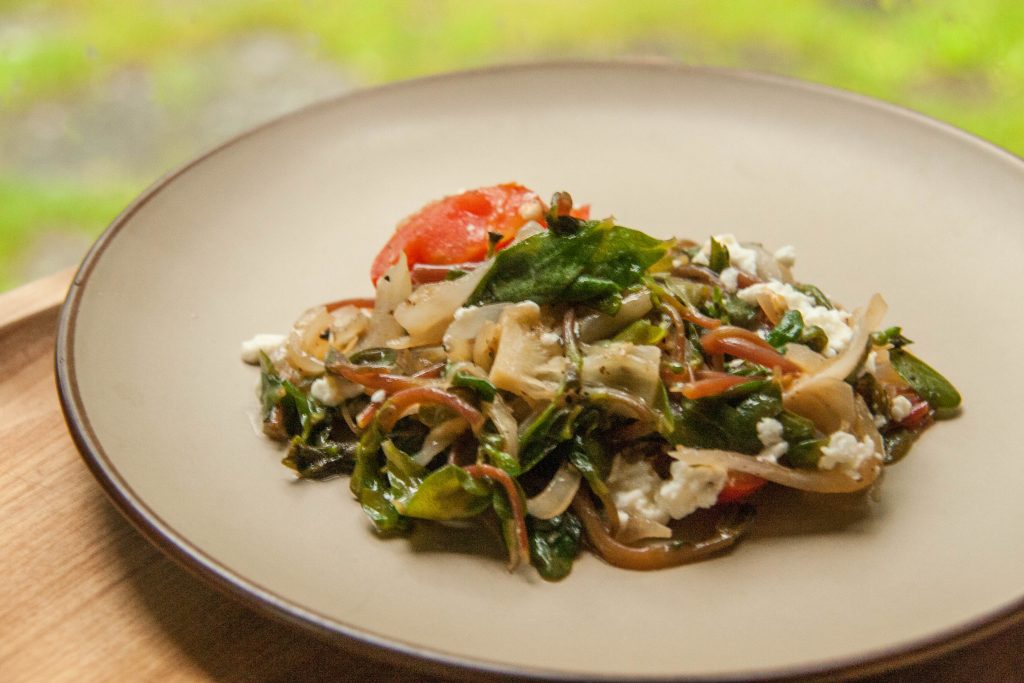 Just like yia yia used to make. That's what I think every time I make a make a batch of purslane à la Grecque. It's simple, healthy, and seems to come together almost from nothing.
Earlier this month I was short on veg for supper, and I did NOT feel like driving twenty minutes each way to pick up something at the grocery store. Instead I took a walk around the yard, and came up with enough purslane for two servings of purslane à la Grecque.
In cooking, the phrase "à la Grecque" means cooked in the Greek style, which is traditionally with olive oil, lemon juice, and herbs. It's actually a French preparation and is often used with vegetables and mushrooms. I've taken the liberty of adding some feta cheese, because 1) I'm Greek which I believe allows me to take liberties, 2) it's a Greek cheese, and 3) I really like feta. Feel free to leave out the dairy if you're so inclined.
Purslane keeps its crunch in this dish, which is a nice change from greens that cook down to softness. You may serve it warm or cold, alone or as a side dish, and if there are any leftovers (ha!) you can add it to your eggs the next morning.
What You'll Need to Make Purslane à la Grecque
olive oil
1/2 onion, sliced thin with the grain
1 tomato, roughly chopped
2 cups washed, chopped purslane
1 teaspoon dried bee balm (you may substitute dried oregano)
ground pepper
1/2 cup feta cheese, crumbled
lemon wedges
What You'll Do to Make Purslane à la Grecque
Heat two tablespoons of olive oil in a pan and cook the sliced onion until it's translucent but not browned. Add the chopped tomato and purslane and stir to combine. Cook over low heat for about five minutes, adding more oil if necessary.
Stir in the bee balm and pepper, then incorporate the feta into the mix. Because feta is a salty cheese, I don't usually add additional salt to this recipe, but taste it now and if you'd like more salt, go ahead and add it.
Remove the purslane from the heat and serve it with a wedge of lemon.