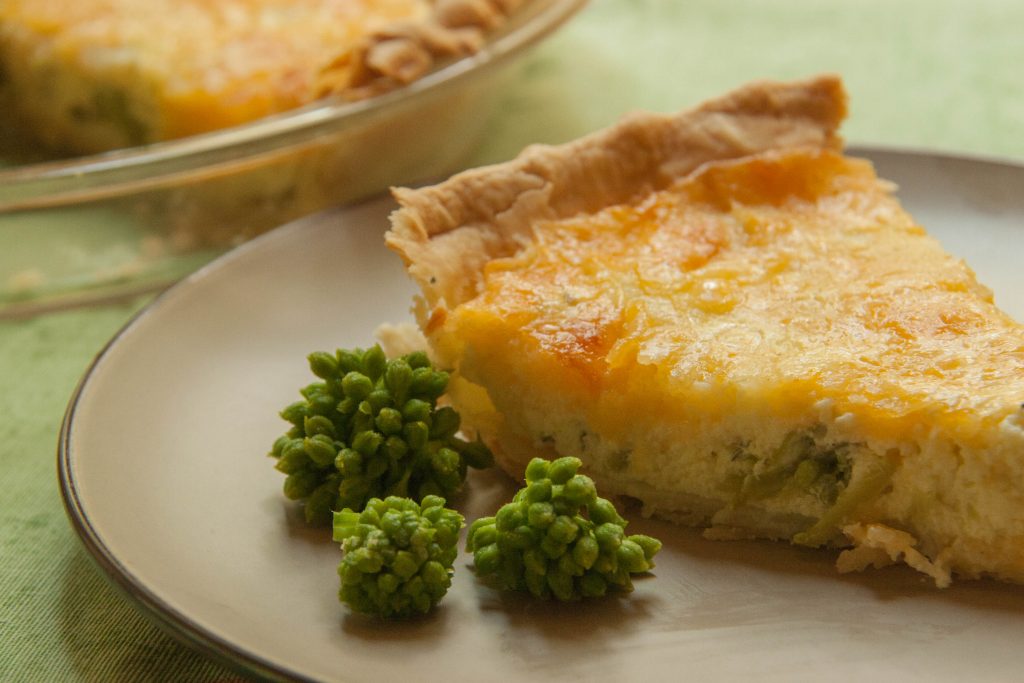 Milkweed florets are a delicious vegetable. They are obligingly bite-sized and when used in a quiche (or frittata, or omelette, or timbale) their mild, green, vegetal flavor contrasts nicely with the rich mixture of eggs and cheese. It's a balanced dish, and one that's easy to throw together in just a few minutes. Not to mention, the vegetables are free!
What You'll Need to Make Milkweed Quiche
1 pie crust (If you read this site regularly, thank you. In that case, you have probably already read my opinion on pie crusts. If you haven't, and if you want to, please check it out here.)
4 eggs
1 cup Greek yogurt
1.5 cups blanched milkweed florets
2 Tablespoons minced field garlic (You may substitute regular garlic.)
1 teaspoon salt
1/2 teaspoon pepper
1 teaspoon dried, crumbled bee balm leaves (You may substitute oregano.)
1/2 cup cheese, grated or crumbled (I've used feta, cheddar, and mozzarella…there's no wrong choice!)
What You'll Do to Make Milkweed Quiche
Preheat your oven to 375F.
Blanch the florets in boiling water until they turn bright green. This takes approximately two to five minutes. Drain the florets, and rinse them in cold water to stop the cooking process.
Finely mince your garlic. Field garlic bulbs are tougher than regular garlic, and you'll need to use a knife, not a garlic press.
Place your pie crust (store bought or home made) in an eight-inch pie pan and crimp the edges.
Whisk together the eggs, yogurt, minced garlic, salt, pepper, and bee balm in a bowl.
Spread the blanched milkweed florets on top of the pie crust, then pour the egg mixture over them. Sprinkle the grated cheese on top and bake for 30 minutes or until the egg mixture is solid.
This quiche can be served for breakfast, lunch, or dinner and it's tasty warm or at room temperature.