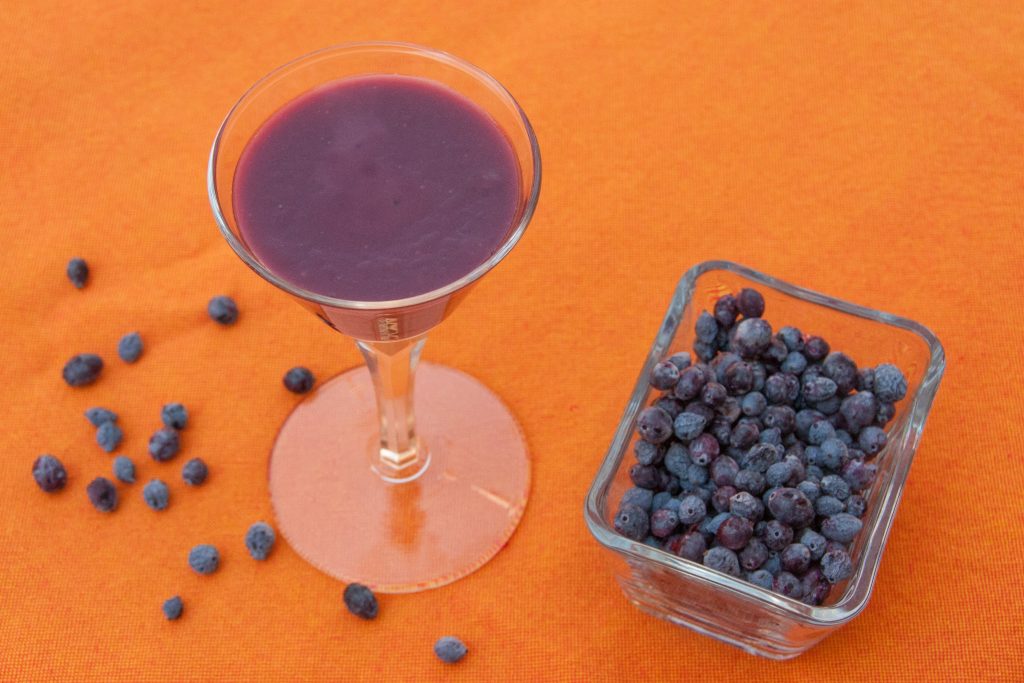 Of course I think EVERYONE should love wild foods, but I freely admit it's a topic that is just coming into its own. Which is why I'm always so pleased and excited to meet people who share my passion. When Devon, at Nitty Gritty Life, posted her recipe for Oregon grape curd, I knew I had to try it. Then, because I'm a lazy, lazy forager who's always looking for a shortcut (or two), I made a few changes. I haven't met Devon in real life, but I owe her a debt of gratitude for introducing me to my new favorite dessert.
Not only did I have Devon's recipe to get me started, but last weekend I happened to be playing in the kitchen with Butter Wilde, the best wild food cook I know. She pulled up her lemon curd recipe, and we started adapting. Lemon curd is a traditional (and delicious) British dessert and it's terrific. But honestly, Oregon grape curd is even better. It's tart, rich, creamy, and look at that gorgeous color!
Oregon grapes are persistent fruits, so even though they ripen in mid to late summer, you can harvest any time up until the first frost. After that, they're pretty much dried up. The fruit becomes less juicy (but not less tasty) with time, so if you harvest once the berries have started to shrivel a bit, you'll need to use more berries to get enough juice.
What You'll Need to Make Oregon Grape Curd:
1 – 1.5 cups Oregon grapes (if yours are fresh and juicy, you'll probably only need one cup.)
1 cup sugar
2 whole eggs plus 2 egg yolks
6 tablespoons of butter, softened
lemon juice (the amount will depend on how juicy your Oregon grapes are)
pinch of salt
What You'll Do to Make Oregon Grape Curd:
Prep your Oregon grapes by putting them in a saucepan and adding a few tablespoons of lemon juice. Simmer until the berries are soft, then mash them with a potato masher or the back of a large spoon. Strain the juice through a jelly bag (moisten it first so it doesn't absorb a lot of precious juice) and measure the juice. You'll need 2/3 cup of juice for this recipe, so if you don't have enough you can either simmer some more fruit, or make up the difference with lemon juice. If you only need another tablespoon or so, I'd do the latter. But if you need more than that, go back and simmer some more Oregon grapes so you get full, glorious, Oregon grape flavor. Once you have 2/3 cup strained juice, set it aside.
In a bowl, cream the butter and sugar, as you would for cake or cookies, then add the eggs and extra yolks, a little bit at a time. This can all be done by hand; we're not going for light and fluffy here, just well combined. Next, add the Oregon grape juice and stir well.
At this point, the liquid will have small chunks of solid butter in it, which may look strange to you if you've ever made a lemon curd by more traditional methods. But trust me (as I trusted Butter, the person), it's much easier this way. No straining, no double boiler, no gradual stirring of solid butter into hot liquid. Take a leap of faith! You won't be sorry.
Transfer the mixture to a saucepan with a heavy bottom, and whisk over medium – low heat. You'll need to stir constantly, to avoid cooking the eggs, so don't walk away from the stove. As the butter melts, the curd begins to thicken. It's done when it coats the back of a spoon. This should take about five minutes, give or take.
Remove the curd from the heat and stir in the pinch of salt. Allow the mixture to cool slightly before pouring it into serving dishes. I like to use 4 ounce canning jars because they're cute and have lids, but for a fancier occasion I'll use stemmed glasses. If you don't use jars with lids, cover each serving dish with a piece of cling film. Chill the curd before serving.
I've been told you can freeze the curd, then thaw it and eat it with no loss of quality. You will not be surprised to hear that I have never had enough left over to freeze!