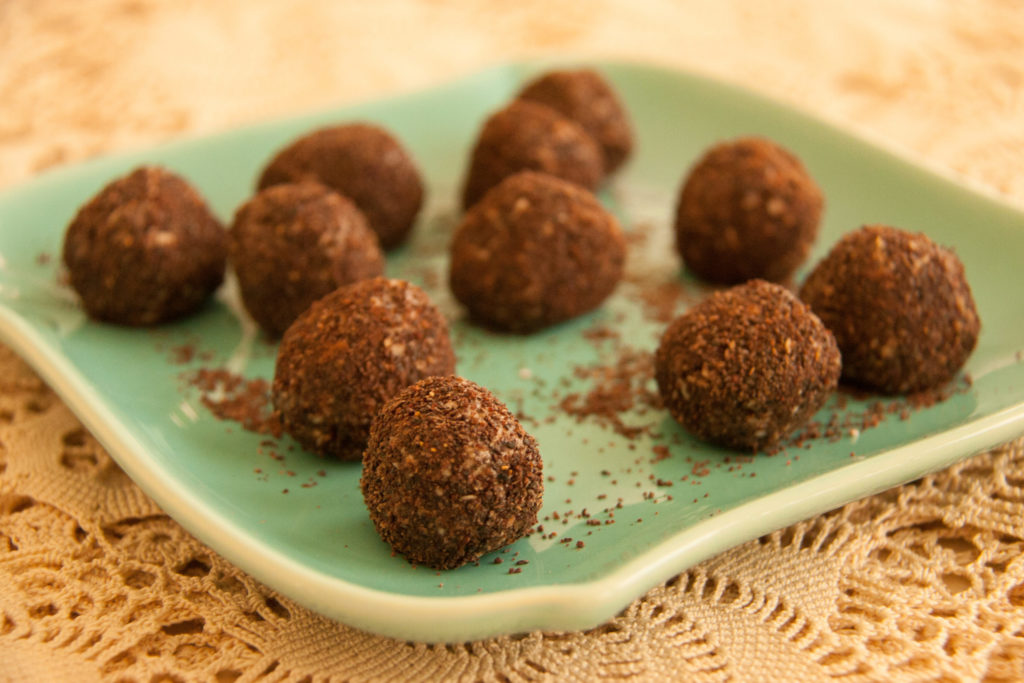 You know how when you're watching a movie after supper and you've already had dessert but you really want something sweet? Just a little something, not a whole pint of salted caramel ice cream. Something to nibble on that won't make you hate yourself after you've nibbled on it.
I give you the no-bake carob coconut ball. There's nothing processed or refined in this recipe and you can tinker with the sweetness level to get it just the way you like it. The ingredients are so good, I'm sure it's fine to eat more than just one.
What You'll Need to Make No-Bake Carob Coconut Balls
1/4 cup coarsely ground carob powder
1/4 cup almond butter
1/4 cup finely chopped coconut
1 tablespoon honey
carob powder for dusting
What You'll Do to Make No-Bake Carob Coconut Balls
Coarsely ground carob gives these balls extra texture and crunch. If you only have fine ground powder, that's fine, but if you have a choice, go for the coarser-grained stuff.
Combine the carob powder, almond butter, and coconut in a bowl and mash together with a fork. Add the honey in increments of one teaspoon, combining thoroughly, and tasting after each addition until you reach the desired level of sweetness.
Pinch off about a teaspoon of dough and shape it into a ball, about an inch in diameter. The dough will be sticky at this point, so you're better off shaping the balls with your fingers than rolling them. Shape the rest of the dough into balls and refrigerate, covered, for at least 60 minutes. When the balls have chilled, roll them in a dusting of coarse carob powder, then re-refrigerate until you're ready to serve.
I was tempted to roll the balls in a mixture of carob and sugar at the end, just to give them an extra burst of sweetness, but the thought of adding refined sugar to this recipe didn't seem right. And once I tasted the finished product I was glad I hadn't added the sugar…the flavor and sweetness of these carob balls are perfectly balanced just the way they are.