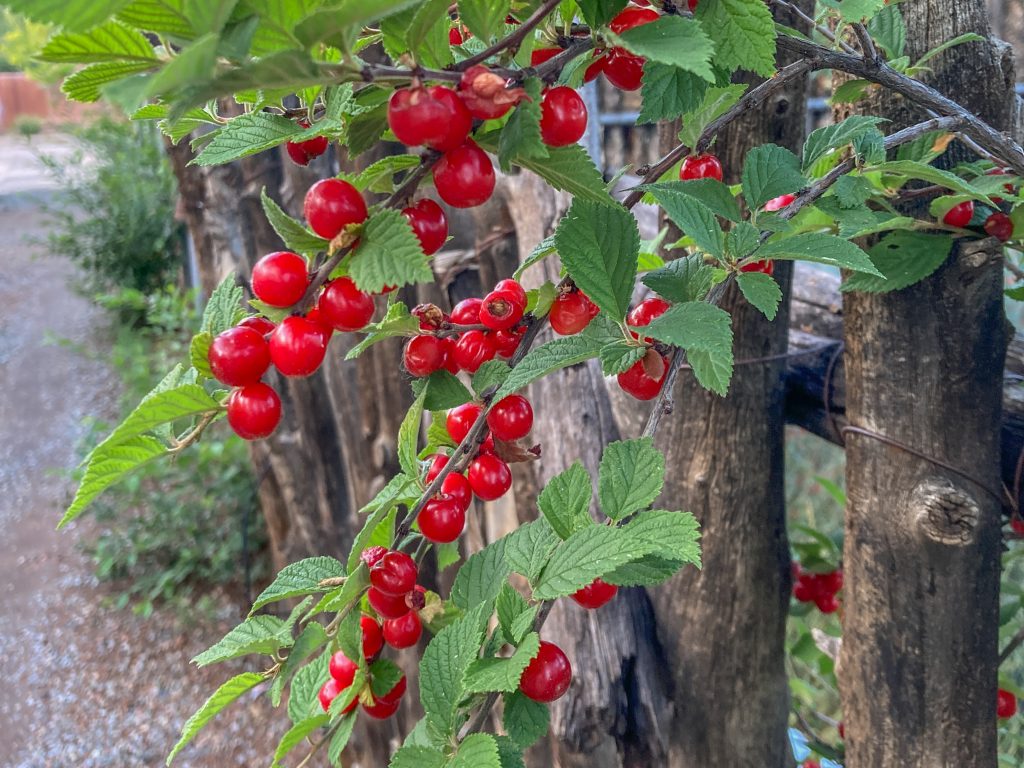 Since moving to the Rockies, I've heard lots of people talk about Nanking cherries. They're a very cold hardy fruit, which makes them an excellent choice for people gardening in Zones 7 and colder, but since my teeny yard is just about full, I hadn't thought about planting one. I may need to reconsider!
My neighborhood is full of alleys that give us an interesting peek into our neighbors' backyards. We walk the alleys to do local errands and for exercise, and have found some tasty feral edibles along the way. There's a walnut tree that's putting out a lot of fruit this year, most of which falls to the ground in the alley. Loads of apples, plums, and apricots hang over into the public space, and there's enough white top mustard, mallow, and spruce tips for everyone. But until yesterday, I'd never seen cherries.
Nanking cherries (aka Prunus tomentosa, downy cherry, Shanghai cherry, Chinese bush cherry) is a shrub hardy to USDA Zone 2 (that's a VERY cold hardy plant!). In fact, it thrives in colder temperatures and often doesn't grow well in high heat and humidity. Nanking cherry matures to be six to ten feet tall and about as wide. As you may have guessed from its various common names, it's native to Asia. I've never seen it bloom (although I'll be checking back in the spring now that I know where it lives), but photos show that its flowers are lovely, ranging from almost white to pale pink, with multiple prominent stamens.
The fruit is unmistakably cherry-like, albeit smaller (about 1/2 inch in diameter) than store bought fruit by about half. And the stems that hold each Nanking cherry in place are almost non-existent, unlike traditional cherries, which have much longer stems.
The foliage of P. tomentosa is about one and a half inches long, medium green, with serrated margins and deeply impressed veins. Leaves have an oval shape with pointy tips and are arranged alternately on the branches. The undersides of the leaves are slightly fuzzy, hence the common name "downy cherry." This plant is actually more closely related to the plum than the cherry, but both are in the same family (Rosaceae, in case you were wondering) and the fruit looks more like a cherry than a plum so I'm ok with calling it a cherry.
This is a full sun plant and while I've seen it listed as requiring moist soil, I disagree. Perhaps it needs supplemental water for a season or two after being planted, but it's drought tolerant once established. And if you're into supporting pollinators in your garden, you might like to know that Nanking cherry is the larval host plant for the eastern tiger swallowtail butterfly.
The flavor of Nanking cherries resembles that of sour cherries, and they can be used in all the same ways, although pitting them may be more tedious. (The fruit is too small for a traditional cherry pitter.) Like sour cherries, Nanking cherries have a single large-ish seed. Too large for my food mill to handle, but fortunately, heating them up with just a little water breaks open the fruit, which you can then press through a strainer or colander by hand. I'm thinking of Nanking cherry sorbet or ice cream for dessert tonight. I'll let you know how it turns out!