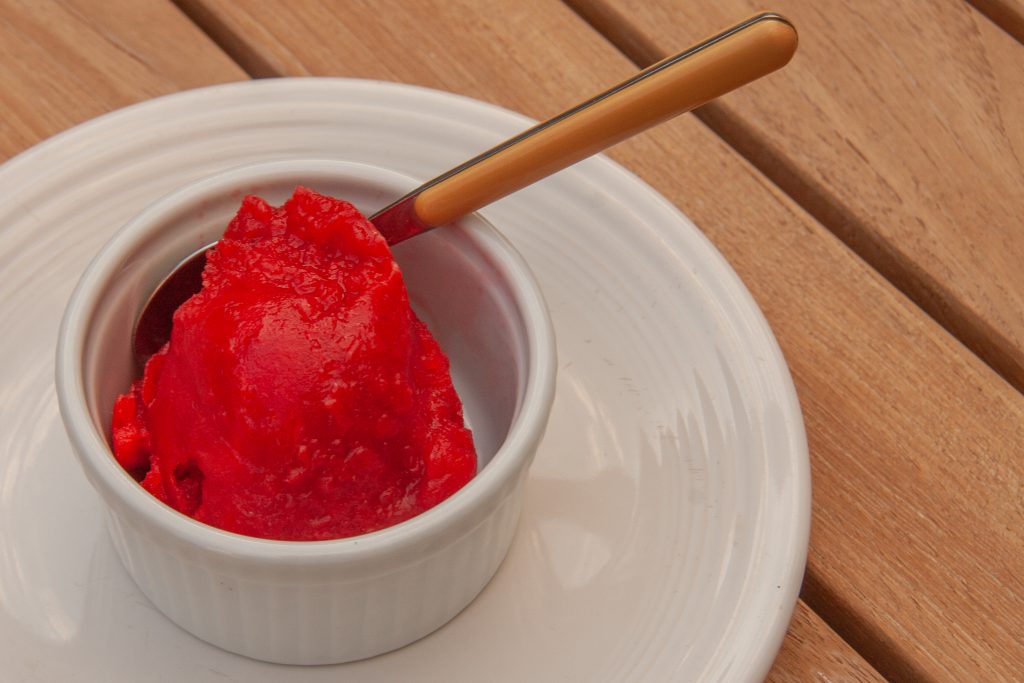 I was thrilled to find Nanking cherries (Prunus tomentosa) in one of my neighborhood alleys last week. It wasn't a huge harvest, but the color and flavor of the fruit was fantastic, and I thought the best way to preserve both of those things would be with a Nanking cherry sorbet. I almost went for ice cream, but thought sorbet would preserve the intensity of both the color and flavor of the fruit. Definitely the right call.
The texture of sorbet is important. It should be smooth and solid, not icy or crystalized, and to achieve that you need a certain amount of sugar. This recipe uses the minimum amount of sugar that will give you the classic sorbet texture, so I don't recommend decreasing it any further. If you need to use a sugar substitute, I'm sure there's one that will work, but I'm ok with a little refined sugar now and then.
What you'll need to make Nanking Cherry Sorbet
This recipe is scalable. As long as you keep the proportions the same and have a big enough ice cream maker, the sky's the limit! The amounts below will make two servings.
1 cup cherry juice and pulp
2.5 Tablespoons sugar
1 teaspoon lime juice
the teeniest pinch of salt ever
WHAT YOU'LL Do TO MAKE NANKING CHERRY SORBET
I came home with about 2.5 cups of fruit, which delivered a cup of juice. I suspected the good-sized seeds might clog up my food mill, so I added just a smidge of water to the cherries and heated them in a sauté pan, just enough to break open the fruit. Then I pressed them through a colander, collecting all the juice and as much pulp as possible. You could make the sorbet with juice alone, but why?
After processing your fruit, combine it with the remaining ingredients and refrigerate for several hours, then process in your ice cream maker, according to manufacturer's instructions. If you don't have an ice cream maker, you could make a granita instead, but then you wouldn't get that velvety texture that makes a sorbet so wonderful.
Feel free to play around with your choice of acid. Im fond of the cherry/lime combo, but you could try any citrus fruit. Next time I may skip the acid altogether and use some of my homemade almond extract, made from foraged apricot kernels.
Whatever you choose as additional flavoring, use a light hand. The beauty of this recipe lies in the fruit itself. And yes, that's really the natural color of the sorbet!