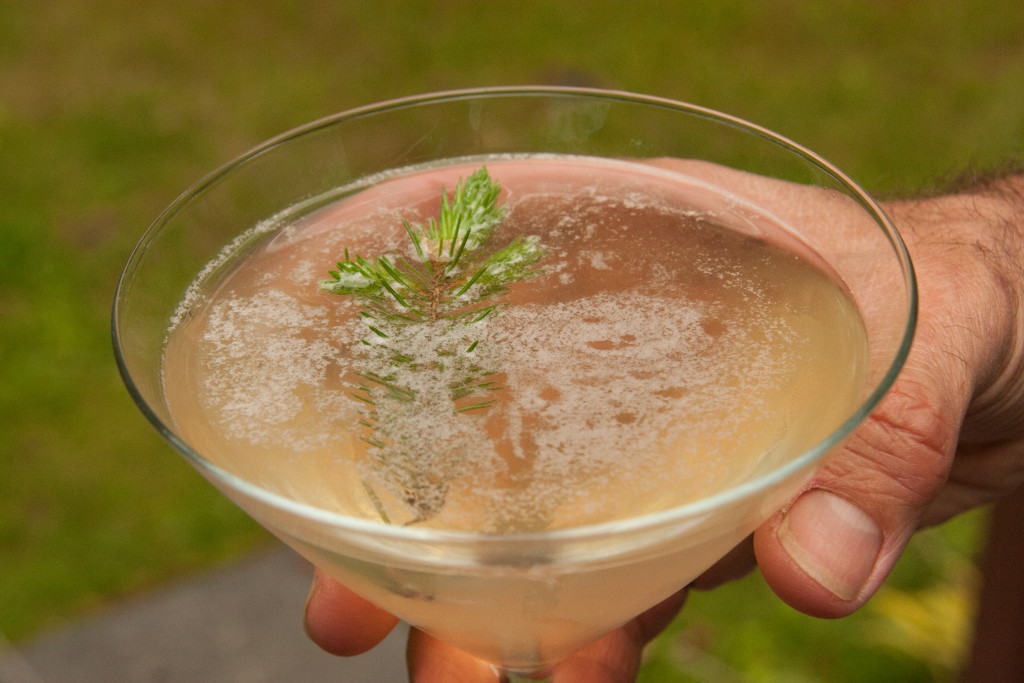 Making a Merry Woodsman cocktail takes a little planning, but the flavor combination is enchanting and it's totally worth a few days' steeping and a little blending and boiling. The bright, lemony flavor of the spruce tips comes from two infusions: a spruce tip simple syrup and a spruce tip infused vodka. Elderflower liqueur adds a floral note, and ginger spices things up and links the flavors together. Add a little seltzer and voila! This cocktail will make you very merry indeed.
How to Make Spruce Tip Vodka:
Gather a cup of feathery, young spruce tips, and put them in a blender with 750 ml. of vodka. You don't have to use the finest vodka in this infusion, but don't use rotgut either. Blend on high to pulverize the needles, then pour the liquid into a one quart jar and seal it tightly.
Shake the jar and put it somewhere dark. Start tasting after 24 hours. You want to catch it when the flavor is nice and lemony, not heavy and resinous like Pine Sol. You might need to leave it for another day or two, depending on how flavorful your spruce tips are.
Strain the vodka and reseal it in a jar. This does not require refrigeration.
How to Make Spruce Tip Simple Syrup:
Roughly chop a cup of young spruce tips and combine them with a cup of water, and a cup of sugar in a saucepan. Bring the mixture to a gentle boil and whisk to dissolve the sugar. Remove the pan from the heat, cover the pan, and let the syrup sit overnight. Strain and seal it in a jar. This syrup will keep in the refrigerator for several months.
How to Make The Merry Woodsman Cocktail:
In a cocktail shaker full of ice, combine three ounces of the spruce tip vodka with 1 3/4 ounces of spruce tip simple syrup, 3/4 ounces of St. Germain (or another elderflower liqueur), and 1 1/2 teaspoons wild ginger syrup. (You may substitute a ginger liqueur like Barrow's Intense; this will make a slightly stronger cocktail.)
Shake for 30 seconds, then strain and pour into a martini glass. Add 1 1/2 ounces of seltzer and garnish with a spruce tip.
This cocktail embodies the flavors of a woodland spring. Cheers!