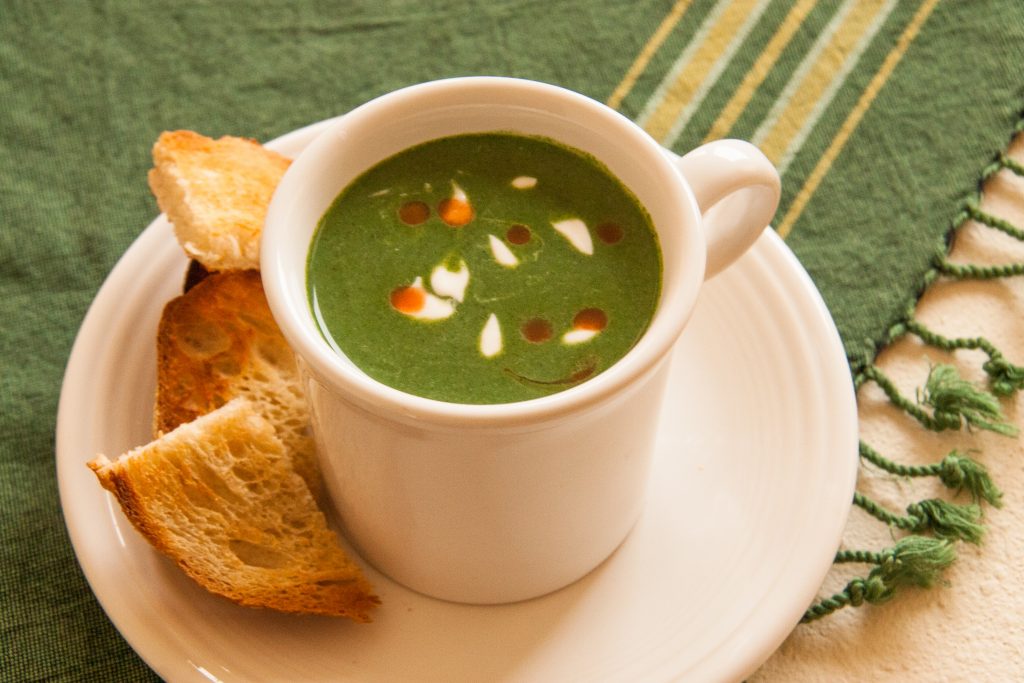 The deep, rich green of nettle soup seems almost too vibrant to be natural; it's worth serving for the color alone. Nettles are a traditional wild vegetable around the world. They're high in protein and contain omega-3 fatty acids, as well as multiple minerals and vitamins. The flavor of nettles is dark and wild; you feel like you're eating something rich and primitive.
Stinging nettles reduce greatly in volume when cooked (approximately 75%), so you're going to need more than you think. Fortunately, nettles often grow in large colonies, so it's easy to harvest a good quantity in a short amount of time. If you're super busy during nettle season, blanch and freeze them to use later, when lush greens are a distant memory.
What You'll Need to Make Nettle Soup
olive oil
1/2 cup chopped onion
1/2 cup thinly sliced Jerusalem artichokes (you may substitute potatoes or cooked rice)
2 cups blanched stinging nettles, roughly chopped
4 cups chicken or vegetable stock
1 teaspoon salt
pepper to taste
1/2 cup yogurt, cream, or creme fraiche
What You'll Do to Make Nettle Soup
Heat a Tablespoon of olive oil in a sauté pan, then add the onions and Jerusalem artichoke slices. Cook, stirring over medium heat, until the onions become translucent, but don't let them brown.
Add the chopped and blanched nettles to the onions and Jerusalem artichokes, then add the salt, pepper, and stock. Bring the ingredients to a boil, then reduce the heat and simmer for 20 – 30 minutes. The Jerusalem artichokes (or potatoes or rice) should now be entirely soft.
Transfer the mixture to a blender and pulverize to make a smooth purée. (You may have to do this in batches, depending on the size of your blender.) Pour the soup into a saucepan and stir in the dairy. Taste and adjust your seasoning, if necessary. And if you really want to spice things up, shake a few drops of tabasco chipotle sauce on top. If you'd like to freeze or can your nettle soup to enjoy later, stop before adding the dairy, and resume there just before serving.