Every once in a while I make something I'm really proud of, and this is one of those times. The New Mexico locust trees (Robinia neomexicana) have burst into bloom here in Santa Fe, and their purple-pink flowers are so fragrant, I was sure they'd be tasty, too. I've used the flowers of black locust (R. pseudoacacia) in fritters, but I wanted to make the most of both the color and flavor of the New Mexican variety. Plus, it was in the mid-80s here today, and a cool dish of locust blossom sorbet sounded like it would hit the spot.
I scoured the interwebs for flower petal sorbet recipes, but most of them called for so many additional ingredients that I was afraid the flavor of the flower would be overwhelmed. I knew I wanted to use a little lemon juice (for the miraculous color change…stay tuned!), but other than that, I didn't want to distract from the flower flavor.
What is the flavor of New Mexico locust flower? It's so hard to describe a new flavor in terms of familiar flavors. This sorbet is floral, with a hint of grape; it's sweet, but balanced by the lemon. Please try it for yourselves…it's so much more interesting and delicious than I'm making it sound.
What You'll Need to Make Locust Blossom Sorbet
2 cups locust blossoms, removed from the stem
2 cups sugar
2 cups water
juice of one lemon (I used a Meyer lemon, because that's what I had on hand, but any lemon will work.)
What You'll Do to Make Locust Blossom Sorbet
Remove the locust flowers from their stems and put them in a bowl. Add 1/4 cup sugar, and with a pestle, mash the flowers into the sugar. Keep at it, mashing and stirring, until the flowers have formed a sort of paste. My two cups of flowers and sugar reduced to about 1/2 cup of paste.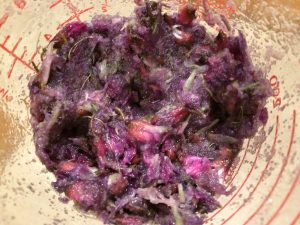 Combine the water and the remaining 1 3/4 cups sugar in a saucepan, and bring it to a boil, whisking to dissolve the sugar. Add the flower paste, stir, and reduce the heat to a simmer. Let the syrup simmer for 10 minutes, then remove it from the heat, cover, and let it cool for at least an hour, or overnight.
Strain off the solids, pressing down on them to extract as much liquid as possible. Then, strain the syrup one more time to catch any little bits and pieces that may have come through with the pressing.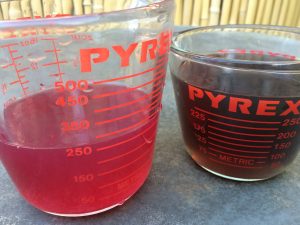 Add the lemon juice and be amazed by the color change. The dark purple syrup turns magenta, much the way violet syrup does when combined with lemon. I'm sure there's a chemical explanation, involving acidity or alchemy or something. But I'm a forager not a chemist, Jim.
Refrigerate the syrup for at least an hour, then process in your ice cream maker, according to the manufacturer's instructions. (Yes, this is an expensive ice cream maker. But I love that it has a compressor so you don't have to keep the bowl in the freezer. And the price on Amazon right now is about half what I paid!)
If you have a few left over blossoms, sprinkle them on top of the sorbet when you serve it. A feast for the eyes and the stomach.