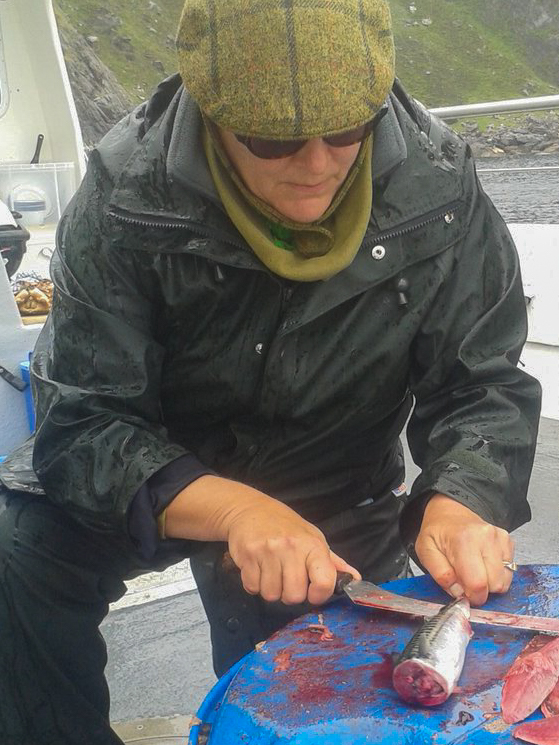 Last month I spent a week on Islay, one of the Inner Hebrides islands off the west coast of Scotland. Some of you may know that I teach foraged mixology workshops for RemyUSA, owners of The Botanist gin. When Remy asked if I'd be interested in going to an international foragers' summit on Islay, where The Botanist is distilled, my answer was, "Are you kidding me?"
Islay is one of the lovliest places I've ever been. Its exceptional landscape offers an astonishing variety of plant communities to play with. And I'm a big single malt fan (there are eight distilleries on Islay). But that's not why I was so eager to join the Islay Summit. Foraging can be solitary work and this was an opportunity to meet people who shared my passion for wild foods.
Foragers spend a lot of time alone. There aren't many of us; it's not a team sport. Most of the world thinks what we do is weird. They don't understand why or how we do it, and that's ok, I don't need to be mainstream. But every so often it's nice to have company, to celebrate the joy of discovery with like-minded folk. The greatest joy I get from foraging is doing it with friends. Nothing feels more essentially communal. We hunt, we gather, we share…what we make and what we know.
I loved standing around that kitchen, each one of us working on a dish, hoping to delight our fellow foragers. So many new flavors, everyone working from their own strengths. I miss my far-flung friends. I'm also grateful to each one of them for teaching me something new.
Mark Williams of Galloway Wild Foods was our fearless leader, showing us his favorite spots on the island and schlepping a hotplate over hill and dale, so we could picnic at a moment's notice. Mark taught me how to gut and fillet a fish. Then served it raw with fermented garlic mustard and a dash of soy. I want to eat that again.
Craig Worrall of Edible Leeds arrived with his fishing pole, which he used with great skill. He pulled me out of knee deep mud as I struggled through the bog myrtle, and inspired me to make my own vermouth. His posts about honeysuckle wine and pastry cream infused with sweet woodruff taunt me from afar. Plus he had the best accent.
Liz Knight is from Wales where her company, Forage Fine Foods, makes and sells small batch foraged delicacies. Liz opened my eyes to the power of flowers. I've dismissed them in the past, considering blooms to be more decorative than substantive. Liz showed me how much flavor flowers can contribute to both food and drink.
Roushanna Gray, from Cape Point, South Africa, knows her sea vegetables. The bread she baked with several different seaweeds, using seawater for salt, was delicious for breakfast, lunch, and dinner. I can't wait to get to the beach in New Hampshire and wander around at low tide to see what I can find.
Jon Hamnett is a Brit (living in Berlin at the time), who runs Grunewald Foraging. I don't know many foragers more interested in plant morphology and botanical Latin than I am, but Jon made me feel like a first year student. His knowledge of plant families and their relationships is impressive, and he shares it as generously as he does his tobacco. Jon swears there's no German word for foraging. I told him he needs to make one up.
I thank my new friends for feeding my imagination as well as my more basic appetites. I hope we can hunt, gather, and feast together again before too long.