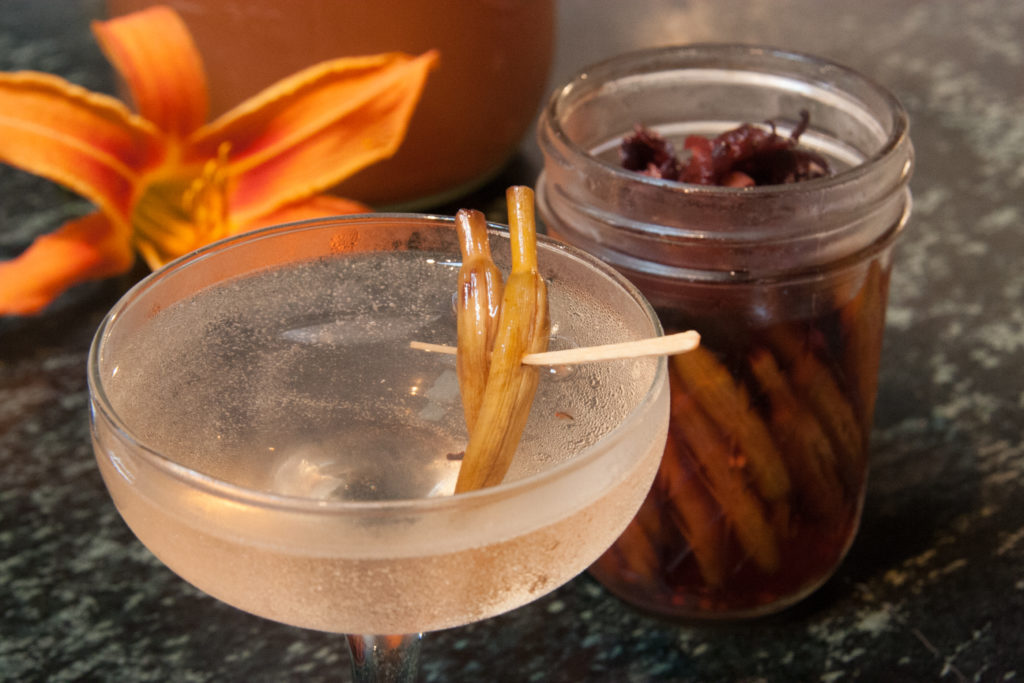 What Makes a Dirty Martini Dirty?
Rumor has it that the dirty martini was created at Yalta, when FDR, Churchill, and Stalin met to determine the fate of post WWII Europe. Apparently the allies did a lot of drinking as they worked long into the night. One morning, a hungover Joey Stalin suggested vodka and pickle juice as a cure, but there was neither vodka nor pickle juice immediately available. Winston Churchill, ever resourceful, volunteered a bottle of gin and a jar of olives, and there you have it: The Dirty Martini.
Brine (olive or pickle) is what makes a dirty martini dirty. Otherwise, a martini is essentially booze with a side order of booze. (Not that there's anything wrong with that.) Brine adds flavor, and also takes the alcoholic content down a notch. Any tasty pickle makes an appropriate garnish, but I'm especially fond of the pickled day lily bud.
Originally, martinis were made with gin, but vodka also works well in this recipe. I wouldn't dream of telling you which spirit to use in your martini. I will, however, insist you assemble your martini properly. That means, no matter what James Bond says, you should stir your martini.
Shaking and stirring both accomplish several essentials in cocktail making: they chill the beverage and they combine and dilute your cocktail ingredients.
Shaking does the job fast; 30 seconds is usually enough to chill and integrate your ingredients. Shaking also introduces air into the liquid, creating bubbles and making the drink opaque. Mixologists shake cocktails that include fruit, eggs, syrups, or cream.
Stirring is a gentler process, and as such, it takes a little longer to fully chill and dilute your beverage. A cocktail may need to be stirred for as long as 60 seconds before it's ready to serve. Stirring is recommended for clear beverages composed entirely or mostly of alcohol, like manhattans and martinis. Despite the fact that 007 prefers his martini shaken, not stirred.
To make one Dirty Lily Bud:
2.5 ounces gin (or vodka)
.5 ounces dry vermouth
.25 – .5 ounces brine from your daylily pickles (depending on how dirty you like your martini)
3 pickled daylily buds
Combine the gin (or vodka), vermouth, and pickle brine in a large glass full of ice, and stir for 60 seconds, then strain into a martini glass. Garnish with the daylily buds and toast to your perfectly constructed cocktail. It's a cold, slightly dirty treat on a warm summer evening.