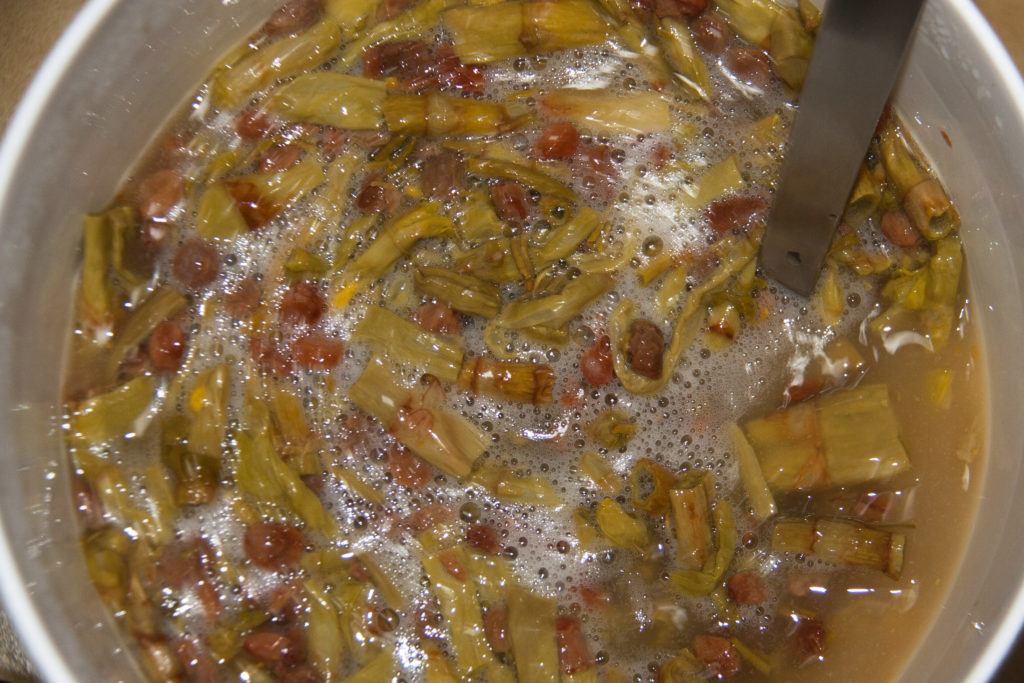 I got a message from a friend this morning (thanks, Bill), saying he was going to make Japanese knotweed wine. He found my recipe on an old website, which made me realize I should update that and move it here, so all the world can find it easily. I love knotweed wine for several reasons:
the flavor is excellent
Japanese knotweed is easy to harvest in quantity (if you live somewhere it grows)
it's ready to drink in about six months, which is pretty fast for wine making
You'll need some special ingredients and equipment for this recipe, but don't worry if you don't have all the fancy stuff. I've listed substitutions wherever possible. If you've never made wine before, this recipe may seem overwhelming. I recommend Making Wild Wines & Meads. That's the book that gave me my start with wine-making and I still refer to it all the time!
What you'll need to make Japanese knotweed wine
3 lbs. tender stems of Japanese knotweed, leaves removed
8 oz. raisins, chopped
3 quarts water
2 1/2 lbs. sugar
1 tsp. orange zest
1/4 tsp. tannin powder (or 1 cup strong black tea)
1 Campden tablet (optional)
1/2 cup orange juice
10 drops pectic enzyme (optional, but gives you a clearer finished product)
1 packet wine yeast (my faves are Montrachet and Champagne)
1 tsp. yeast nutrient (optional)
What you'll do to make Japanese knotweed wine
Harvest unbranched spears, between eight and 16 inches tall. They may be as thick as your thumb or as slim as a pencil. The important thing is that they're tender enough to snap off with a satisfying pop. You'll need three pounds for this recipe, which you'll easily be able to gather in about 15 minutes. (Knotweed tends to grow in VAST swaths.)
Roughly chop the knotweed stems and combine with 8 oz. chopped raisins in a 2-gallon, food grade, plastic bucket.
Combine the sugar and two quarts of the water in a large pot and heat, whisking to combine. When the sugar is dissolved, remove the pot from the heat, add the remaining quart of water and stir. Allow the syrup to cool to room temperature.
Pour the cooled syrup over the knotweed and raisins, and add the orange zest, tannin powder (or tea), and the crushed Campden tablet. Campden tablets are potassium or sodium metabisulfite and they work for 24 hours, killing potentially harmful bacteria and creating an environment inhospitable to fungi and wild yeasts. Basically, they give you a clean slate before you can start your fermentation. Wait 24 hours before adding YOUR yeast, because the Campden tablet will also be inhospitable to THAT (to a Campden tablet, all yeasts are the same); this can stall fermentation. Campden tablets are optional, but they improve your chances of keeping unwanted fungi at bay and help prevent your wine from turning to vinegar
Stir, cover, and leave for 24 hours. Next, add the orange juice, pectic enzyme (optional), wine yeast, and yeast nutrient (also optional). Re-cover the bucket and let it sit 10 days, stirring daily. After a few days, you'll notice that the brew bubbles when you stir it. This is the beginning of fermentation.
Strain the liquid into a one-gallon glass jug and top it with an airlock, or a latex glove with a pinhole in one finger. This allows gas from fermentation to escape but does not allow wild yeasts, insects, or other pollutants to get into the bottle. Store the jug away from extreme temperatures and out of direct sunlight.
Fermentation produces bubbles and will be very active at first, slowing as the yeasts consume all the available nutrients.
When you notice a half inch of sediment in the bottom of the bottle, rack the wine into a new, clean glass jug. This sediment is called lees, and is composed of dead yeasts and other particles. You may need to do this several times over the next few months. When sediment no longer appears, bottle your wine. It should now be fairly clear, especially if you used the pectic enzyme. Taste six months after bottling, and if it's to your liking, serve at your next wild dinner party.