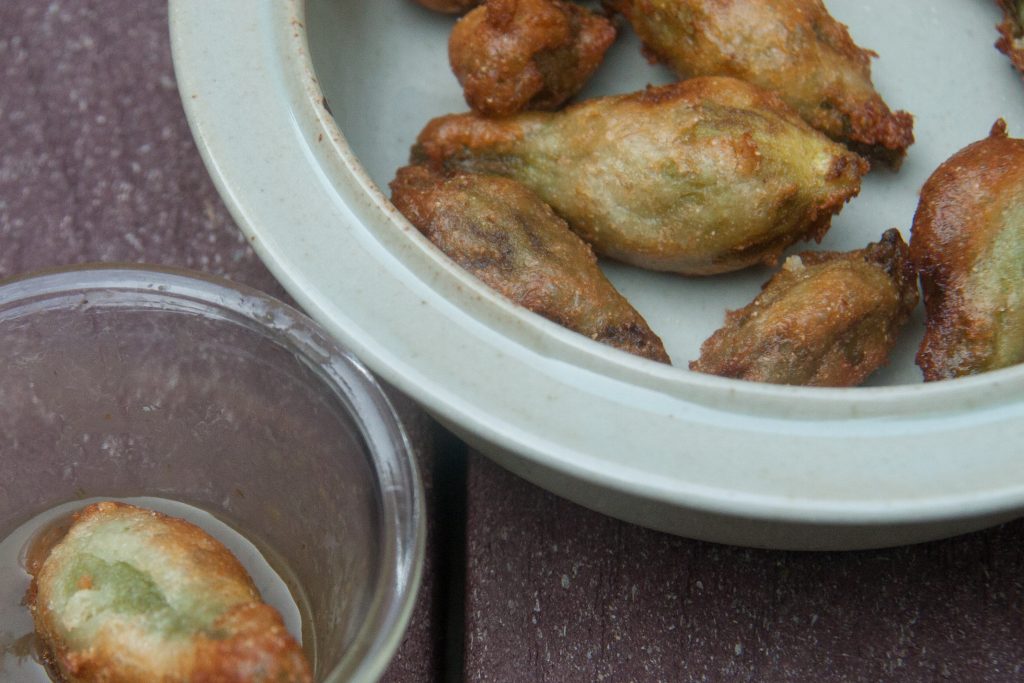 You know how mothers aren't supposed to have favorite children? (But we know they do, right, Mum?) Fortunately the same rules don't apply to foragers. I'm often asked what my favorite wild edible plant is, and I don't hesitate to answer: milkweed.
Milkweed is an edible superstar in my book, providing four edible parts: shoots, flower buds, flowers, and immature seed pods. Of course harvest times will vary depending on where you live and forage, but where I am, milkweed pod season is just beginning and I plan to enjoy every minute of it with these deep fried milkweed pods.
In the past I've used the pods in soups and stews, and I've even given pan frying a whirl. But this year I decided to break out the Fry Daddy and I'm never looking back. Oh. So. Good.
And the method couldn't be simpler.
Blanch your milkweed pods in boiling water for 2-3 minutes, until they turn bright green. They'll poof up and some may even pop and deflate. All of this makes no nevermind.
Rinse the pods in cold water to stop the cooking and let them drain. They'll hold the batter better if they dry a little. I suggest leaving them in a colander on the counter while you go for a dip in the lake and get out of the hot kitchen.
Plug in your Fry Daddy and fill it with several inches (2-3) of vegetable oil. If you have a fancier deep fryer with a thermostat, set it for 350F. I don't, and it worked just fine.
Prepare a batter by combining equal parts corn meal and self-rising flour, with a dash of salt and enough buttermilk to make it slightly thicker than pancake batter. Then add a schlug of seltzer to bring it to pancake batter thickness. (I promise I'll get specific amounts next time I do this, but for now, these approximations will have to do!)
Dip each milkweed pod into the batter to fully coat the pod. Set the battered pods aside and test the oil to see if it's hot enough. When a bit of batter starts to bubble and fry immediately on contact with the oil, you're good to go.
Add 4-5 pods to the oil and let them cook until golden brown. (I have a small fryer; yours might handle a bigger batch.) This will be surprisingly quick. Depending on the temperature of your oil it shouldn't take more than 3-4 minutes per batch. Rest the cooked pods on paper towels to absorb excess oil, and continue to fry your pods in batches until they're all done.
Serve fried milkweed pods hot as an appetizer or vegetable course, with a dusting of sea salt, or dipped in the sauce of your choice. I used a green chile onion dipping sauce, which was superb, but I'm sure they'd be equally delicious with any number of sauces. In fact, with deep fried milkweed pods, I'm pretty sure you can't go wrong.