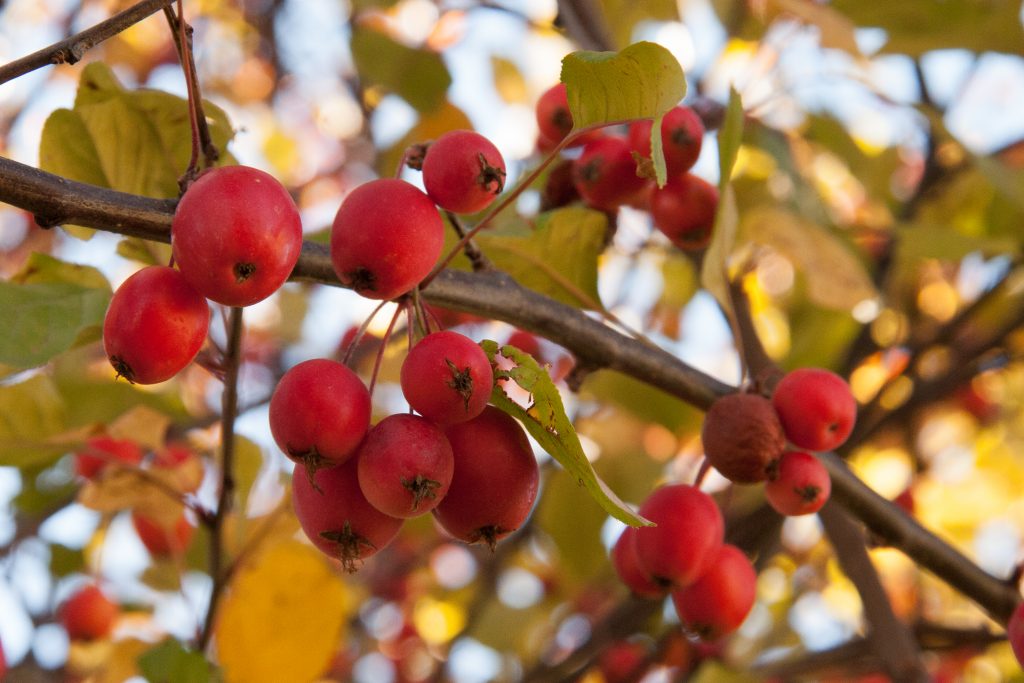 I'm more than a little obsessed with crabapples. (Is obsessed one of those words that shouldn't be modified, like excellent and unique?) The point is that I have crabapple mania, and everywhere I look, Santa Fe is flashing its jewel-toned fruit at me. Large, small, red, orange, green, yellow…there's free fruit everywhere I look. And no one is picking it. Except me. (If you are in Santa Fe and you are picking crabapples, please let me know. I'd love some company.)
I've foraged for crabapples for years. I appreciate their flavor, versatility, and beauty, and I use them in pickles, cakes, applesauce, fruit leather and cocktails. It wasn't a great year for crabs on the east coast, but here, in this dry, sunny climate, the fruit is abundant, gorgeous, and very, very tasty. I've never seen such bounty.
Combine this large harvest with my new steam juicer and you get one happy forager. First I steam the fruit and get a lovely pink juice. The crabapples left in the steamer basket are destined for applesauce. They get run through a food mill twice, first to break them up, and second, to catch the seeds. I leave the skins on for color and because seriously, who is going to peel crabapples? I made one batch flavored with wild ginger and spicebush berries. For the second I used maple syrup and spicebush berries. Every night I allow myself a half pint for desert. I worry what will happen when I run out.
The next batch will have chipotle chiles and onions. I'm thinking pork chops and crabapple sauce. But wait, there's more.
Last year I infused bourbon with crabapples and spicebush berries. It was a revelation. Shortly thereafter I noticed Jim Beam had a new product on the market: Jim Beam Apple. I'm not saying industrial espionage was involved, but I have since installed black out curtains in my kitchen. This year I'm experimenting with making a crabapple – spicebush syrup I can bring on the road when I start The Book Tour next spring. (My next book, The Wildcrafted Cocktail is due out at the beginning of May.) Cocktail enthusiasts everywhere will soon share my appreciation for this undervalued fruit. And that doesn't worry me a bit. Because there's more than enough for everyone.