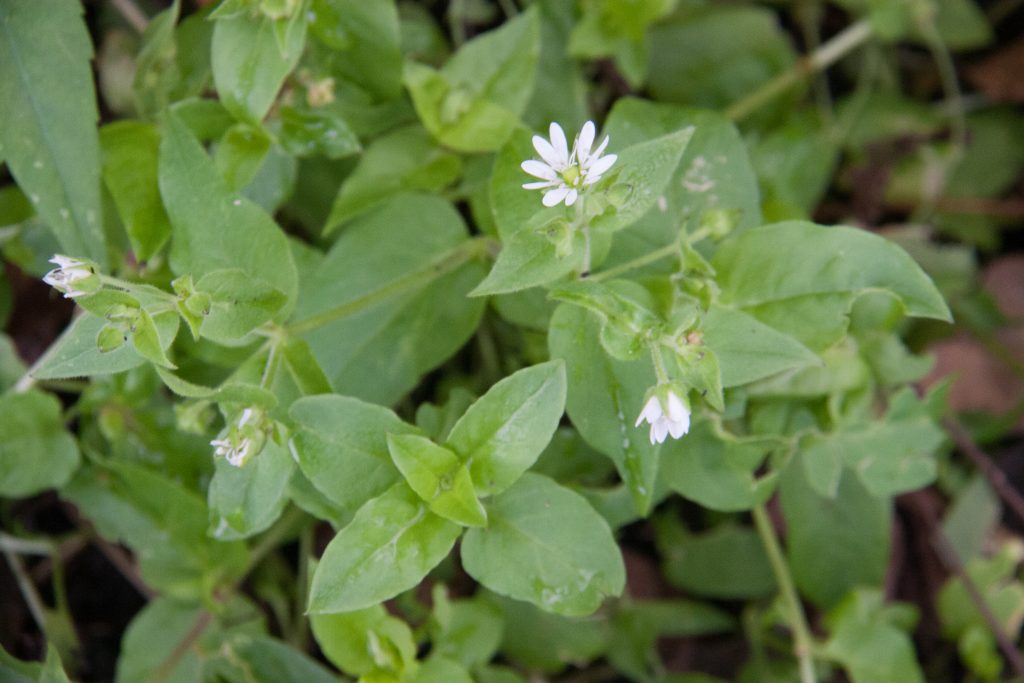 For a tender green, chickweed is a pretty tough plant. It's one of the earliest greens to appear in spring and if you live in a snow free climate, you may find it survives a few frosts and freezes. Chickweed doesn't much like the heat, though. By midsummer it has dispersed its seeds and gone dormant. Those seeds germinate in fall, providing a new crop of tender greens, which will either grow through the winter (depending on where you live), or die back and re-sprout in spring.
Chickweed is tastiest and juciest when it grows in shade, in cool weather. You'll find it growing in sun, but the leaves will be tougher and may become a little bitter, especially in summer heat.
Forager's Tip for Identifying Chickweed
Here's how you know you've found chickweed: take a close look at the stem and you'll see a line of tiny hairs running down the stem, between the leaves. The position of the hairs may change from segment to segment, but the line will always be there.
Look for flowers (also edible) composed of five, double-lobed petals.
Chickweed leaves are arranged on the stem in opposite pairs.
As a ground cover, it grows to be five to ten inches tall, on average.
How to Harvest Chickweed
Cut or pinch off the last two to four inches of each stem; these are the tastiest and most tender parts of the plant. You can use scissors to quickly shear off the tops of your plants, leaving the rest behind to continue growing. If you want to weed your garden bed of chickweed and decide to pull up the entire plant, cut off the roots and use only the above ground parts of the plant in the kitchen.
Chickweed grows almost everywhere, including some unappetizing places. Forget about the clumps growing by the side of a busy road or in the middle of the dog park. Hold out for plants growing in cleaner conditions.
How to Use Chickweed
Raw chickweed makes a mild salad green. It's got a nice crunch to it and makes a great substitute for shredded lettuce or sprouts in tacos or salads. It's also full of iron and zinc, in case you want to amp up your morning smoothie.
Chickweed reduces A LOT when cooked (think spinach). It's great in stir fries, egg dishes, and soups, and because its leaves are so delicate, they cook very quickly. If you're sautéing chickweed with other, more substantial greens, add them to the cooking pot at the very end.
Raw or cooked, mild chickweed is tasty on its own. Combined with sharper flavors like those of garlic mustard and dandelions, it's part of a perfectly balanced mess o' wild greens.