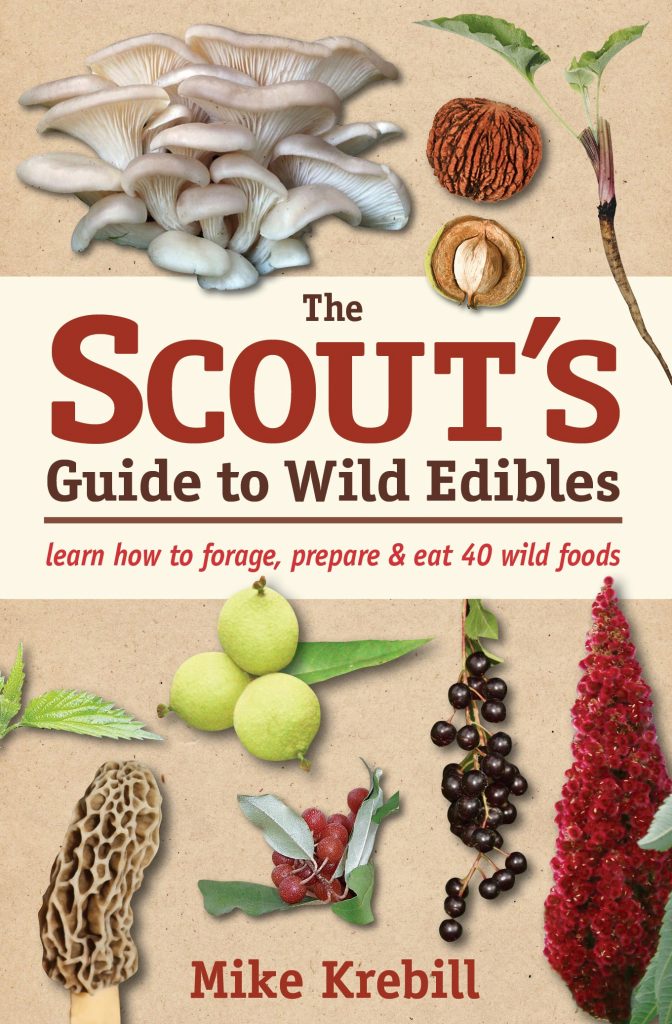 Oh how I wish Mike Krebill had been my scout leader! No offense to my mother, who is a lovely woman and was a great troop leader, but when I think about what I could have learned in Mike's troop…well, I envy his scouts.
I met Mike years ago at the Midwest Wild Harvest Festival and was immediately impressed not only by his foraging skills, but also by his natural talents as a teacher. Mike combines experience and humor with depth of knowledge, and his classes at the MWHF are always fully subscribed.
With the publication of The Scout's Guide to Wild Edibles (St. Lynn's Press 2016), Mike makes an important contribution to foraging lit. The book's design is appealing and appropriate, small enough to fit into a pocket. It includes info on how to forage for and work with 40 different wild plants and mushrooms. Clear photography not only helps the reader identify these plants and mushrooms, but also shows finished foods and provides how-to steps to help you make the most of your wild harvest.
If you're already a forager, you might wonder what makes this book special. After all, there are lots of foraging handbooks out there. What I love most about The Scout's Guide to Wild Edibles is that it inspires. I treasured my scout handbooks because I knew that inside each one was a collection of things I could make and do. Some genius had compiled a book with a whole bunch of fun activities and I would never be bored again!
That's exactly what Mike has done with The Scout's Guide. Do you have a few free hours on a sunny afternoon? Would you like to do something fun, but you're not sure exactly what? Let Mike be your personal foraging guide; he's full of good ideas. Depending on the season, you might forage for sumac, then bring it back into the kitchen and brew the perfect sumac lemonade. Or maybe you'll learn to identify shagbark hickory trees and make your own shagbark hickory syrup.
The Scout's Guide makes foraging accessible and unintimidating. It's perfect for kids and for adults who want to encourage a love and understanding of nature in children. I consider this the best introductory foraging book on the market. But this book isn't only for beginners. Despite years of foraging experience, I learned a thing or two, like the best way to cold-process acorn flour and how to make foraged taffy. (I've always been nervous about making candy but if Mike says I can do it, well dammit, I believe him!)
You've still got time to order this book as a holiday gift, and I can't think of anything better to slip into someone's stocking. In a small and very attractive package, The Scout's Guide offers hours of enjoyment, learning, and deliciousness.