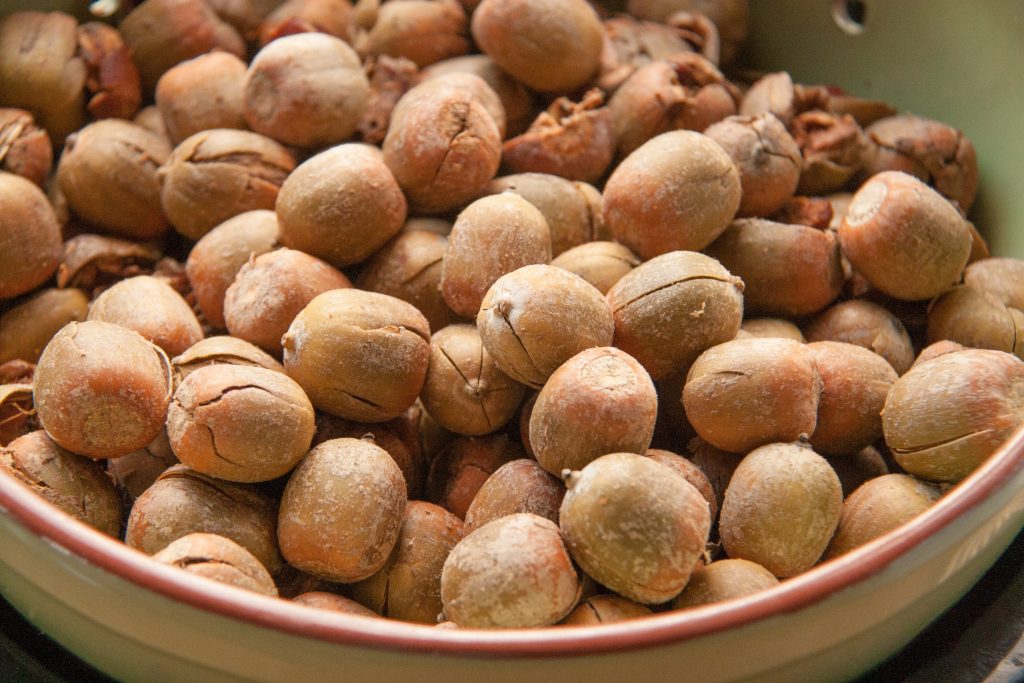 Acorns are a benchmark wild edible for the serious forager. They're an excellent source of starch and fat, and a versatile, delicious wild food. There's no denying that processing acorns takes work, and I used to wonder if it was worth the trouble. It sounded complicated and I was afraid I'd do it wrong. By breaking the process down into simple steps, you'll see that processing acorns is easy to accomplish and definitely worthwhile. And I bet you'll feel pretty proud of yourself in the end. (I know I did.)
Almost everyone can recognize an oak tree. Its characteristic lobed leaves make it easy to identify, at least to the genus level. White oaks have a reputation for having the tastiest acorns, while red oak acorns require more work to make them palatable because of their higher tannin levels. However, oaks interbreed freely, which can make identification a challenge.
None of that matters to me. I gather the biggest acorns I can find, because the most labor intensive part of processing acorns is the shelling. When you can gather 50 large acorns to get the same amount of nut meat you'd get from 100 small acorns, you're ahead of the game.
A word about gathering acorns: you may notice some acorns falling from the trees in late summer or early fall with their caps attached. These nuts are not good eating. A healthy nut will separate from its cap when it falls.
Collect your acorns as soon as possible after they've fallen from the trees, then discard any nuts with a small hole in them. This is the exit hole of the oak weevil larva, which has been feeding on the nut all summer. When the nuts fall to the ground in autumn, the larva chews its way out of the nut and pupates in the soil, emerging the following year as a full grown weevil, which then lays its eggs inside a young acorn. I prefer my acorns without the side order of insect protein, although many foragers happily eat the larvae.
Some years, oak trees produce more nuts than others. A mast year refers to a year when a tree produces unusually large quantities of nuts or fruits. These bountiful years usually alternate with seasons of smaller harvests, and it's useful to be able to preserve what you gather in mast years, to use when wild foods are less plentiful.
I often freeze my acorns after collecting them and before shelling. Fall is a busy season for foragers, and since acorns are less perishable than many wild edibles (like mushrooms and crabapples), I freeze them until I have more time to work in the kitchen. Freezing keeps the acorns fresh, and also kills any weevil larvae that may have come along for the ride.
Freezing also keeps the nuts moist, and acorns are easier to shell when they're dry. If you do freeze your acorns, be prepared to use a little more elbow grease to get them out of their shells. Or, dehydrate them for several hours before shelling.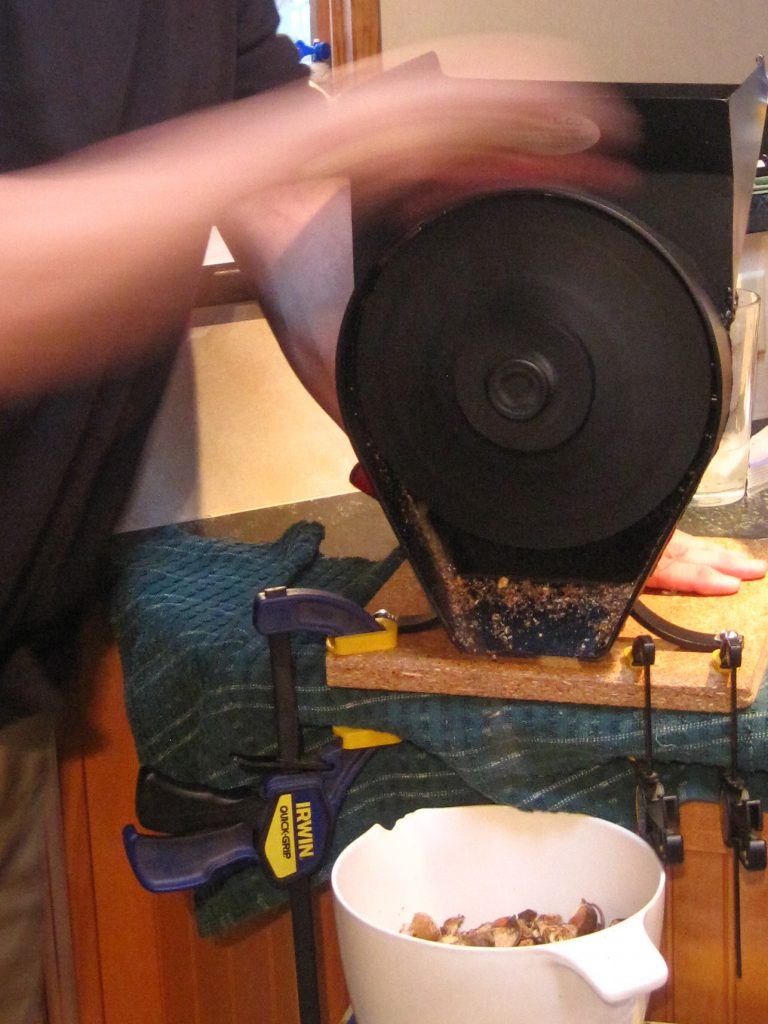 The first time I shelled acorns I placed a few nuts at a time between two dish towels and cracked them with a rubber mallet. Acorn shells are thin and easy to crack, but once you start to process acorns in greater numbers, consider a Davebuilt nutcracker. The Davebilt isn't cheap (currently $200), but it's well worth the price if you're going to work with acorns on a regular basis. It's solidly made and cracks the acorns in half, making it easy to pry each nut out of its shell.
Shelled acorns must be leached of their tannins before they can be eaten. While several foraging friends swear that a sweet acorn exists, one that requires no leaching, I have yet to meet such an acorn. Unleached acorns not only taste bad, but consuming large amounts of tannins reduces the efficiency with which your intestines absorb nutrition. That's not a good thing.
And that leads us to the $100,000 question. How will you leach your acorns? The answer depends on how you want to use your nuts. If you're going to use your acorns as flour in baked goods, cold leaching is the way to go. If you're going to use them in soups, as nut pieces, or in cocktails (no, I'm not kidding) hot leaching is faster and easier.
This article was originally published in Backwoods Home magazine. (Nov/Dec 2016)