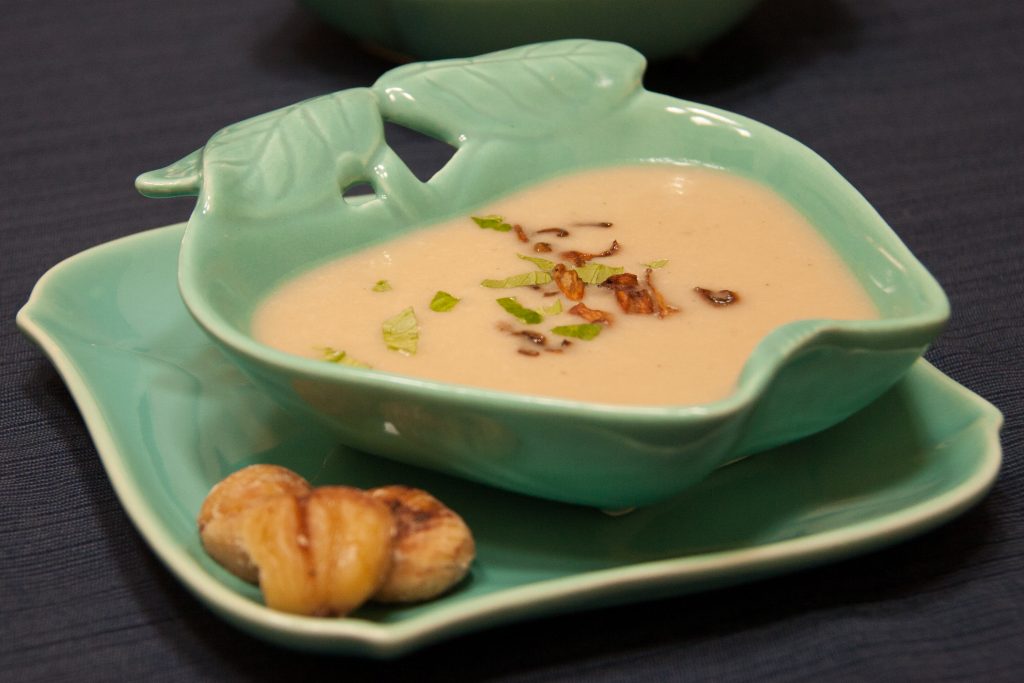 I love Mark Bittman. In a respectful, platonic way, of course. Because like me, Mr. Bittman believes in letting the beauty of the basic ingredients shine through, without overdosing on cream and butter and all sorts of extra flavors. This chestnut soup recipe is a wonderful way to get to know your chestnuts in all their independent glory.
The first time I found a good crop of wild chestnuts I danced with joy. Too often in the past, squirrels and raccoons had beaten me to the punch. I made a soup recipe from The Splendid Table, but allspice overwhelmed the chestnuts and I felt I had wasted my harvest, not to mention the time spent foraging, shelling the nuts from their spiny cases, and roasting, then peeling the nut meats. Since then I've looked for simpler, less highly spiced recipes.
My favorite is Mr. Bittman's: no cream, no butter, and very few additional flavors to interfere with the smooth deliciousness of silky chestnut. If you don't think it's rich enough as is, you can certainly swirl in some cream, but I bet you won't want to. I've used a little less olive oil, proportionately, than Mr. Bittman suggests, and I've also tried it with vegetable stock instead of chicken, in case you're cooking for a vegan/vegetarian crowd.
What You'll Need to Make Chestnut Soup
15 large chestnuts, peeled
2 Tbs. olive oil
2 cups roughly chopped celery
1/2 cup roughly chopped onion
sea salt & freshly ground pepper
4 cups chicken or vegetable stock
1 cup oyster mushrooms, sliced and sautéed until crispy (optional garnish)
What You'll Do to Make Chestnut Soup
If you have raw, freshly foraged chestnuts, add an hour to the recipe time and follow the instructions here to prep your chestnuts for the soup. If you're using store bought chestnuts or have already roasted and peeled your nuts, you're ready to start.
Heat the olive oil in a large, thick-bottomed casserole pan over medium heat. Add the celery, onion, a generous pinch of sea salt and ten to twelve grinds of fresh pepper.
Cook until the onion is translucent, stirring to prevent sticking. Add the stock and your chestnuts, and bring the mixture to a boil. Reduce the heat to a simmer, cover, and cook for thirty minutes. Remove the soup from the heat and allow it to cool. Pour the mixture into a blender and purée until the soup is silky smooth. Taste, and add more salt and pepper if necessary. Reheat and serve garnished with crispy, sautéed mushroom bits, if you like mushrooms. Or not. If you don't.