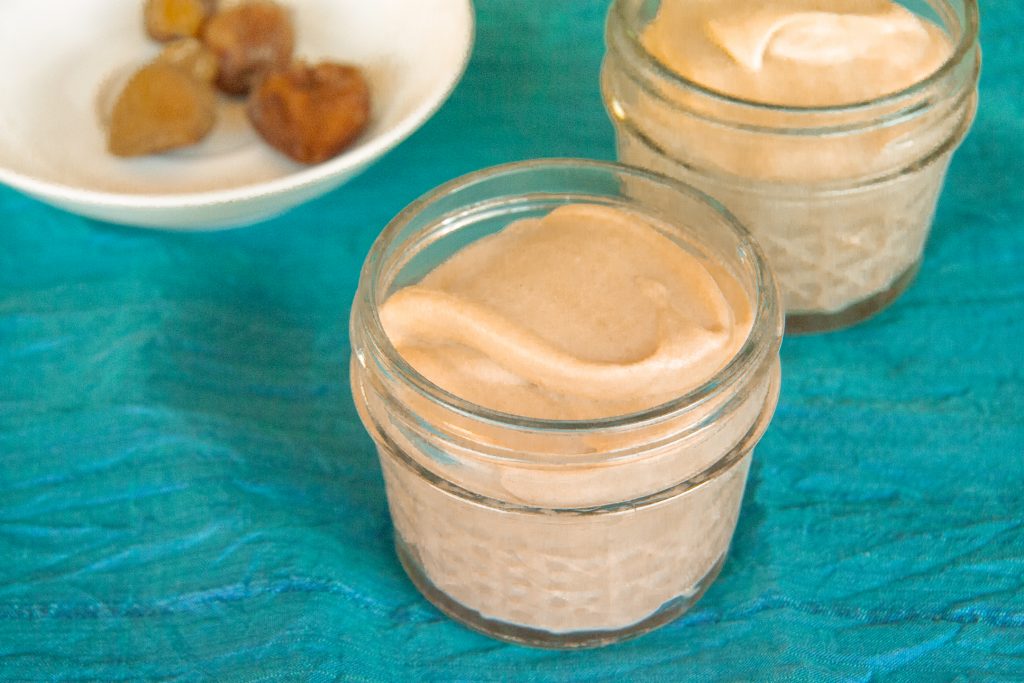 Chestnuts are wonderful, versatile things, as useful in sweet desserts (like this irresistible chestnut mousse) as they are in savory dishes. Their high starch content makes them softer and creamier than most nuts. (Fun fact: chestnuts contain twice as much starch as potatoes!) In places where chestnuts are a native crop, they're often used as vegetables rather than nuts. Some of the most delicious chestnuts I've eaten were in Greece; they were roasted with onions in a light tomato sauce. Chestnuts are the only nut that contains vitamin C, and unlike most nuts, they contain very little fat, making them a low calorie choice in the foraged nut department. Not that this recipe is low cal. I make no apologies for the cream, egg yolks, rum, and sugar. This is a wonderful dessert for a special occasion, and probably my favorite way to use chestnuts.
What You'll Need to Make Chestnut Mousse
3/4 tsp. unflavored, powdered gelatin
6 ounces peeled, roasted chestnuts
3 Tbs. rum
1 cup minus 3 Tbs. whole milk (hint: measure the rum into your measuring cup first, then fill to the one cup line with milk to get a full cup of combined liquids)
1/2 tsp. kosher salt
1/2 tsp. vanilla extract
1 cup heavy cream
2 large egg yolks
1/4 cup sugar
candied nuts or preserves (optional)
What You'll Do to Make Chestnut Mousse
Pour 1 tablespoon cold water in a small cup and sprinkle the gelatin on top, then set aside.
In a heavy saucepan, combine the chestnuts, rum, milk, salt, and vanilla, then bring to a simmer. Cook until the chestnuts are breaking apart and the volume of liquid has reduced by about half. Whisk frequently to prevent the milk from scorching. When the volume is reduced (approximately 15-20 minutes), add the gelatin, whisking to dissolve.
Transfer the mixture to a blender or food processor and blend until the liquid is entirely smooth. Silky smooth. No lumps at all. Set it aside and let it cool. (If you have space in the fridge or a nearby snow bank, this will speed the cooling process.)
Once the chestnut cream has cooled, beat the heavy cream to soft peaks in a separate bowl. Set that aside.
With an electric mixer, beat the egg yolks and sugar until they are thick, about 4-6 minutes. Add the chestnut cream and continue to beat until well combined.
By hand, gently fold the whipped cream into the chestnut cream, then pour into glasses or ramekins. This can be served right away, or refrigerated for a firmer mousse.
The texture of this dessert is silky and light, and the flavor is subtle yet distinctive. Try topping with some chopped candied nuts or a spoonful of homemade preserves.