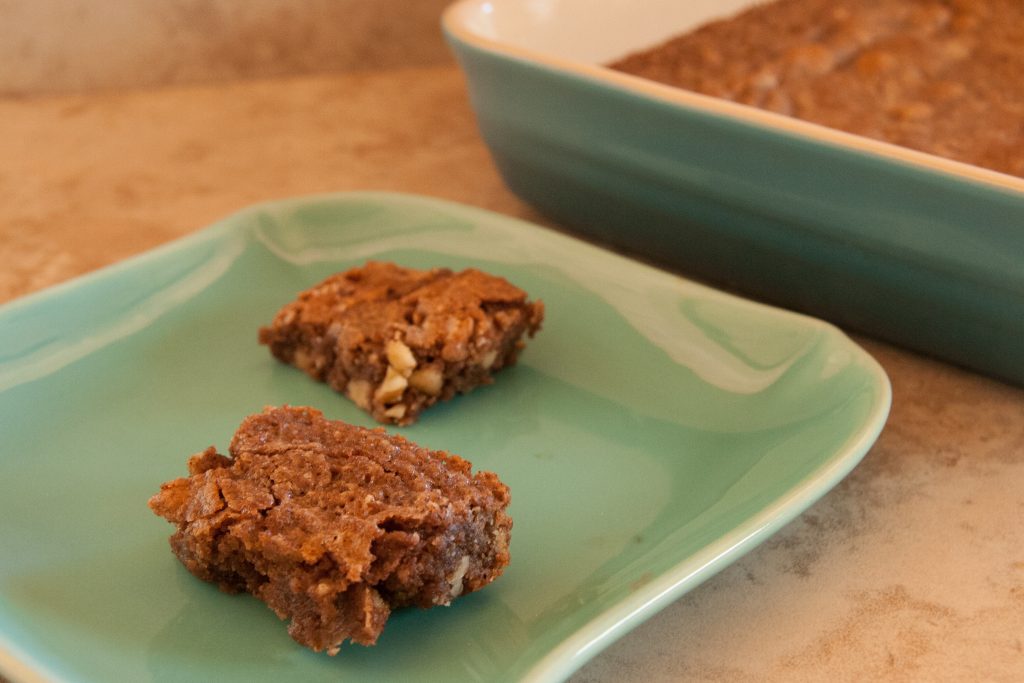 I don't call this a brownie because then you'd expect a deeply chocolate treat and you might be disappointed. (Life and dessert are all about managing expectations.) Carob is NOT a chocolate substitute and anyone who tells you otherwise is a big, fat liar. At the risk of sounding heretical: chocolate isn't the only worthy dessert flavor out there. Carob has a lighter flavor than chocolate, and it's naturally sweet. Strongly-flavored black walnuts add richness and depth.
Use finely ground carob powder in this recipe, and chop the black walnuts into small pieces. This will give you an excellent balance of both texture and flavor. You'll end up with a moist interior, and just enough crunch on the outside to make this brownie (oops, I mean dessert bar) a family favorite.
What You'll Need to Make a Black Walnut and Carob Dessert Bar
1 cup sugar
1/4 cup solid coconut oil (you may also use butter)
2 eggs
1 teaspoon vanilla
1/2 cup all purpose flour
2 Tablespoons finely ground carob powder
1/2 teaspoon salt
1/2 cup chopped black walnuts
What You'll Do to Make a Black Walnut and Carob Dessert Bar
Preheat your oven to 350F.
These bars tend to stick even to a well-greased pan, so I suggest using parchment paper to line an 8″ square baking pan.
I use a stand mixer for this batter because I love my stand mixer. It has flames on it just like Alton Brown's stand mixer. Also, this batter is stiff, and a stand mixer makes mixing easier. You can use an electric hand mixer or a good old fashioned wooden spoon, as long as you create a smooth batter.
Cream the sugar and coconut oil, then add the eggs and vanilla, and continue to beat for another minute.
In a separate bowl, combine the flour, carob powder, and salt.
Add the dry ingredients to the egg mixture in increments, mixing thoroughly. Finally, add the walnuts and stir to distribute them evenly throughout the batter.
Pour the batter into your prepared (parchment lined) baking pan and bake for 30-35 minutes, or until a toothpick in the center comes out clean. Once the bars have cooled, remove them from the pan as a whole, by lifting up the ends of the parchment paper. Peel the paper off the bottom of the bars, then cool, cut, and serve.