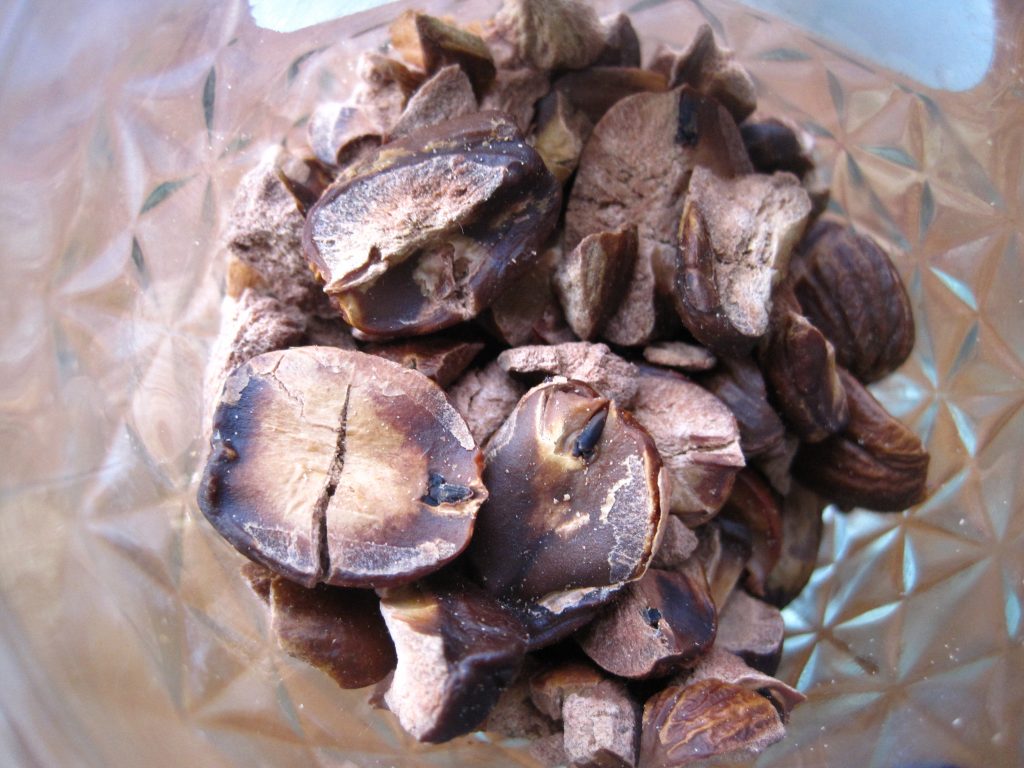 Hot leaching is a quick way to remove the tannins from your shelled acorns. However, since hot leaching acorns cooks the starch in the nuts, they'll require an extra binder to hold together in baked goods. If you're making acorn flour for baking, cold leaching is a better choice.
But hot-leached acorns are still useful! My favorite way to use hot leached acorns is as a soup base, but they also make an excellent stuffing ingredient and a tasty base for felafel or a meatless burger.
Before you leach your acorns, taste an unleached nut. Yes, it will be bitter, but it will give you a baseline flavor, so you can monitor your progress as you leach the tannins from the acorns.
To hot leach acorns, fill a large pot one third full with shelled nuts, then cover them with an equal volume of water. Bring the water to a boil, and boil until the water turns dark brown. Pour off the water, and repeat the process several times.
Some written accounts say to do this until the boiling water stays clear, but that may never happen. I've found that the water still has color long after all bitterness has been leached from the nuts. Instead, start tasting the acorns after the third or fourth change of water. When there's no trace of bitterness, your nuts are leached. Depending on the acorn, this may be as many as 15 changes of water.
You may also read that acorns must be moved from one pot of boiling water to another, rather than out of boiling water into cold water that is brought to the boil. Some foragers swear that cold water sets the tannins in the nuts, making them permanently bitter, but others have not found this to be true. I've done it both ways and honestly I can't say there's a difference. In my experience, cold water does not permanently set the tannins. Hot leached acorns brought to a boil from cold water are perfectly palatable, as long as they are leached in sufficient changes of water.
After all the boiling, hot leached acorns will be darker in color than cold leached acorns. They can be coarsely ground and used as nuts in cookies and breads, and also make an excellent soup: hearty and thick on a cold autumn evening.