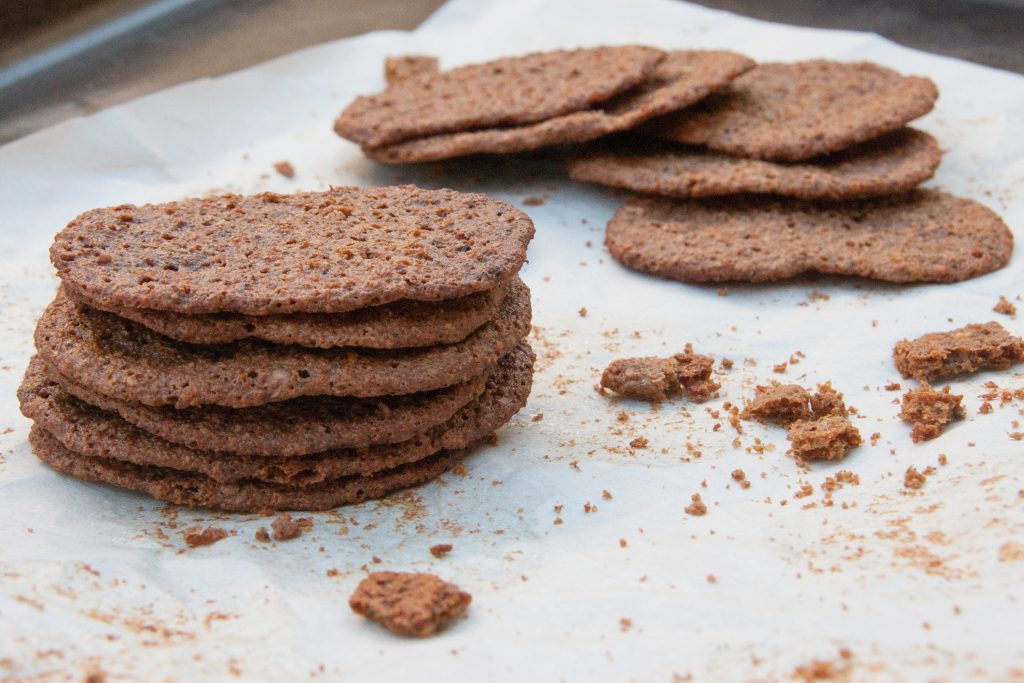 Wild ginger snaps are one of my favorite cookies, and this version features three foraged flavors: cold leached acorn flour, wild ginger stolons, and spicebush berries. The flavor of wild ginger is slightly darker than that of tropical ginger, but it has a similar complex spiciness. I've made these cookies for years with regular flour and they're terrific. But since this is acorn season…I had to try an acorn flour version.
Because acorn flour doesn't have gluten, it doesn't bind like regular flour does. When you're baking cakes, breads, or muffins, you usually only use half acorn flour and half regular flour so the final product will hold together. Cookies are one of the few baked goods you can make with 100% acorn flour, and while the acorn version of this wild ginger snap is slightly more crumbly than the regular flour version, these cookies have withstood international travel in my carry on luggage, which is all I could ever ask of an acorn flour wild ginger snap.
If you have wild ginger, but no acorn flour, it's fine to make this with all purpose flour.

What You'll Need to Make Acorn Flour Wild Ginger Snaps
1 stick unsalted butter, softened
5/8 cup sugar
1/4 teaspoon vanilla
1 egg
1/6 cup molasses (I prefer regular molasses to black strap for this recipe, because it's a little sweeter.)
1 1/2 cups cold leached acorn flour (all purpose flour is a good substitute)
1 1/4 teaspoon baking soda
1/4 teaspoon salt
1 Tablespoon ground, dried spicebush berries
2 1/2 teaspoons ground, dried ginger stolons
What You'll Do to Make Acorn Flour Wild Ginger Snaps
Cream together the softened butter and sugar. Add the vanilla and egg and beat until fluffy.
Add the molasses to the batter and blend well. Then, add the flour, baking soda, salt, ground spicebush berries, and dried ginger stolons and mix until just combined.
Spread a sheet of parchment paper or cling film (about 18 inches long) on the counter, and transfer the dough to the paper or cling film. Spread the dough out into a long, round snake, and wrap it up. Then, roll it around a little, to get rid of any air pockets. Close up the ends of the wrapping, and freeze the dough overnight, or until it's solid.
When you're ready to bake, preheat the oven to 350F.
Unwrap the dough and slice it as thinly as possible, aiming for dough medallions that are 1/8 inch thick. Lay the cookies out on the cookie sheet, leaving about an inch between each one. Bake for 8 – 9 minutes, then let them cool on the cookie sheet before transferring to a plate. The cookies will still be soft when they come out of the oven, and they need the cooling time to solidify.
If you bake the cookies in batches, return the dough to the freezer in between. If the dough warms up, the cookies will still taste great, but they'll spread much more during baking, and you'll end up with one giant ginger snap.