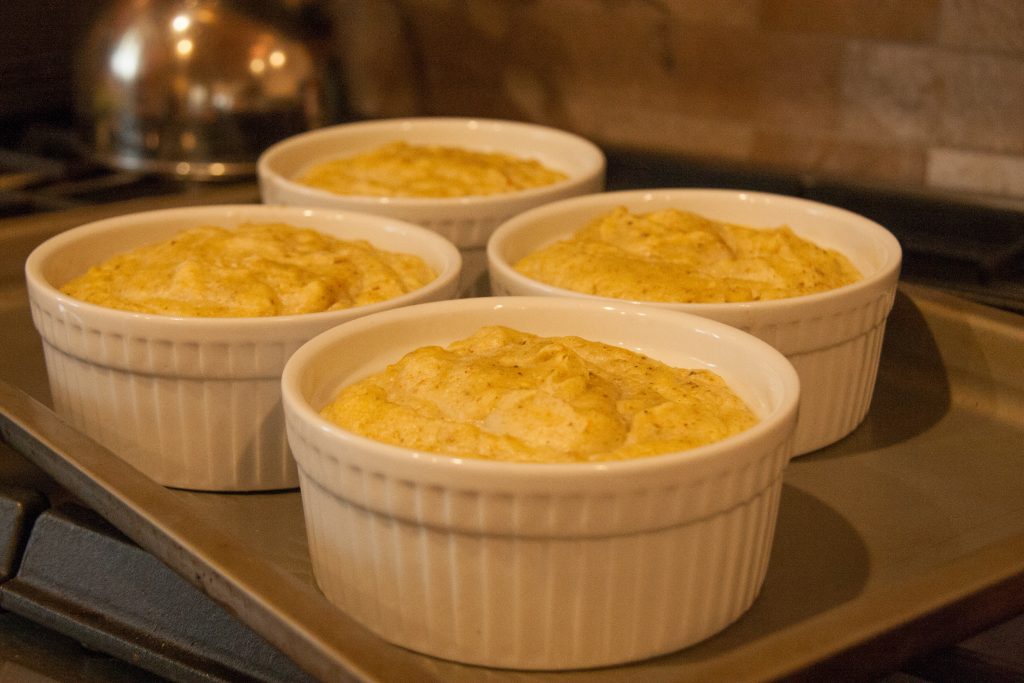 This sunchoke soufflée is the first soufflée I have ever made, and it wasn't nearly as difficult as I expected it to be. I've always been intimidated by the idea of a soufflée, but this has emboldened me, and I suspect there will be more foraged soufflées in my future. Not only because it was easy, but also because Michael could not get enough; he LOVED this dish.
As I was reading up on soufflées, I learned that thinner soufflée batters tend to rise more dramatically, but also fall more dramatically once they come out of the oven and are cut into. Thicker soufflée batters (of which this is one) don't rise as high, but they also don't sink as low. I also read that reheating soufflées would cause them to rise again.
This recipe made four small (5″) soufflées. We ate the first two right away, while they were still relatively pouffy. I reheated the second two for breakfast the next morning (because why not?) and they didn't re-rise much. Either because I was nervous about overcooking them and didn't reheat them enough, or because I'm baking at 7,000 feet these days, which requires its own set of rules. Either way, the left over soufflées were delicious, so I'm not going to worry too much about their slightly less pouffy stature.
What You'll Need to Make Sunchoke Soufflée
1 1/2 cups of puréed Jerusalem artichokes (approximately 2 lbs.)
3 eggs, separated
1/2 cup grated cheese (I've made this recipe with both feta and sharp cheddar, and both were delicious.)
1/4 cup milk (nut milks are perfectly acceptable)
1/4 small onion, minced
1/4 teaspoon salt
2 Tablespoons dried, ground chicken of the woods mushroom (I used this instead of a strongly flavored herb because I wanted to focus on the flavor of the sunchoke, and also to add a subtle umami boost. I think thyme, marjoram, oregano, or bee balm would also be tasty.)
butter for greasing the ramekins
What You'll Do to Make Sunchoke Soufflée
Preheat your oven to 400F.
Dice your sunchokes into 1″ cubes; there's no need to peel them. Boil them for about 10 minutes, or until they're tender, then drain them and purée either in a blender, food processor, or with an electric mixer.
Add the cheese, milk, onions, salt, herbs (or mushroom powder), and egg yolks, and mix well.
In a clean bowl, beat your egg whites until they form stiff peaks.
Gently fold the whites into the sunchoke mixture.
Butter the insides of the ramekins. In this instance, butter works better than spray oil, because the oil slides down the sides of the ramekins, and you need the entire wall to be well-greased so the batter can slide up as it rises.
Pour the batter into the ramekins, leaving 1/2 – 1″ between the top of the batter and the top of the ramekin.
Place the soufflées on the bottom rack of your oven. They will rise better when the heat is as close as possible to the bottom of the dish.
Bake for 25 – 35 minutes, depending on the size of your ramekins. If you decide to do this in one large soufflée dish, you'll need to bake it closer to 45 – 50 minutes. Testing for doneness with soufflées is slightly trickier than with cakes. You'll use the same utensil, a slim metal cake tester, and as with cakes, the tester should come out clean. However, you must minimize the amount of time the soufflée is out of the oven, being tested, so as not to cause it to fall. So be quick about it.
Serve your soufflée warm from the oven, while it's at its most beautiful and delicious.