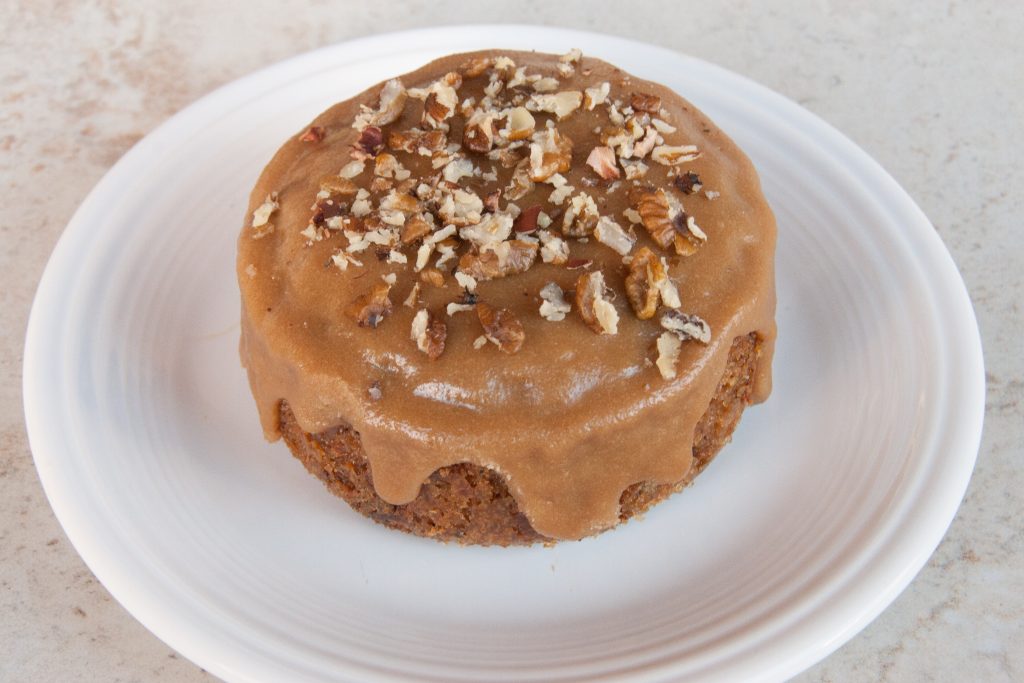 I had a large sunchoke harvest this year, so I've been experimenting with lots of different recipes. This Jerusalem artichoke cake is one of my favorites. Poor Michael had to eat three versions of it as I perfected the recipe. Happily, I am finally satisfied, and can spare you all that extra, unnecessary cake eating. 
I started out thinking I could modify a carrot cake recipe, but carrots and Jerusalem artichokes respond VERY differently to heat, so that didn't work out exactly as I hoped. The flavor was excellent, but the cake was too heavy and wet. If you've ever baked or roasted a Jerusalem artichoke, this will make sense. They never get fluffy like potatoes; they almost liquify as they roast.
That first recipe used 3 cups of shredded sunchokes. I tried it again with 2 cups and a few other modifications and once again, it was very tasty, but still too dense and moist. So, throwing caution to the wind, I tried one more time, tinkering with quantities, balancing the moisture in the Jerusalem artichokes with solid rather than liquid fats and sweeteners.
This is a moist cake, and the texture is dense, like a fruit cake. You could pour the batter into muffin tins and serve them unfrosted, or make a cake and gussy it up in several ways. I've tried it with a classic cream cheese frosting (which is delish), but my favorite is a simple, brown sugar icing.
So, without further ado:
What You'll Need to Make a Jerusalem Artichoke Cake
6 eggs
3/4 cup butter, softened
1 cup sugar
2 1/2 cups all purpose flour
1/2 teaspoon salt
1 Tablespoon baking soda
1 Tablespoon dried, ground spicebush berries
2 1/2 cups peeled, grated Jerusalem artichokes
1/2 cup raisins (optional)
1/2 cup black walnuts or hickory nuts (optional)
What You'll Do to Make a Jerusalem Artichoke Cake
Preheat the oven to 325F.
In a bowl, cream together the butter and sugar. Add the eggs and combine well.
In a separate bowl, combine the flour, salt, baking soda, and spicebush berries. Mix well, then add them to the butter-sugar-egg mixture.
Add the grated Jerusalem artichokes, and the raisins and nuts (if you so choose), then use a rubber scraper to fold all the ingredients together. By this time, the batter may be too heavy for an electric hand mixer.
Pour the batter into a well-greased 9 x 13″ pan and bake for 35 minutes or until a toothpick comes clean from the center of the cake.
Allow the cake to cool completely before frosting.
What You'll Need to Make Brown Sugar Icing
1 1/2 cups brown sugar
5 Tablespoons cream
2 teaspoons butter
1/8 teaspoon salt
1/2 teaspoon vanilla
What You'll Do to Make Brown Sugar Icing
In a small sauce pan combine the sugar, cream, butter, and salt and bring just to a boil over medium heat, whisking all the time. Remove the pan from the heat, stir in the vanilla, and let the icing cool long enough to reach a spreadable consistency. Spread the frosting over the top and sides of the cake, or, pour the frosting on top and let it drip down the sides of the cake in glorious, sugary ribbons.
The brown sugar doesn't dissolve completely and you'll feel the slight crunch of the sugar grain between your teeth. I think that's part of its charm, but if that doesn't appeal to you, go with a traditional cream cheese frosting.