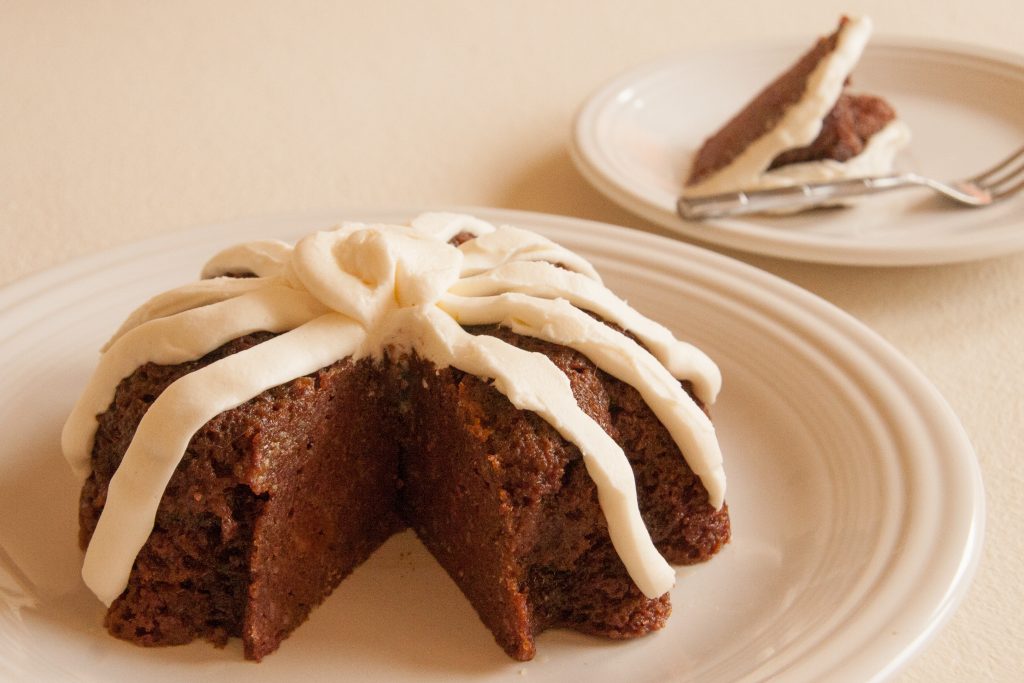 When most Americans hear the word pudding, they think of a sweet, creamy, jiggly dessert. But steamed pudding is something entirely different. Steamed puddings are a traditional British dessert, and persimmon pudding is a traditional American recipe. This steamed persimmon pudding recipe combines the American fruit with the British cooking method to make a thick, moist, dense, sweet cake. So good.
Pudding (as some of you may know) is the British word for dessert. A steamed pudding is a cake that's baked with wet heat. You can make it in a dedicated, steam pudding mold, which has a metal top that clips into place, or you can use a bundt pan and fasten a sheet of aluminum foil over the top of the pan. Steam pudding molds are common in antique and junk shops. You can usually find them for under $5.
Be sure to use either the soft, mushy pulp of native American persimmons or Asian Hachiya persimmons. Fuyu persimmons are not appropriate for this recipe, because they are ripe when their flesh is crisp and crunchy.
What You'll Need to Make Steamed Persimmon Pudding:
1 stick unsalted butter, softened
1/2 cup sugar
2 eggs
1 1/2 cups persimmon pulp (you may use previously frozen pulp)
1/2 cup flour
1/4 teaspoon salt
2 teaspoons baking powder
1/2 teaspoon baking soda
What You'll Do to Make Steamed Persimmon Pudding:
This dessert is cooked on your stove top with boiling water, so instead of preheating your oven, fill a pot large enough to hold your pudding mold in two inches of water. A pressure canner or canning rig is perfect for this. Bring the water to a low boil.
While the water is heating, slice the top off of each persimmon, then use a spoon to scoop out the flesh. Press the fruit through a potato ricer, strainer, or food mill to separate the seeds from the flesh and set aside the fruit pulp.
Next, cream the butter and sugar until they are pale yellow.
Add the eggs to the butter and mix well. Add the persimmon pulp, mix well and set the wet ingredients aside.
In a separate bowl, combine the flour, salt, baking powder, and baking soda. Then, add these to the wet ingredients and mix until you have a smooth batter.
Thoroughly grease your steamed pudding mold or a small bundt pan (approximately 8″ in diameter). Pour the batter into the mold, and clip on the lid, or cover the bundt pan with a sheet of aluminum foil and fold down the edges so it stays in place.
Place the covered pudding mold into the boiling water. If your pot doesn't have a rack on the bottom, use a trivet or a folded up dishtowel to elevate the mold off the bottom of the pot. This will give your batter a more even heat. The water in the pot should come about halfway up the sides of the pudding mold.
Cover the pot and cook for 90 minutes, checking every 30 minutes to see if you need to add more water. The pot should not be allowed to boil dry.
When the time is up, remove the pudding mold and take off the cover. Insert a slim skewer to test for doneness. If the skewer comes out clean, the pudding is done. Let the cake cool for five minutes, then turn it out onto a plate and serve warm.
Steamed persimmon pudding is delicious plain, dusted with powdered sugar, served with vanilla ice cream, whipped cream, hard sauce, or a simple sugar glaze.