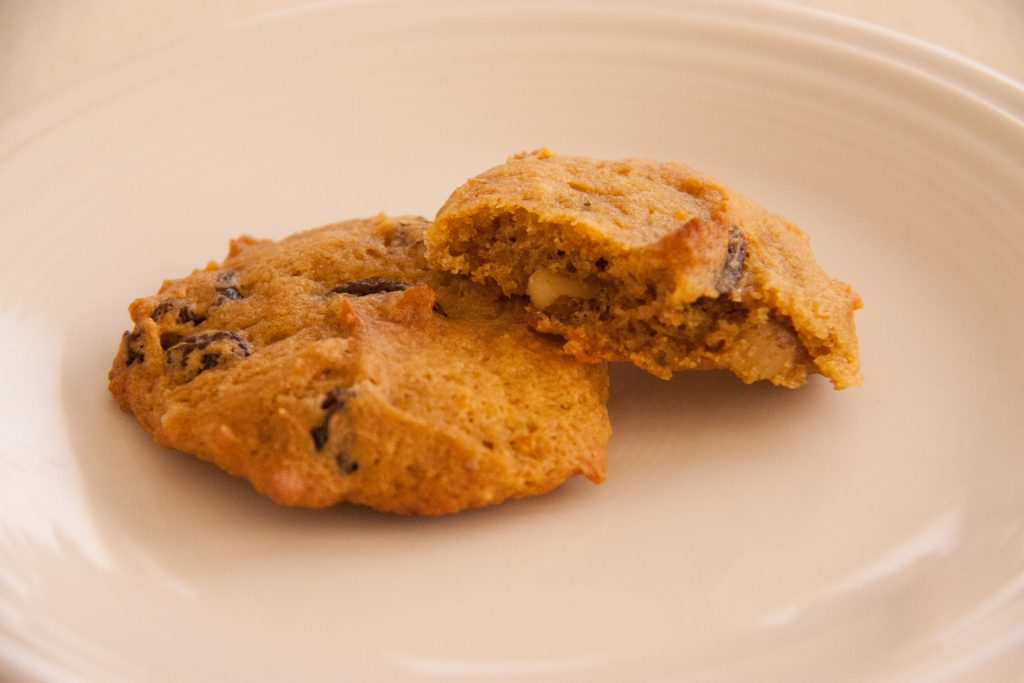 Persimmon black walnut cookies have a satisfying texture and flavor. Thick persimmon pulp makes a soft, moist, cake-like cookie, and the black walnuts add crunch and extra flavor. If you don't like black walnuts (and not everyone does), feel free to substitute pecans or regular walnuts.
Use the soft, mushy pulp of native American persimmons or Asian Hachiya persimmons in this recipe. Fuyu persimmons are crisp and crunchy and won't give you the same smooth batter.
What You'll Need to Make Persimmon Black Walnut Cookies
1 cup persimmon pulp
1 tsp. baking soda
1/2 tsp. ground spicebush berries (or ground allspice)
1 stick butter, softened
1/2 cup white sugar
1/2 cup brown sugar
1 tsp. vanilla extract
1 egg
1 3/4 cups all purpose flour
1/2 cup shelled, chopped black walnuts
1/2 cup raisins
What You'll Do to Make Persimmon Black Walnut Cookies
Preheat your oven to 350F and line your cookie sheets with parchment paper.
Slice the top off of each persimmon, then use a spoon to scoop out the flesh. Press the fruit through a potato ricer, strainer, or food mill to separate the seeds from the flesh and set aside the fruit pulp.
Combine the pulp, ground spicebush berries, and baking soda in a small bowl, stir, and set aside. You're going to give the baking soda a few minutes to react with the acid in the persimmon pulp. This creates bubbles in the batter which makes the cookies rise.
Cream the butter and both sugars, then add the vanilla and the egg and mix well. Add the persimmon pulp and combine thoroughly. Add the flour and mix until it's just integrated into the batter. Stir in the nuts and raisins gently, with a wooden spoon.
Spoon out generous tablespoons of batter onto the parchment paper, leaving two inches between each cookie so they can expand. Bake for 12 – 18 minutes, until the cookies are golden brown. Then, let them cool for a few minutes on the baking sheet before moving them. These are soft cookies and will break if you move them prematurely.
I'm not sure what enchants me most about these cookies, the cake-like, springy texture, the orange color, or the sweet, fruity flavor. Fortunately, I don't have to choose.
yield: approximately 3 dozen cookies