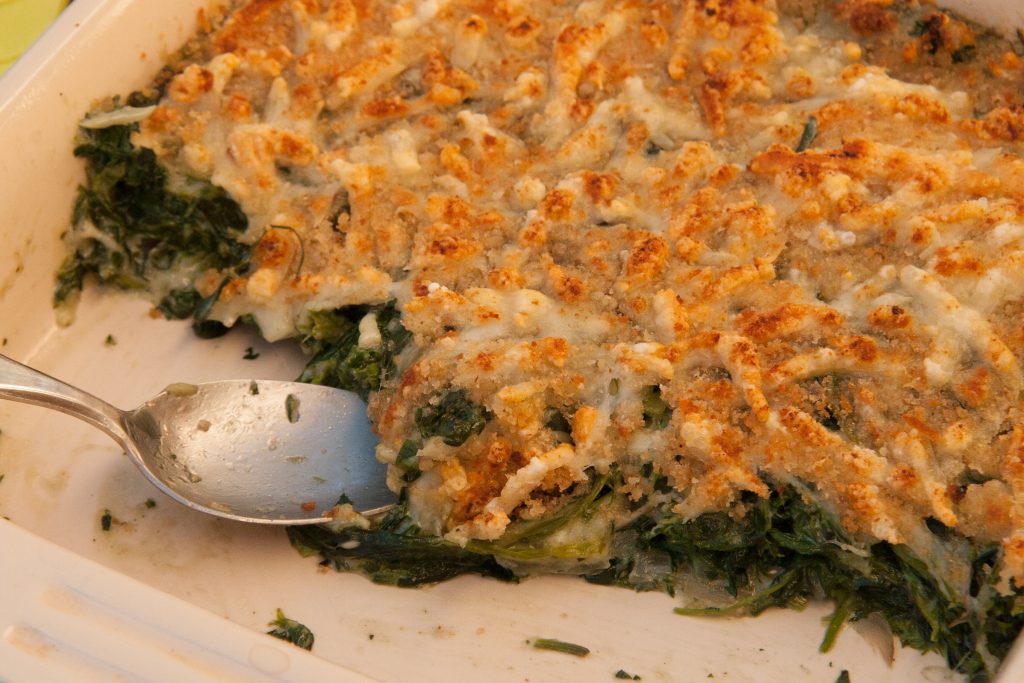 It's clean out the freezer time here in Santa Fe! Gotta make room before I can store all the new greens I hope to be harvesting over the next few months. Last night I pulled out two vacuum sealed packets of blanched greens (nettles and garlic mustard) and threw together this spring greens gratin. It was a huge hit, and I'm sure I'll be making it again as I dig deeper into the freezer, using up all sorts of greens to make room for this year's harvest.
You can use whichever greens you prefer (or have on hand); the important thing is that you have a total of six cups of cooked greens. If you like bitter greens, load up on the mustards, if you prefer mild greens, focus on lamb's quarters. The choice is yours. This recipe is scalable, but you'll want to adjust your pan size along with the recipe, to keep the depth of the gratin at about one inch. That way you'll get plenty of crunchy topping with every bite.
What You'll Need to Make Spring Greens Gratin
1 large onion
olive oil
6 cups greens, washed, blanched, drained, and chopped
1 tsp. black pepper
salt to taste
1 cup heavy cream
1 cup shredded Swiss or gruyere cheese
1/2 cup shredded Swiss of gruyere cheese
1/2 cup breadcrumbs
What You'll Do to Make Spring Greens Gratin
Preheat your oven to 350F.
Roughly chop the onion, then sauté in olive oil over medium heat, until translucent. Add the greens, and mix them well with the onion. Incorporate the black pepper, and salt, then remove the pan from the heat and mix in the cream and 1 cup of the cheese. Stir well.
Transfer the mixture to a shallow, greased baking pan, and, using a rubber spatula, press down on the greens to spread them out evenly. I use a 9 x 9 square pan, but anything with a similar area will work. The important thing is that the greens should be about an inch thick to give you the right greens:topping ratio.
Bake for 30 minutes, then remove the dish from the oven and sprinkle on the remaining cheese, and then the breadcrumbs. Change your oven from bake to broil, and broil until the topping is golden brown. This may take two minutes or it may take five, depending on your broiler and how far your pan is from the heating element. Watch it carefully…it would be a pity to burn your spring greens gratin.